Review – George Thorogood and The Destroyers @ The Iowa State Fair – Des Moines, IA 8-17-12
Review – George Thorogood and The Destroyers @ The Iowa State Fair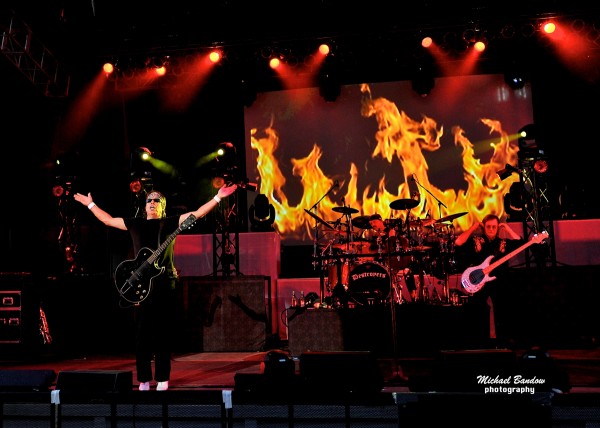 This show was anything, but BuBuBuBuBuBuBadddd! George Thorogood and his Destroyers rolled into the Iowa State Fair on August 17th and put on a show I won't soon forget. This was my first time seeing him, so I had no idea what to expect. Let me tell you, the man was on fire!  He put on a strong set that didn't lose any steam throughout. He looked good and his voice sounded just as it has through my years of growing up listening to him.
He was opening for the great Hank Williams Jr., but has enough of an extensive music catalog to easily headline a big show. He has done a lot of covers, but has made them his own over the years. This one was close to a sell-out, and by the crowd's attire, I would guess it was a 50/50 split of people there to see Hank vs. those there to see George Thorogood.
George Thorogood has been around quite awhile now, but don't let that fool you into thinking this guy has lost anything. He's full of energy, witty, and can this guy play! He reminds me of Ted Nugent, as in, he is the star. He has a full band, but he is clearly the star of the show.
George Thorogood's show got off to a great start with the fitting song, "Rock Party" followed by the Bo Diddley cover of  "Who Do You Love."  The show just got better as it went on. A few of my favorites of the night were his cover of Johnny Cash's  "Cocaine Blues," "Bad to the Bone," John Lee Hooker's "One Bourbon, One Scotch, One Beer," and Hank Williams' cover, "Move It on Over."
He was well-received by the crowd and engaged them quite frequently during the show.  He wore his trademark white leather shoes which I thought was a nice little touch to his wardrobe.
This was without a doubt one of the best Iowa State Fair shows. I would love to see George Thorogood again in a more intimate club setting doing an all-night gig where he would have more time for some good old-fashioned lengthy jam sessions. If he comes to a town near you, do not miss him!