Review – Hootenanny 2012 @ Oak Canyon Ranch – Irvine, CA – 7/6/12
For those of you who don't know, You Tell Concerts loves getting fan submitted concert reviews.  In fact, that's what we are all about.  I was delighted when I checked my email this morning and found a review of The Hootenanny submitted by one miss Jennifer Rock.  I have yet to make it to The Hootenanny but have always heard great things and am glad to be adding this article to our collection of concert reviews.
If you were at this year's Hootenanny or have ever been,  make sure to comment on this post and let us know what you think because this is You Tell Concerts and "When You Tell Concerts It's Cooler!" – Poppinoff
Review – Hootenanny 2012 @ Oak Canyon Ranch
The Hootenanny- It's Not Just Music, It's a Culture
It was nostalgic, exciting and all about the culture that comes with the music. The Hootenanny event in Silverado Canyon, California proved that punk rock, rockabilly and psychobilly are still very much alive.
For those of us who grew up in the 90s and got into these genres of music, we became a part of a culture and a lifestyle. Instead of violence and anarchy, it was about the music, the clothes, anti-racism and having fun. There were a few bands that took center stage during that time. Rancid helped revive punk in the 90s incorporating a unique sound with elements of punk, ska, roots reggae and funk. There were many of us from that generation that showed up at The Hootenanny. The California Circle Pit was in full swing, the women wore pin-up dresses and the mix of pomps and punk patches were scattered throughout the crowd.
"It's the music, the people, the way they dress, it's everything," says Rubin from Palm Springs. He and many others came for just that; what has become the culture of The Hootenanny. Of course this culture also comes equipped with beautiful classic cars and hot rods. I met up with a couple that came out to the event just for the cars. "I like hot rods, cute boys, cute girls and hot cars. I think The Hootenanny is a culture. It's a little bit of punk rock, rockabilly, and country thrown in the mix so it's a combination. It's kind of easy going, no fights…everyone's kick back. Everyone's dressed cute.  It's good times, "says Joey Tilocco from Anaheim.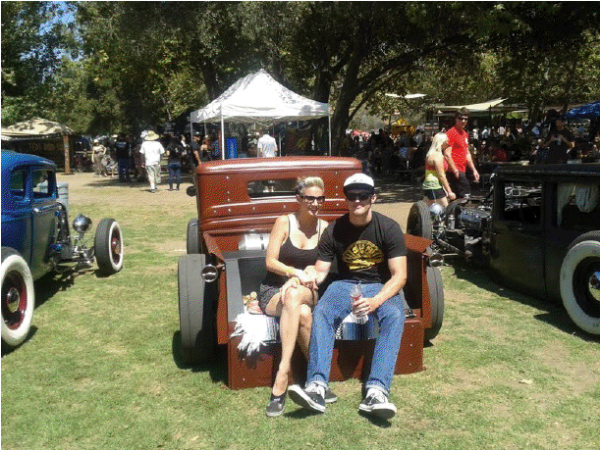 Main stages  A and B held the headliners. The Bouncing Souls, The Reverend Horton Heat, The Supersuckers, 3 Bad Jacks and Lucero drew up large crowds. Fans of all ages were in on the action as the bands wailed. Even some parents brought their children to get a taste of the California Circle Pit.
My favorite bands The Bouncing Souls, The Reverent Horton Heat and Rancid made the crowds go insane. I had to be front and center when they performed and many others did as well. While I tried to avoid the pit, it became irresistible once my adrenaline kicked in. I sustained no injuries, but I know some fans took elbows to the face. There was no anger and no fighting (at least I didn't witness any). The pit is not about violence; it's a type of dance for this culture.
I'll leave you with a few other photos and a few thoughts. Punk, rockabilly and psychobilly are not for everyone. Perhaps it should stay that way. Those who are fans are very passionate about the culture and the message behind the music. I hope it continues to grow and stay alive. CHEERS!
(please see pictures below)
Written by Jen Rock
Hootenanny 2012 – Pics