Review – Jenny and Johnny @ The Music Box – Hollywood, CA – 06/11/11
This review comes from Dustin Cary an avid concert goer that has covered a few shows for YTC already. In his most recent offering he reviews Goldenvoice and KCRW presents Jenny and Johnny at The Music Box. Thanks for the write up Dustin, it sounds like it was a great show and that I def missed out by not being in attendance.
Jenny and Johnny @ The Music Box Concert Review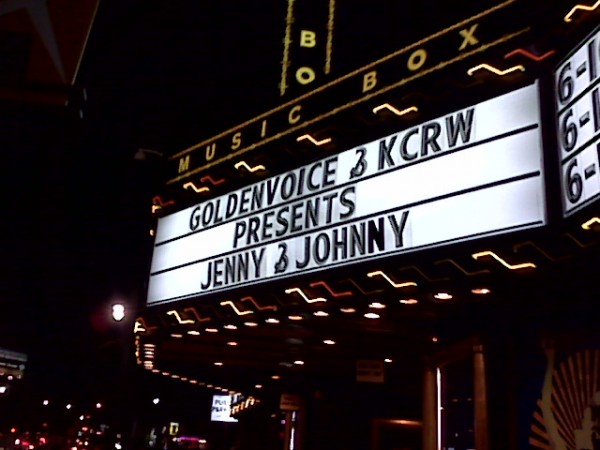 Tonight I had the pleasure of seeing two amazingly talented musicians, Jenny and Johnny. First off if you have not been to The Music Box, it is a solid sounding venue to hear music. The sound is quality, there are multi-levels for you to see the stage as well as a balcony. This venue also has a roof top to hang out at prior or after the show.  The Music Box was a packed house, the crowd was full of friendly people, drawing an array of old and young fans. The show started earlier than usual due to the venue holding a club later on in the evening. Jenny and Johnny went on a little after nine o'clock and finished their show at 9:45 PM.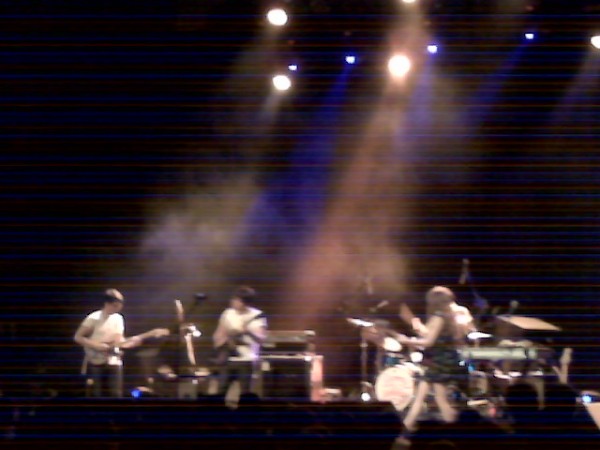 The band Jenny and Johnny are  a four piece; drums and rhythm guitar while Jenny and Johnny switched from playing guitar and bass throughout the show.  Jenny and Johnny's drummer held steady beats, they had amazing breakdowns, and the beautiful voice of Jenny melted together so effortlessly with Johnny's. Jenny and Johnny played a plethora of new songs off their new album while keeping their long time fans happy with classic's throughout their hour and a half set.
Jenny and Johnny @ The Music Box 06/11/11 Setlist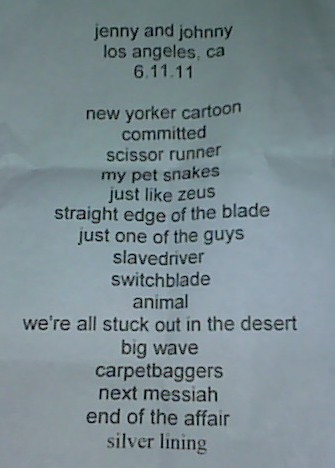 Some highlights from the show were "We're all Stuck out in the Dessert," followed by "Big Wave." In between songs Jenny was talking with the crowd about their mantra was "having fun now" and anyone there could tell you they were. At the end of the show during the encore fans were treated to Jenny and Johnny coming out on stage by themselves singing two classic songs; "End of the Affair" and "Silver Lining." It was a nice way to end the Saturday night. I would recommend that if Jenny and Johnny come into your town that you see them. Much Respect Jenny and Johnny. – Dustin Cary