Review – Joe Bonamassa @ The Civic Center of Greater Des Moines, IA 5-3-12
Review – Joe Bonamassa @ Civic Center of Greater Des Moines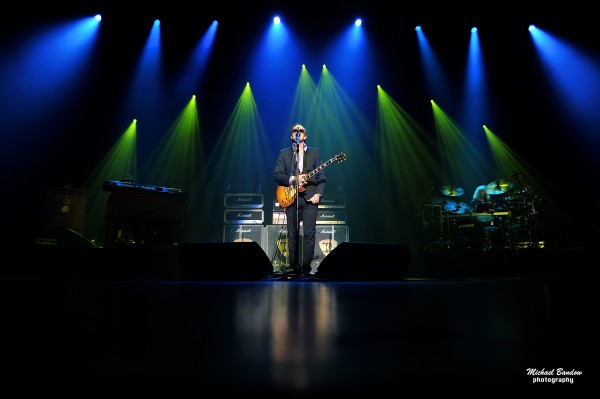 I keep hearing this guy referred to as "the best guitarist you've never heard of." I've had this happen before when I go to a show, and I'm pleasantly surprised how good the band is that I haven't heard of…but this guy takes the cake. I'm talking about Joe Bonamassa. He just about totally sold-out the Civic Center of Greater Des Moines, and this show was a bit on the higher end of ticket prices.
Most of the people there seemed to already know about this hidden gem of a performer. Before the first song was over, I could tell I was in for a treat. As far as Blues players go, he is definitely one of the more rocking Blues guitarists. He's a very technical player, which I really dig and his playing ranges from classical to very fast rocking.
The Civic Center is known for bands sounding amazing, and that is exactly what we got. When Joe Bonamassa was doing some of his more classical playing, you could have heard a pin drop in there. He showed off his licks on several different guitars – one being a white Gibson double neck. I don't remember the last time I saw one of those on stage. His drummer, Tal Bergman, was also quite good. He put on a few very impressive solos during the show. While chatting with the audience, Joe Bonamassa mentioned how he will be turning 35 this week and the new album "Driving Towards the Daylight" is album number 13. That is quite an accomplishment.
This show completely caught me off guard, and I'm so glad I've been turned on to him. Joe Bonamassa is obviously going to be around a very long time and is sure to be one of the greats. The concert lasted about two hours and 15 mins. He played mostly his material, but he threw a few covers in there from bands like Led Zeppelin, The Who, and Gary Moore. The show totally rocked with no opening act – just Joe doing what he does so well. If you are a  Blues fan or a rocker, you'll love this guy. He's got plenty of dates left on this tour, and I hear his DVD "Live From The Royal Albert Hall" is a must-have. Check this guy out!