Review – Josh Groban w/ Elew @ Conesco Fieldhouse – Indianapolis, IN -06/12/11
This review of Josh Groban's and Elew's performance at the Conesco Fieldhouse comes from one Mr. Benny Nova. I meet Benny Nova a few years back and have to say this dood def knows how to rock and never seems to let anything keep him down or from going to a show. Benny had expressed interest in YTC almost immediately, and even helped out with a few videos back in the day. Needless to say I was excited to get this review from Benny and look forward to seeing more works from him in the future. -lorn

Josh Groban w/ Elew @ Conesco Fieldhouse Concert Review
Hey there YTC Followers and Fans!! Checking in with you from Indianapolis, Indiana, where we were treated yet another amazing VIP concert-going experience, this time seeing the amazingly talented Josh Groban. Who, I had definitely heard of, but never actually listened to. He came to swoon the crowd at Conseco Fieldhouse, home of the Indianapolis Pacers, to about 10,000 strong! It was clear from beginning to end, that he's an artists who attracts a regular following of die-hard fans. Behavior that reminds you of teenagers in the face of their favorite new boy-band, but with more maturity. And definitely more musical talent!
What drew us in this evening, was also a really special purpose. As, Josh Groban is my Mother's favorite artist, and in honor of her upcoming Birthday our Sister in Los Angeles made some phone calls, and set us up with a truly special VIP experience for her and some of our family (including a Sister who is also a Josh Groban fanatic).
Conseco Fieldhouse has a beautiful entry, lobby, and amazing architecture. Clean, modern, and with a much smaller feel than the number of people that can fits in its seats. With the special tickets setup by my sister, we were given a really nice Josh Groban gift bag, and invited down into a private room to enjoy some food and drinks before the show.
At this point I noticed being very close to the backstage area, and in my typical fashion I decided to do a little exploring. Also , I wanted to get a look at our seats in advance (as I have a wheelchair to accommodate), and with 3rd row seats in a huge arena like this I wanted to make sure I could make it work. After pushing through the nearest door, I noticed myself somewhat lost, but was certainly squirreling around in the corridors behind and around the stage. Really, I just wanted a look at these seats! But, of course I took my time to enjoy the ambiance of passing the production offices, artists dressing rooms, and all of the various production crew that really make the show a success. It's when little things like this happen, that immediately make you feel so connected to it all!
Eventually finding my way into the arena, the ushers (and all the staff) at Conseco were incredibly helpful. My seat was one of the best I've had in a venue this big to-date, which was in the 3rd row center, just along the aisle. The reality of how close we would be set in as Elew (the opening act) stepped on the stage for a quick last-minute sound-check, which was top-notch. Definitely the setup I'd expect from a show this professional. Really crisp, in all the right ranges, perfect volume, and as I moved throughout the floor it seemed like everyone would hear it the same.
Elew opened up, and absolutely dazzled on the piano. I heard stirrings from people around me of having seen him on the TV Show, America's Got Talent. Clearly, he's really moving up! Elew started off playing a solo set on a Yamaha Concert-Grand piano for about 35 minutes. His flare and personality were immediately evident with his wild hair, and these metal sleeves adorning his forearms.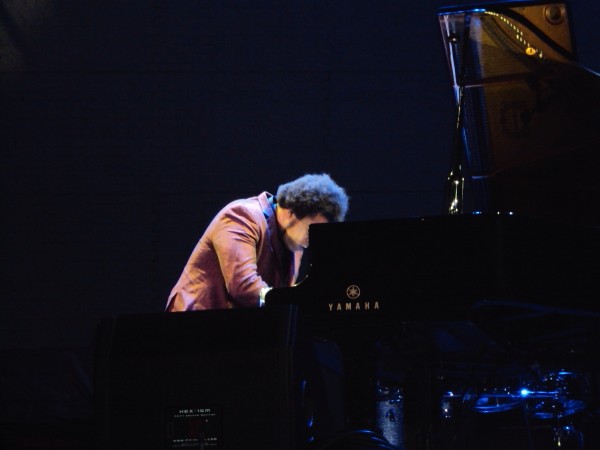 What we didn't realize until later, is how this played into his performance, as Elew would work the piano's harmonics by sticking his hand under the lid, and using the metal sleeve to flatten the strings. At the same time, the other hand worked the keyboard with blazing speed, producing an incredible sound that was something I'd never heard before! Elew continued to impress, as his set consisted of jam-outs, mixed with breaks into popular tunes, at one point transitioning from Coldplay's "Clocks", to Nirvana's "Smells Like Teen Spirit" to "My Favorite Things" from the Sound of Music to the Maple Leaf Rag (a piano classic), in that order! Elew literally man-handles the piano, and manipulates it in a way like I've never seen. Beautifully! Elew was mostly well received by the crowd, but definitely someone that would go well with a little edgier audience.  Few people realized that he snuck a Nirvana song in there, for example, but in terms of musical skill he was right there with a guy like Josh Groban.
After a short intermission, Josh Groban took a small sub-stage that was setup  towards the middle of the arena, which he used a couple of times during the performance. This stage gave Josh a chance to really get in the middle of the audience, and move back and forth between it and the main stage, making the entire show a more intimate experience for the crowd.  I can't offer you the names of any songs or albums that Josh Groban performed, as I'm not familiar with his music. What I can tell you, is that Josh Groban definitely won me over as a fan. Josh Groban has got a voice quality that is unmatched, but also his personality and the way he entertains is pretty cool. At one point during the show Josh Groban was kind enough to take questions from the audience, submitted by text message before the show, I thought this was a lot of fun and pretty smart.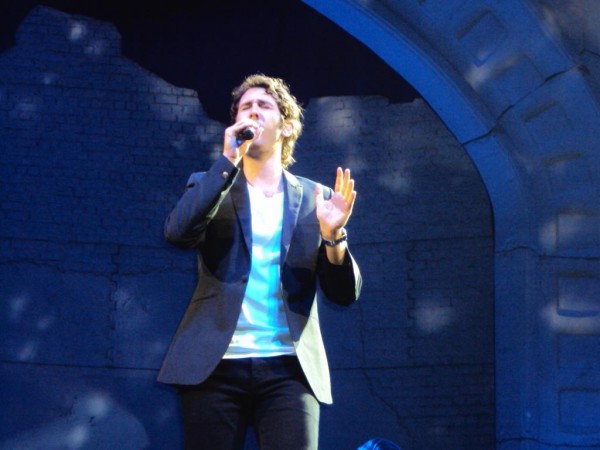 With an endless choice of hit love-song ballads to pick from, Josh Groban's show ended up having a lot more variety than I expected. First of all, the man can sing in something like five languages.  For one, he's got to be pretty intelligent just to pull that off, and from another perspective, an entire World of women is in love with him, not just English speaking ones!
There's a very ballad style to each of Josh Groban's tunes, but the varied vibe, tempo, and energy of each song kept it moving for the whole (almost constant) 2-hour set. Another impressive thing about Josh Groban's set was his accompanying band. A 4-piece string section, 4-piece horn section, percussionist, drummer, bassist, guitarist, and key player. I enjoyed observing each of them from such a close vantage point, and I don't think one of them missed a cue, even in songs that had a lot of complexity.
During an interlude, the band stoked some energy into the crowd by rocking out a version of Live and Let Die. After returning from his break, Josh Groban positioned himself in front of a drum-kit they had just added to the stage, and jammed with the rest of the band for a couple of instrumentals. It's something I didn't expect at all (as he's usually just singing or on the piano), and added a nice bit of rhythm and groove to the show, even further verifying the depth of Josh Groban's talent.
The fact of the matter is,the crowd LOVED Josh Groban! They all seem to respect each other, as some people were dancing and singing, some obsessing & screaming, some just quietly enjoying the show, but all seemingly captivated to be there. At the moment I realized this, it made me even happier to know that my family were some of those people (yes, the screaming ones lol). Sometimes how much you enjoy a show has a lot to do with the people you attend with. It turned something I'm not usually interested in, into a good time!
In closing, I also have to give Josh Groban props for the way he engages with the audience. It's really what turns just a musician, into an entertainer. And when done well, is a great experience. Josh Groban was funny, witty, and didn't go overboard with it. After this show I must admit, I have a bit of a man-crush on Josh Groban.  As an overall production, it seemed to go off without a hitch. So if ballad music is your style, you probably already know who Josh Groban is, and don't need me to tell you it's worth whatever price to get in there and see him! Just do it. If it's not your style, it can definitely make for a fun night if you have another fan or reason for going. Be open, let it happen!  With my obligation to be honest as a reviewer however, my highlight of the night was Elew. Man did he slay that piano!! And is more of an eccentric-virtuoso type, much more my style.
If you have ever seen Josh Groban or Elew make sure to leave your thoughts and comments because " When You Tell Concerts Its Cooler" – Benny Nova
Josh Groban – Higher Window