Review – Journey w/ Pat Benatar and Loverboy @ Iowa State Fair – Des Moines, IA 8-18-12
Review – Journey with Pat Benatar and Loverboy @ Iowa State Fair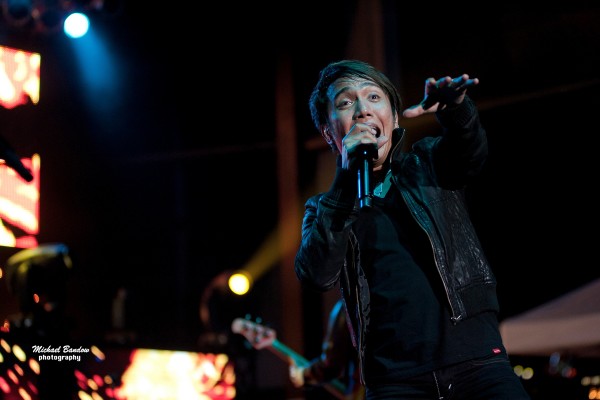 Saturday night at the Iowa State Fair was a night I'd been waiting along time for. It was my chance to slip back into the 80s and dance and sing to the live music of my favorite bands from my teenage years: Loverboy, Pat Benatar, and Journey, one stage…one night. It was spectacular!!
LOVERBOY opened the mini music fest with one of my favorite songs, "Queen of the Broken Hearts."  I can't remember if this song was big on the radio in the 80s. I was such a Loverboy junkie, I knew all the B-sides as well as I knew the popular songs. Loverboy had most of the original line-up, and though they did look like years that have passed, they still sounded like the Loverboy I knew and loved. The set was short, but they did all their hits: "The Kid is Hot Tonight,""Turn Me Loose," "Hot Girls in Love," and "Working for the Weekend."
Die-hard fans tried to guess the next song by the first few chords, and when the low bass of "Turn me Loose" identified the song, the audience went crazy. That song has no time or boundaries. It is a universaly fun and fantastic song that gets you on your feet. It literally, Turns you Loose! They closed their session with "Working for the Weekend," which brought the crowd to a frenzy. It was Saturday night, and the feeling of spending your weekend with 10,000 others partying to your favorite high school songs was phenomenal. Loverboy successfully took  through  phase one of our journey to the 1980s, and got us all fired up for what was to come!
PAT BENATAR - "All Fired Up!" We were, she was, and it was was her first song of the night. It was a thrilling return to 80s Rock by my all-time favorite singer! I've seen Pat in concert many times over the years, and as usua, l this immortal rock goddess put on an incredible show. Her voice is as strong and clear as it was when she debuted 34 years ago. She and her superstar guitarist husband of 30 years, Neil (Spyder) Giraldo performed crowd favorites "Invincible," "We Belong," "Promises in the Dark," "Hit me with Your Best Shot," and the song that was the second video ever played on MTV in 1981, "You Better Run."
Pat always performs in some form of sleek black coolness, and this time she topped her black skinny jeans with an oversized ankle length black open coat with some Asian embroidery details. She looked fabulous. Her penchant for tight black stage clothes throughout her career started in the early days when she didn't bother to change out of a Batgirl/Catgirl Halloween costume before going on stage. The audience loved it, and her look was born. It's been copied so much, I think the spandex industry should give her the credit. Almost no one wore spandex (in public) before the 80s, and Pat Benatar helped to generate not only an awesome fashion, but a whole new craze. All of us spandex-loving females owe Pat a "Thank You."
The stellar hit, "Love is a Battlefield," ended the show. It was an audience sing-a-long; the crowd knew every word, and we rocked it! A three-song encore let us rock it a little more. "Let's Stay Together" was the first, followed by a killer rendition of Johnny Cash's "Ring of Fire," and finally the one we'd been waiting for, "Heartbreaker."  It was a mass frenzy - arms flailing, sky punching, and necks rolling. It was the expected explosion of endorphins that the music lets loose in your body when you hear your memories' favorite anthems. It was a happy and complete high courtesy of this nostalgic trip back in time. Thanks again, Pat! Phase 2 complete…on with the "Journey."
The final band to take the stage had the songs that were the soundtrack to my teenage years:  the band one whose songs had so much meaning and attachments to certain people and places, the band who accompanied me on my way. How appropriate that this band is called JOURNEY. They were there for me throughout the 80s, and here they were again.
I hadn't seen Journey in concert since the late 80s, and I was excited to revisit those people and places. I hadn't followed Journey's evolution during the 90s and was surprised that I wasn't going to be hearing Steve Perry singing all my favorite songs. Journey's line up had changed a little since I last saw them. Neil Schon is still firmly in place as the bands guitarist.  Jonathan Caine still pounds the keyboards, and Ross Valory is back on bass, but the vocal driving force was missing.
Journey Video Fan Reviews @ Greek Theater 2008
In place of Steve Perry on vocals was a young Filipino lad named Arnel Pineda. Where did he come from? Well, he came from a Journey cover band Neil Schon saw on YouTube. When Steve Perry retired from singing, Neil took to the internet and hired not one, but two lead singers from videos he saw on YouTube. Arnel is the second of the singers and has been touring with the band since 2007. When he came onstage at the top of the show starting "Any Way you Want It", I was a little disoriented. The music sounded fantastic, it was definitely Journey up there playing. Still,  I had to close my eyes to let my mind absorb this slightly different sound coming from the singer.
The first several songs they played "Ask the Lonely," "Only the Young," "Send Her My Love" sounded pretty good as I came to terms with the acceptance of no Steve Perry. More of my favorites: "Faithfully," 'Wheel in the Sky," "Don't Stop Believin'" played, and I was almost there. Then it happened, the thing that reminded me I was at a Journey concert – a Rock concert - the first guitar solo. At this time, I forgot about the connections I'd had with the songs. I hadn't experienced a Rock and Roll guitar solo in years. Neil Schon gave a solo performance that escalated into the "Star Spangled Banner" on guitar.
He followed that up with other shorter solos during songs and made me pay even more attention to the music. It was Journey at their best, it was Journey now. This new kid was singing the songs I loved. Even if he didn't sound exactly like Steve Perry, he was close. Plus, he was energetic and loved what he was doing. Instead of being analytical or critical, I let myself go and when "Lovin' Touchin' Squeezin'" played, I was a 15-year-old schoolgirl again with several mad crushes and a flood of memories. It was one of the funnest songs of the night, and the end of the show. I loved my Journey back in time and can't wait to go back! Don't miss the opportunity if it comes your way. This concert is a blast!
- Review by Shelly Banks