Review – Kanrocksas @ Kansas Speedway – Kansas City, KS – August 5th & 6th
Aug 12th, 2011 | By Mike
Category: A Perfect Circle, Arctic Monkeys, Artists, Bassnectar, Black Keys, Cage the Elephant, Concert Reviews, Eminem, Festivals and Events, Flaming Lips, The, Girl Talk, Grace Potter & the Nocturnals, Kanrocksas, Kansas City, Kansas Speedway, Kid Cudi, Muse, Primus, STS9, Ween, Written Reviews
Review – Kanrocksas @ Kansas Speedway
Kansas City, KS – August 5th & 6th, 2011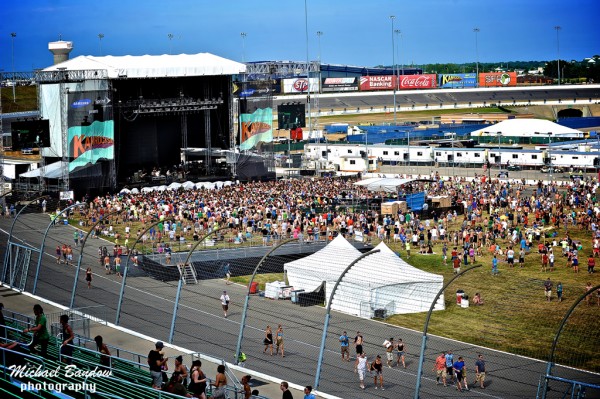 The first annual Kanrocksas Music Festival kicked off on Friday, August 5th, and lasted for 2 days of great bands from just about every genre. It showcased everything from Pop, Rap, Techno, Indie, and Rock and was held at the Kansas Speedway in Kansas City, Kansas. A ticket price of $179 paid for admission into the two day event with camping and parking included. I thought it was a great price for all you got.
A Quick Look at Kanrocksas by Bart Vandever at Pitch.com:
Video Credit: Bart Vandever for Pitch.com
Kanrocksas had one big stage and two slightly smaller stages. There was always a band playing on at least one stage at any given time. Since the area is so huge, sometimes I had to hurry to reach the other stage before the act I wanted to see started playing, but it seemed to work out all right. I love seeing outdoor concerts in the nice summer weather. It was very hot both days – upper 90's if I remember right, and it felt every bit of that. I saw a few victims of the heat, but far less than i expected. Hey, it is August in the Midwest!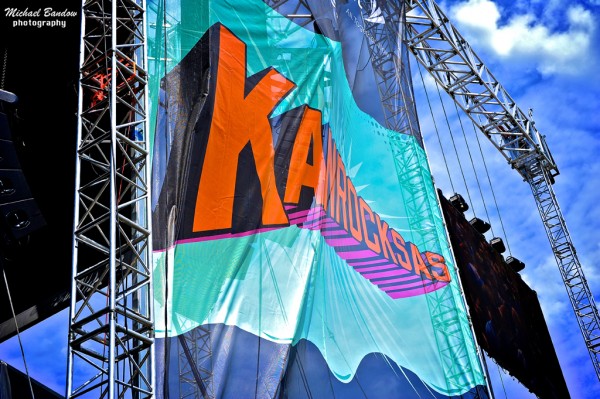 I'm really digging these festival shows that feature bands I haven't been exposed to. I always end up getting into some band that's new to me. This time I found a few. Several people over the last few years have told me to see The Flaming Lips. They put on a show you just have to witness first hand.
Singer Wayne Coyne starts off the show by climbing into a giant plastic see-through ball that rolls out into the audience. Once back onstage, there is everything from a megaphone spewing thick smoke to insane amounts of balloons being dumped into the crowd. Then, there's the smoke and confetti explosions every 30 seconds making the show something you just have to witness first hand to grasp. They were one of the festival's favorites for sure.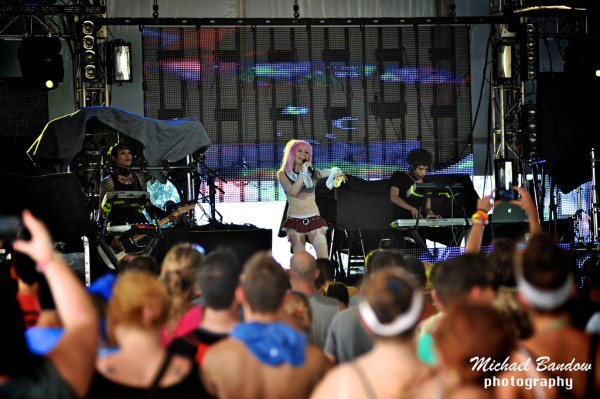 The one band that really surprised me, mainly because it's not really my thing, was Kerli. Very cool band! I can't get the song "Army of Love" out of my head for anything. I would definitely go see her again. She was a photographer's dream to shoot too. I loved her look, and after researching Kerli online, I found she changes her look constantly. The crowd adored her, and I found myself not wanting to leave before she finished her set, but I had to run to another stage and catch Grace Potter and the Nocturnals. I saw them last month at Iowa's 80/35 Music Festival, and they did not disappoint.
There was so many cool bands, I had to keep checking the schedule to make sure I didn't miss anything. Another high point for me was seeing Eminem. He was on the big stage and the entire place swarmed to his stage when he was on. He had an unbelievably great light show with amazing visuals on the big screen throughout his performance. By the time his set was over, I was exhausted from the first day's events.
Muse headlined the second night of the festival. An equally impressive stage show. I haven't seen a stage that big since the 80's, when the bands would play the stadiums.
Kanrocksas was quite the festival, which I'm sure will be a yearly event. I had heard they were expecting 100,000 for the weekend, but the numbers were slightly less. Maybe 70,000? It had lots of extras too, like a giant waterslide, hot air balloons, people performing with fire twirlers, Hula hoop girls, people painting graffiti murals, and good food. I can't think of anything Kanrocksas didn't have!
I've also never seen so many photographers at any show before. There must have been 40 or more piled in up front at some of the sets. I really hope this festival returns next year. Kanrocksas's first year was huge success in my book!
Here's a link to a brief newscast on the event. The festival-goers have some great things to say about the experience!