Review – Kenny Chesney & Tim McGraw @ LP Field – Nashville, TN 6-23-12
Review – Kenny Chesney & Tim McGraw – Nashville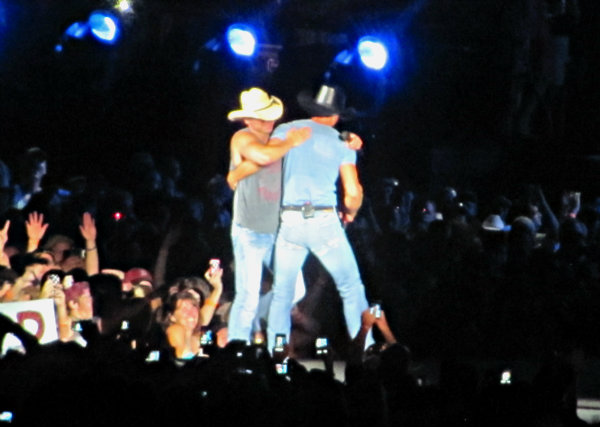 We brought in the first weekend of Summer yesterday at LP Field in Nashville for the Brothers of the Sun Tour featuring Jake Owen, Tim McGraw, Kenny Chesney, and Grace Potter & the Nocturnals (Sister of the Sun?).
At first, I was shocked at the 4:30 start time on the ticket, but then remembered that Chesney shows are all-day events, much like a Jimmy Buffett experience or a football game with extreme tailgating and what have you. I'm assuming each of the openers played a decent set length, but I wouldn't know because we unfortunately missed Owen and Potter due to my firm protests against $25 event parking. Really? Seventy-five bucks a ticket, $25 parking, and $9 beers…wallet rape…not having it.
Tip to Nashvillians: Allinder Plumbing on Woodland St…ten bones to park and a healthy walk to the stadium.
We got inside just in time to hear Tim McGraw taking the stage. We rushed to our seats and drooled over that super tan, muscle man dressed in all white with eyes that sparkled like twinkling stars. Tim McGraw was one of the first Country acts I saw upon my move from Los Angeles, and I honestly enjoyed him. At that point, I wasn't a big fan of the genre.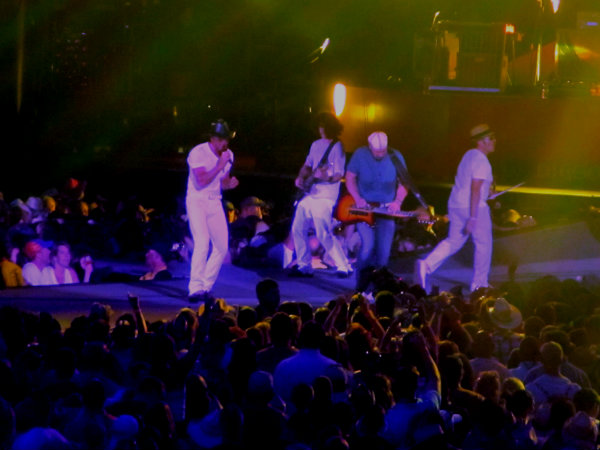 Besides being gorgeous, McGraw has a great voice. I feel that a lot of acts in Country music get by on their songs and their voices are just so-so. To be successful, you need those songs where the tune and structure are familiar and simple, but the story is descriptive and relatable. For instance, Chuck Wicks has the best voice I've heard from a male in the format, yet he can't break through. He needs the right songs for Country.
McGraw has both the songs and the voice, and he sang all those songs last night…including "Felt Good on My Lips,""Where the Green Grass Grows," "Better Than I Used to Be," " Southern Voice," "Something Like That," "Live Like You Were Dying," and "I Like It, I Love it."
A  highlight would be McGraw's wife, Faith Hill (looking fierce in an adorable pant jumper), joining him onstage for "I Need You." Following the number, they gave each other a hug and a kiss, and Faith said something to the effect of "You look good in that white." Rub it in you lucky devil. After watching her leave the stage, he turned to the crowd with an ear-to-ear smile, patting his heart with his hand….very genuine and heartwarming!
McGraw also brought Titans' QB, Matt Hasselbeck, out at one point to throw some balls to the audience.
YTC Archive: Concert Reviews from Kenny Chesney in Jacksonville – 2009
Kenny Chesney had a lot to live up to. As people refreshed their beers, CHR and Urban hits pumped through the stadium, giving ticket-holders their second wind. A video montage of past Chesney shows rolled and concluded with a personal message from Kenny in the stadium stands wearing a Titans helmet, thanking everyone for coming out.
Then, there was yet another video. This one was a produced, countdown-to-show, anticipation-builder where a space satellite tracks Kenny's tropical yachting trips to the sounds of AC/DC. Point received…you have an awesome life that we should all be jealous of. Maybe we should have skipped this concert and put the money toward our own vacation fund. I'm being harsh. I get it. He was trying to set the mood to one of an island vibe and mentality. It just wasn't working for this pregnant lady trying to get comfortable in her stadium chair.
(Which brings me to another tip, don't bring egg crate cushions to a concert to sit on. Tacky, tacky, tacky. Watch a DVD of the live show from the comfort of your couch, if you can't handle it. Yes, my sister saw someone actually do this.)
Back to Kenny…you know what's not tacky…making a huge entrance. Kenny always does, and I totally appreciate that. He emerged from a platform towards the back of the field singing "Beer in Mexico," and then hopped on his special suspension chair that transported him to the main stage over the heads of the audience. I believe all stars should fly in their show, if they can afford it.
Kenny and Tim must be having some sort of "who can get more ripped/tan during the tour" competition, because this is ridiculous. Kenny looked outstanding. Aren't Country stars allowed to be fat and kind of dumpy? Not these guys.
Brothers of the Sun in Nashville Highlights
I'll be honest, I don't know a ton of Kenny Chesney songs, and there were many songs played that I've never heard before; but he played for about two hours and the set list included almost all the hits I'm familiar with – so I was happy. However, he missed my favorite, "Don't Blink."
By the fifth song, Chesney's grey sleeveless tank was soaked in sweat, but that is the mark of a hard-working performer. He pushed through, sprinting across that gigantic stage, fitting in as many songs as he could. He has a lot of fun on stage and connects with his fans.
He did one song that he had heard a truck blasting while his bus pulled into the stadium. He said that he wasn't planning on playing that song, but because he had that experience earlier in the day, he thought he should play it. That was a terrific way to personalize the show.
Another customization was a surprise birthday celebration for Grace Potter after she joined Chesney for their hit, "You and Tequila." A big cake in the shape of a Flying V guitar (the kind Potter plays) was brought out, along with a margarita the size of her head; and then, a High School marching band from Brentwood took the stage. They played "Happy Birthday, " and the stadium sang along.
Now, I don't know what Potter's relationship status is (we're not friends on FB), but if Kenny's trying to hit that, he's scoring some serious points.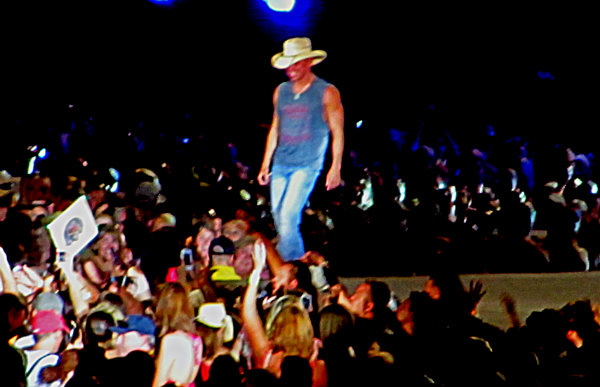 For the encore, Kenny and Tim blasted everyone with their duet, "Feel Like a Rockstar" and a couple other tunes, including  "She Thinks My Tractor's Sexy."  That was followed up by a cover of Jackson Browne's "Running on Empty;" tour mates Jake Owen and Grace Potter both joined for that.. Before leaving the stage, all the artists stayed for at least five minutes signing autographs and shaking hands with fans.
This was an ideal summer show. I  don't believe I've ever seen a regular concert at a professional football stadium. Sure, CMA Fest, but that's a huge festival.
Originally, I was torn between this concert and Tenacious D at the Ryman, but I'm happy with my decision. I saw Tenacious D at Bonnaroo recently, and loved them, but as Chesney mentioned, he hadn't been to Nashville to play a full show since 2007 (which seems really strange to me, since Nashville is the stereotypical home of Country)! Let's hope he takes time out of him busy boating schedule to visit us again within the next five years.
If you went or are going to the Brothers of the Sun Tour, or are a fan of the artists on the bill, be sure to comment with your thoughts and reviews. Because, this is You Tell Concerts, and when you tell concerts..it's cooler!