Review – Kenny Wayne Shepherd @ The Val Air Ballroom – West Des Moines, IA 12-14-11
Kenny Wayne Shepherd @ Val Air Ballroom -
Des Moines, IA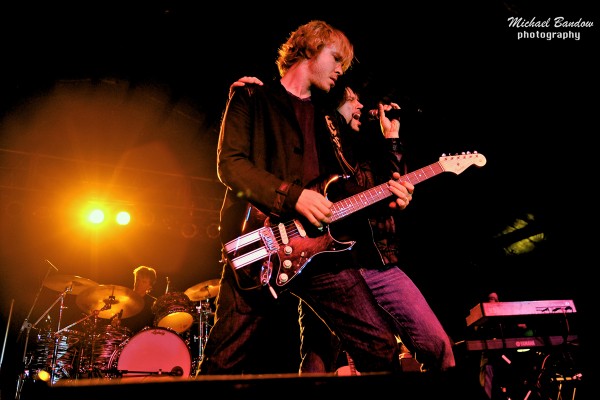 Kenny Wayne Shepherd was in town to bless the stage at the Val Air Ballroom with his presence. This was another band I've always wanted to hear. If there's a guitar God in the band, I'm in! I've been very fortunate this year to see some truly amazing Blues guitarists and Kenny Wayne Shepherd is no exception. The turn-out was pretty decent for a week night, but should have been a total sell-out with these guys. I've noticed that the Blues crowds are always a bit older, more like the 50-60 year old range.
The younger people need to get a clue and get out to some of these shows, as they don't know what they are missing. The cool thing about the Blues is, you don't even have to know the band's material. You just go to the show and get blown away by the talent these guys have.
The moment Kenny took the stage and hit his first note on his guitar, I knew it was going to be good show. Kenny Wayne Shepherd is my kinda Blues rocker. He's bluesy, but also has a nice Rock 'n' Roll sound going on. He's more upbeat and faster verses the slower, older style of Blues.
Video Credit: YouTube User - KennyWShepherd
His music is full of energy. I really liked the vocals of Noah Hunt too. He complements Kenny's playing perfectly. While I was up close shooting the show,  I kept thinking how familiar the bass player ( Tony Franklin ) looked. He was in supergroup, The Firm, Blue Murder, Pat Travers, and many other 80's bands. I also enjoyed the keyboard work performed by Riley Osbourn. I love that churchy Blues keyboard sound. That is a must for any true Blues band. Drummer, Chris Layton, was amazing all night. He was Stevie Ray Vaughan's drummer until that tragic day that took one of Blues' legends from the world way too early. This band packed with a crazy amount of talent!
My two high points of the evening were the cover of the Jimi Hendrix song, "Voodoo Chile," complete with some behind-the-back guitar playing, and the Kenny Wayne Shepherd huge hit, "Blue On Black." This was a spectacular show that my friends and I truly enjoyed. I'm now a huge fan and can't wait to see them come through this way again.
If you want to be blown away by an amazing guitarist backed by an amazing band, see Kenny Wayne Shepherd. His tour dates are looking a little thin right now. Keep checking the band's website for future tour information.