Review – Lady Antebellum / Darius Rucker / Thompson Square @ Wells Fargo Arena – Des Moines,IA 1-28-12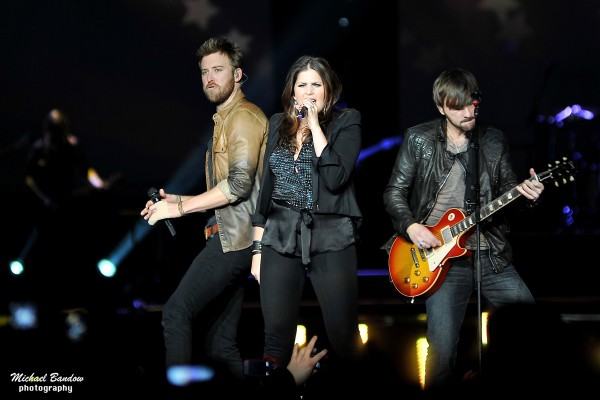 Review – Lady Antebellum @ Wells Fargo Arena, Des Moines, IA
Lady Antebellum brought their "Own The Night" Tour to Des Moines and invited Hootie & the Blowfish rocker, Darius Rucker, and Country-duo, Thompson Square, as openers. The show was just about totally sold-out. I saw Thompson Square open up for a sold-out Jason Aldean show earlier this year, so I was looking forward to seeing them again. The rest of the nights' line-up was going to be a first-time, so I was super excited. I've also heard from all my Country music fan friends that Lady Antebellum is 'IT' right now, so I needed to see this band live first hand.
Thompson Square sounded really good and looked really good. They seem very confident on stage, like they have been around doing this for years, even though they are relatively new to the scene. Shawna Thompson was sporting black hair and a black tutu. She reminds me of Jennifer Nettles a little bit with her wild Country rocker chick look. It suits her well. Her husband, Keifer, has the hip bad-boy rocker look going on. I just wish they had more material, so they could play longer. As good as they are, I'm sure there will be another album right around the corner from them. I did not score or see any setlists around to grab or photograph. If I remember right, they played 5 songs. It was a short and sweet set that got the crowd all fired up to get the night off to a great start!
Next up was Darius Rucker. I had never seen him solo or with Hootie & the Blowfish, so I was looking forward to this. I was blown away by how good this guy is. He did solo stuff, and of course, he had to do his Hootie hits like "Only Want To Be With You," "Hold My Hand," and "Let Her Cry," all of which got the sold-out crowd worked up into a frenzy. He did a few covers from other bands also. My favorite being Prince's "Purple Rain." He really poured his heart and soul into doing that song…very cool. He played a good long set. He must be a chick magnet too. I heard woman going nuts throughout his set. I personally know women that were there that think he's the best thing since sliced bread.
Headliners, Lady Antebellum, sure can measure up to all the hype I've been hearing. They nailed it! I must confess the only song I was familiar with prior to the show was "Need You Now." What can I say, I'm still a rocker, but I am starting to dig this new Country stuff – something just a few years ago you would have never hear me say. They had some really cool moments during the show.
Video Credit: YouTube User jkuch86
They recognized a local Des Moines woman who had just beat breast cancer and was there celebrating at their show. Vocalist, Charles Kelley, gave her a hug and dedicated the song "Hello World" to her. It was quite emotional. You can see him talking to her in my photo gallery. Another cool thing was when Charles reached into the audience and plucked a little girl named Sydney from Cedar Rapids, Iowa to come up and sing a song with the band. She knew the words and rocked it!
Lady Antebellum did a few covers too during their set such as The Allman Brothers' "Midnight Rider," The Doobie Brothers' "Black Water," and Aerosmith's "Sweet Emotion." I had such a great time. It had a great stage, cool lights, three jumbo screens, and the inner circle seating where you are smack dab right in the middle of the stage with the band surrounding you all night. How stinking cool is that? Bottom line – if you are a Lady Antebellum fan or a Country fan, get your butt to this show!  It's a no-brainer.