Review – Lazerfest 2012 @ The Central Iowa Expo – Boone, IA 5-13-12
May 24th, 2012 | By Mike
Category: Adelitas Way, Art of Dying, Artists, Black Stone Cherry, Buckcherry, Central Iowa Expo, Chevelle, City, Festivals and Events, Five Finger Death Punch, IA, Lazerfest, Sebastian Bach, Shinedown, Slash, Theory of a Deadman, Volbeat, Written Reviews
Review – Lazerfest 2012 @ Central Iowa Expo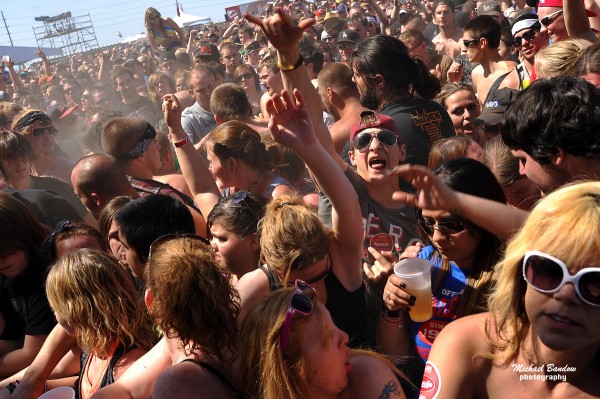 Another Lazerfest has come and gone. It was moved to the Central Iowa Expo Center in Boone, Iowa this year. The old location had a lot of traffic problems and was notorious for being a hellish mud pit when the weather didn't cooperate. The decision may have kept some fans away (not knowing how the new location would pan out), but those who went said they liked it better. This year, the attendance was about 15,000 compared to 23,000 in 2011. The had the two-stage setup, which is awesome; one band is playing, while one is tearing down – very little downtime in between bands.

Okay, now for the bands! Dead Horse Trauma, a local band that won the contest to open Lazerfest: First off, this is a very cool thing for a band trying to make it, getting them tons of exposure. They played their hearts out and sounded great! Next up, was a Canadian band – Art of Dying. I liked these guys. They had ton of energy. Singer Jonny Hetherington really worked the crowd well. Next, was Black Stone Cherry, a good rock band that's been around a few years now. Their guitar player was a ball of fire – all over the stage. He was one of my favorites to shoot that day.
Next up, was Adelitas Way. This band is gaining a lot of steam. Everytime I turn around, they are coming through on another tour with someone. The singer did some crowd-surfing to end their set, which was quite good.  P.O.D. was up next. They are a killer live band. While standing in the photo pit, their drummer, Noah Bernardo Jr., threw a stick that landed right by me. I noticed a young fan drooling at it and let him have it for a nice Lazerfest souvenir. There were guitar picks flying around all day as well.
The next artist was Sebastian Bach. The last time I was him live, he was fronting Skid Row, and they were opening for Bon Jovi. it must have been around 1989. He still has the showmanship that he did back then. The band had the crowd worked up into a pretty good frenzy. Next, was my favorite of the day – Volbeat. These guys took the stage, and basically, just kicked my ass musically for an hour. They opened their set with their hit, "A Warrior's Call." The guitar player touring with them is Hank Shermann of Mercyful Fate fame. He's amazing, and I hope he stays with them for awhile.
Buckcherry was next and was definitely a crowd favorite. They are a fun party band. They put on a great set. Theory of a Deadman were at last year's Lazerfest.  This was my 3rd time seeing them, and they are another great live band that is everywhere right now. Next, was Chevelle. I'm just getting into these guys. I really dig them. I can't get enough of their new single, "Face to the Floor."  They ended their set with it, and the crowd went crazy!
Slash…one of the very few rock stars that everyone knows who they are. You can't mistake him with that top hat. He totally tore it up! Would you expect anything other than an incredible performance by Slash? This was my first time seeing him live, and his guitar-playing is phenomenal. Some of best photos of the day were of him. Thanks, Slash!
Five Finger Death Punch is a favorite of mine. These guys are on fire right now and are one of the best live bands I've seen recently. They have a blast up onstage, and you can tell they truly love their fans. They co-headlined the festival with Shinedown, which played last. I've seen them a few times before. They always put on a great show, but they are more polished now. This was an amazing day of rock n' roll. It was a perfect 75-degree-day. I'm sure the attendance will be back up to par next year, as this year's was a success at the new location.