Review – Let's Hang On! @ Niswonger Performing Arts Center – Greeneville TN – 2/25/12
This Review of Let's Hang On!, a Frankie Valli Tribute Show, comes from Ralf Ogle. I had never heard of these guys before Ralf sent in his review, but it sounds like they put on a pretty darn good show. If you were at this show, or have ever seen Let's Hang On!, make sure to comment on this post and let us know what you think, because this is You Tell Concerts…and "When You Tell Concerts It's Cooler!"- poppinoff
Let's Hang On! @ Niswonger Performing Arts Center Concert Review
Let's Hang On! gave an outstanding rock and pop music show February 25th at the Niswonger Performing Arts Center in Greeneville, Tennessee. The well-choreographed stage show sold out the almost 1,200 seat Performing Arts Center. The show had a fantastic four-piece band: drums, guitar, bass, piano and six professional singers- four dapper young gentlemen and two beautiful young ladies.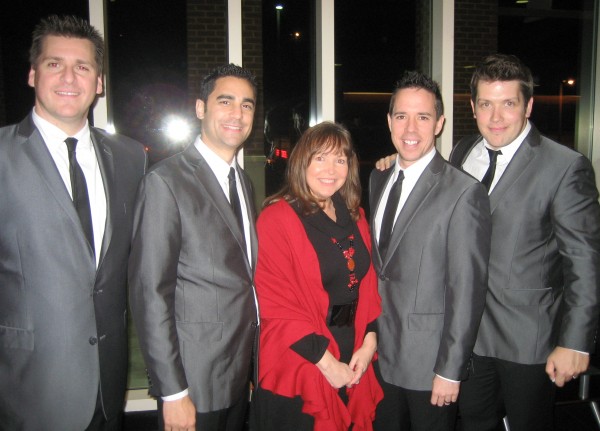 Let's Hang On!'s  90-minute show performs excellent renditions of Frankie Valli and The Four Seasons greatest hits as well as classic hit songs of the fifties and sixties. Frankie Valli and the Four seasons had 39 Top 40 hits and everyone in the audience, young and old, seemed to thoroughly enjoy the group's talented versions of their iconic songs and so many other popular songs from the golden age of Rock and Pop.
The musicians were top-notch, polished, and professional. The singers were fabulous. Each had solo numbers throughout the show, and the positive audience reaction to each singer was notable. The performance was more than just great singers singing hit songs though. Let's Hang On! gave a show like one might see in Las Vegas. The six singers are also great dancers, who danced with energy and enthusiasm throughout the show. They smiled, laughed, and used humor with the audience during the performance also.
Let's Hang On! had the audience participating because the singers dance out into the crowd and with audience members.  They talk and joke with the crowd too. The polished performance has the lighting, costume changes, and audience participation in the right places and at the right times, making the show fast-paced and dynamic. It was exciting to see the charismatic performers having as much fun as the audience.
The packed house apparently enjoyed the entire show – always applauding each number, often singing along, and even standing and dancing several times!
At the end of the successful show, the entire audience (main floor and balcony) gave Let's Hang On! a standing ovation. The cast came back for a one-song encore and again received a standing ovation by their new fans.
As we filtered out of the auditorium, we heard audience comments such as, "So talented," "Awesome!," "What a wonderful show," and "Wow, they were great!"
Polished. Professional. First-rate. Fun. An exciting and memorable musical show…that's what Let's Hang On! gives you.
So, if you want to enjoy a Broadway-class Rock and Pop music show that you will long remember, you need to experience Let's Hang On! – Ralf Ogle