Review – Little Big Town @ Hoyt Sherman Auditorium – Des Moines,IA 9-15-11
Review – Little Big Town @ Hoyt Sherman Auditorium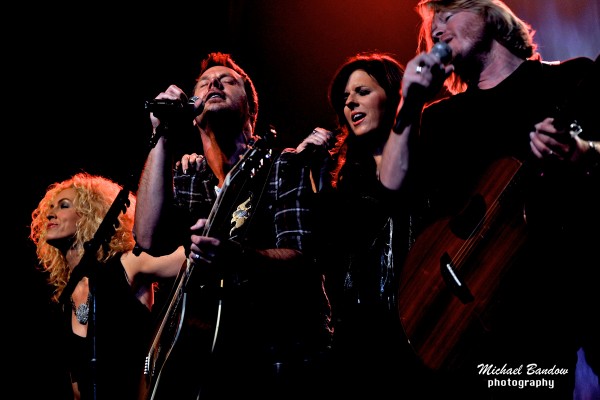 Little Big Town blessed the Hoyt Sherman Auditorium with a show on September 15th, and oh, what a show it was! The opener for this special evening was Eric Paslay, who was an amazing performer all around and quite something on the acoustic guitar.
He did a 45-minute set that the crowd really enjoyed. His acoustic sounded incredible in the Hoyt Sherman. I've heard over the years that every band that plays there is simple blown away at how great it sounds in there and by the whole turn of the century look and feel of the place. They definitely don't make places like this anymore. I'm really hoping they keep the shows coming in there. It's without a doubt the best place to see an intimate show in Des Moines,  Iowa.
Little Big Town totally rocked the place! The bands harmonies were dead on all night. Every instrument was at just the right levels. Karen Fairchild and Kimberly Schlapman amazed the crowd all night with their to-die-for melodies and stage presence. Phillp Sweet and Jimi Westbrook were all over the stage throughout the night, working the audience with their guitar licks and charisma.
I have seen them once before, but they were truly on fire this night – being the headliner this time.  I'd have to guess that their days of being an opening act are over. This band has the talent and hits to headline a good-sized place. They had some very cool graphics being projected onto the backdrop of the stage that gave the show a very cool feel.

Video Credit: YouTube User dk3422
They put on a killer show that was full of a few surprises – like performing their country version of Lady Gaga's hit,  "Born This Way."  It was a very fun version that crowd went crazy over. Another surprise was a cover of  The Eagles'  "Heartache Tonight," which was also a crowd-pleaser.
What a great, fun show this was. I'm so glad I got a chance to see Little Big Town again and headlining to boot!
A very fun cool thing they had going on in the lobby was a carnival-style game. You dropped a coin into this thing, and you played till you won something.Hat, shirt, other prizes, and it was FREE!! I won a "Road Trips and Guitar Picks" hat.
The other very cool thing Little Big Town had going on was a special package deal when buying a copy of their new album, "The Reason Why."  For 50 bucks,  you get the album and get to go back for a "meet and greet" with the band, where they sign your album for you. You get to chat with the band, and they take a group photo of the band with everyone that you can download from the band's website. How awesome is that!
Little Big Town were the nicest people and very humble.  They have quite a few shows left on this tour. Don't miss it!