Review – Lotus @ Marathon Music Works – Nashville, TN 3-2-12
Review – Lotus @ Marathon Music Works – Nashville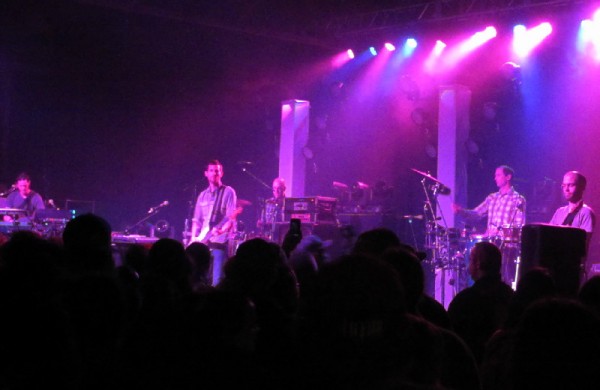 I was scrambling in a mad rush to get to Marathon Music Works last Friday night, thanks to a wild goose chase sponsored by Siri (okay, and my inability to read directions). Luckily, I made it there with more than enough time to get settled before Lotus took the stage. I had certainly heard their name around in the past, but never really knew Lotus' story. I did a little digging and loved the concept of electronica meets jam band; definitely something I wanted to check out and a great the way to kick off the weekend.
Lotus started their set around a 11:50, letting the audience get nice and primed before bringing their cosmic dance rock. As soon as the first note dropped, crowd was in the groove. There's something light and funky about Lotus that sparked some dirty dancing deeper in the flock (can't hate on that), but around the edges LED hula hoops swung from Bohemian hips, a couple of painters did their thing under neon lights, and the rest just let the music move them however it wished.
Judging by the restroom lines, males dominated the crowd, but this wasn't the type of show where girls had to worry about shirtless, sweaty meatheads grinding up on them. Lotus is for the peaceful beatniks out there; the festival-goers and lovers of in-the-moment, improvisational live music.

Video: www.youtube.com/lotusvibes
Lotus has a legit light set up, that increasingly kicks ass throughout the show. Visuals play a big part with a instrumental show, but the key to a jam band is show pace, and Lotus has it on lock. This isn't surprising…after all, they've been in the game over 12 years. Around 1:00 AM, the crowd was fired up and Lotus busted into their more electronic stuff. This fueled everyone up some more and kept the party going for the next hour.
Honestly, I've never been a huge fan of jam bands, so it's hard for me to distinguish a clear contrast between some of them. Lotus changed that for me. I don't know if it was the use of the talk box and the samples, or the stand-out rocking guitar solos, but whatever it was – it was different and kept me engaged. One thing I've always been a fan of is the type of people at these shows. They are a loving free-spirited group that are fun to be around. Good energy, and good vibes.
Lotus is a staple on the festival circuit, so be sure to keep and eye out for them as the season approaches. They also have lots of live recordings, show listings, their self-titled album available on double vinyl, and other information available on their site.
Check out the interview with Jesse (bass/samples) from Lotus at The Vinyl District's site HERE!
Some More Lotus Photos