Review – M83 @ KROQ's Red Bull Sound Space – Los Angeles, CA – 4/11/12
Boy oh boy, am I jealous of this one. This review of M83 at the KROQ Red Bull Sound Space comes from Romina Rosenow. She has written several reviews for YTC, and we were overjoyed to get to hear her take of this intimate performance. If you were lucky enough to be at this show or have ever seen M83 before, make sure to comment on this post and let us know what you think because this is You Tell Concerts and "When You Tell Concerts It's Cooler!" – poppinoff
Concert Review – M83 @ KROQ's Red Bull Sound Space
Last Wednesday, M83 played a pre-Coachella show at KROQ's new Red Bull Sound Space. The gig was most likely possible because of Goldenvoice's longstanding relationship with KROQ, as generally Coachella bands can only play Goldenvoice shows in the weeks leading up to Coachella. The Red Bull Sound Space is located at the KROQ's studios and according to Promotions Coordinator Adrian Garcia fits something like 150 people. Already an intimate venue due to its small size, the stage is level with concert-goers, bringing musicians face-to-face with the audience. Its wall is lined with vintage speakers, record players, ghetto blasters and cassette decks that add aesthetic value to the room—and no, they are not hooked up to the ear-popping sound system. Glance to your left, and you'll see immortalizing stencils that name the few musicians that have played so far (Coldplay, Pennywise, Snoop Dogg, Angels & Airwaves among them), as well as the accompanying autographs.
By 5pm, the room had filled with excited contest winners who were stoked to see a much buzzed about band play a private concert. Though some bands give off a smug air when they enter the room, M83's front man Anthony Gonzalez exudes a self-deprecating French timidity that seems to melt away when he turns on his synths and belts emotional lyrics alongside vocalist Morgan Kibby. Gonzalez expressed great excitement at playing for KROQ, mischievously commenting, "I can't believe they like shitty music like M83!" It's true that M83 has been selling out shows for ages, but Gonzalez recognizes that the shift to mainstream recognition was catapulted by the likes of KROQ, who began giving "Midnight City" radio play earlier this year.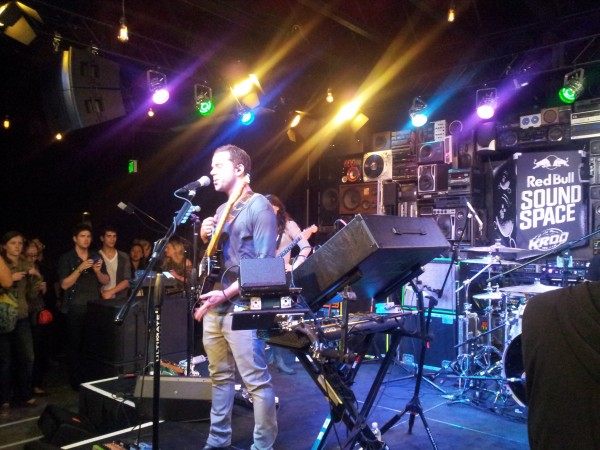 The set only consisted of five tracks, yet M83 still had us spellbound through their performance, which except for a cover of Daft Punk's "Fall" employed songs exclusively from the critically acclaimed 2011 album Hurry Up We're Dreaming.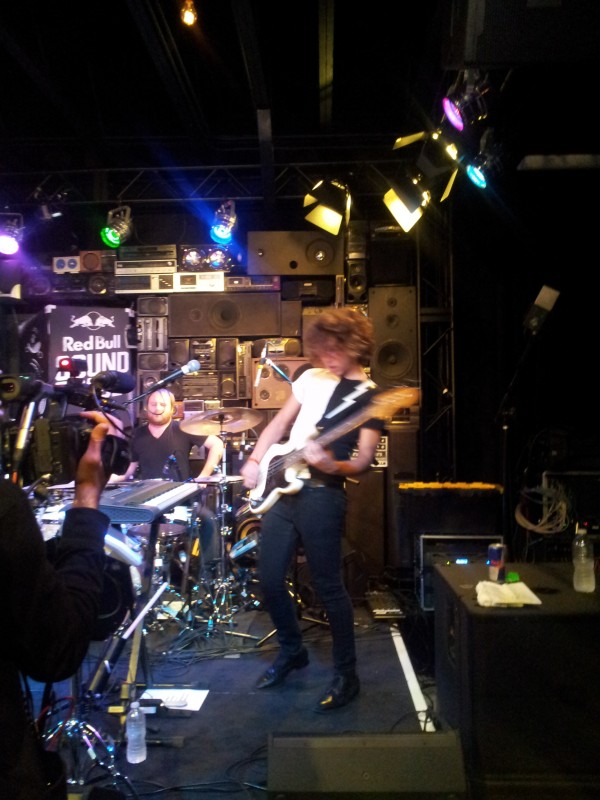 The group ended somewhat predictably, yet still with a bang, playing a larger-than-life version of "Midnight City" complete with a live saxophone player. Altogether, the show felt like a tease of M83, leaving me wanting more—more songs, more dancing (except for head nods, people kept pretty still, though attentive through the set),  and most of all, more drifting into that childhood wonder everyone admits seems to occur when they enter the 80's-electro world of M83—a name which starts to make sense only after you listen to the music, as it plays homage to the spiral galaxy Messier 83.
M83 @ KROQ's Red Bull Sound Space 4/11/12Setlist:
1. Intro
2. Reunion
3. Fall
4. Steve McQueen
5. Midnight City