Review – Megadeth @ Shrine Expo Hall – Los Angeles, CA – 10/29/13
Review – Megadeth @ Shrine Expo Hall
Megadeth in Los Angeles: is there anything better than a hometown show from one of thrash metal's Big 4 bands? After the October 29, 2013 show, I'd say, no, there isn't.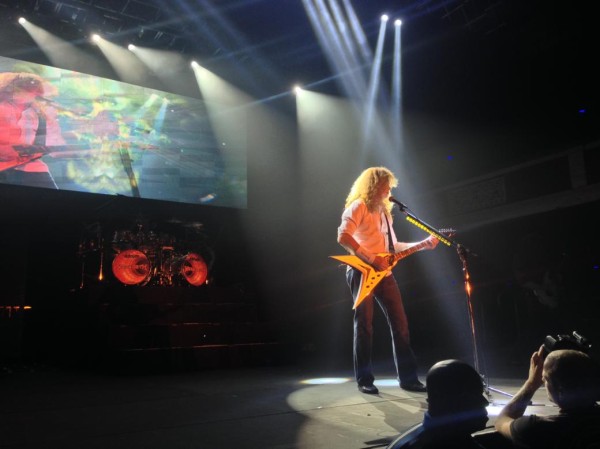 These guys have done so many tours and festivals in the last few months with bands such as Iron Maiden, Black Sabbath, and more that you would have thought they'd lose momentum coming into this Los Angeles show, but you'd be wrong thinking this. This show marked my 3rd time seeing Megadeth in a little under 8 weeks and I could tell you that this was by far the best show I've seen out of them, ever.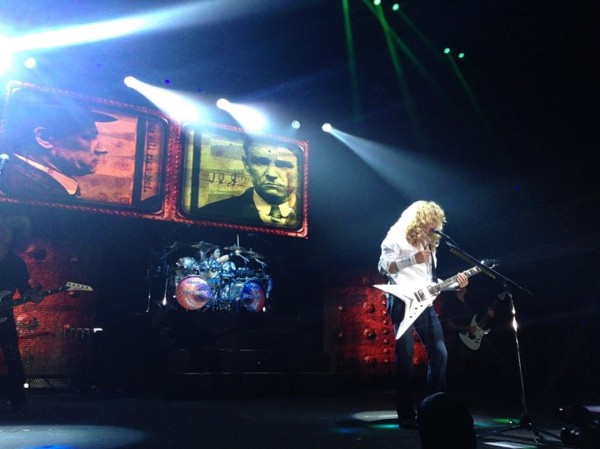 I've never seen Megadeth's music executed so perfectly until this night, and I really wish the band would have done a live DVD of this night to let people know what they missed out on. Vocals have never been cleaner, drums have never sounded louder, and guitar and bass have never sounded more on point to the original recordings. My favorite moment was seeing Dave Mustaine melt faces with a Holy Wars guitar solo only 5 feet away from me and seeing people basically break their necks by head banging so hard.
 Megadeth – "Set The World Afire" @ Shrine Expo Hall
There were no openers for this show, but that's alright, we were all there for Megadeth, anyways. While there was no openers, that didn't mean we were treated to an extra long set, but again, that's fine because we heard all the songs we were expecting to hear. What we didn't expect was to hear 'Set the world Afire,' a song the band proclaims that they haven't played in a while. If 'Into the Lungs of Hell' was played before this, I'm sure the people would have blown out their vocal cords.
Again, there's nothing like seeing a Megadeth hometown show, and if you're from out of town, you need to come to Los Angeles next time Megadeth puts on a show. I'd love to see Megadeth continue doing shows at the Shrine Expo Hall because the inside looks like an abandoned wearhouse; a perfect location for an 80′s thrash metal to play a proper thrash metal show. I doubt the acoustics in this venue had anything to do with the Super Bowl like atmosphere, but it also didn't hurt to amplify the roaring grunts of LA's diehard metal fanatics.
Megadeth @ Shrine Expo Hall Setlist – 10/29/13
                                                                                            Intro (Prince of Darkness)
Hangar 18
Wake Up Dead
In My Darkest Hour
Kingmaker
Sweating Bullets
Set the World Afire
A Tout Le Monde
She-Wolf
Trust
Tornado of Souls
Symphony of Destruction
Peace Sells
Encore:
Holy Wars… The Punishment Due
(Silent Scorn)
If you've yet to see a Megadeth show, make sure to check them out on their Super Collider tour with Fear Factory and Nonpoint. Tour dates can be found below:
Megadeth 2013 Tour Dates
11/23: St. Paul, Minn. @ Myth Live
11/24: Madison, Wis. — Orpheum Theatre
11/26: Grand Rapids, Mich. @ Orbit Room
11/27: Detroit, Mich. @ The Fillmore
11/29: Montclair, N.J. @ The Wellmont Theatre
11/30: Bethlehem, Penn. @ Sands Bethlehem Event Center
12/01: Boston, Mass. @ House of Blues Boston
12/03: Huntington, N.Y. @ The Paramount
12/04: Silver Spring, Md. @ The Fillmore Silver Spring
12/05: Charlotte, N.C. @ The Fillmore Charlotte
12/07: N. Myrtle Beach, S.C. @ House of Blues Myrtle Beach
12/08: Saint Petersburg, Fla. @ Jannus Live
12/09: Lake Buena Vista, Fla. @ House of Blues Orlando
12/12: Houston, Texas @ Bayou Music Center
12/14: Socorro, Texas @ Socorro Entertainment Center