Album Review – Neon Indian – Era Extrana
This review of Neon Indian's new album Era Extrana comes from long time YTC supporter Dana Leonard. Dana was kind enough to send this review and a few others our way so make sure to keep an eye out for more of her work. -poppinoff
Album Review – Neon Indian –
Era Extrana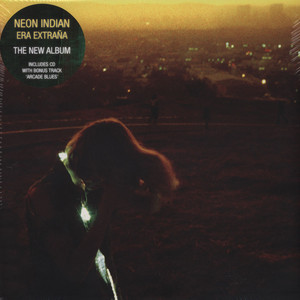 Neon Indian, the indie electronic band from the great state of texas, is back with not only a new tour but, more importantly, a new album! Era Extrana, translated to "strange era," was released a little over a week ago and provides the listener with eclectic and musically defying sounds, that are sure to take your mind through the strange world neon indian has cultivated.
The album opens with "Heart: Attack," which although does not contain any lyrics, sets the mood for the album. Psychedelic images immediately come to mind. However, this track is peaceful and allows the listener to bask in the new era which has come to embrace and enjoy electronica. The next track really caught my attention. "Polish Girl" defines this album. Catchy, yet not predictable, this track is one of my favorites. It's been another year/ And I still haven't gotten the chance to say/ Always rolling off the tongue/ Never said but nearly sung about a million ways. These lyrics reach out to those of us who cannot find our way with words, but instead turn to music and lyrics to display our feelings. Do I still cross your mind? How can someone not relate to these lyrics?
when I first listened to "Suns Irrupt," I knew this was going to be a go to listen. This song is perfect to play when trying to set a chill, but upbeat mood. Lost and it had to happen sometime/ Gone but I'm waiting to be someone. This has to be the perfect track to reflect on yourself and take a moment to evaluate your life.
Neon Indian has a way of defining our generation not just through his experimental music, but also through his lyrics. So I encourage you, whether young or old, to buy Era Extrana, and learn about the 21st century, the youth, and our culture. -Dana Leonard
Neon Indian – Polish Girl