Review – Panic! at the Disco with Patrick Stump and Bright Giant @ People's Court – Des Moines, IA – 11-9-11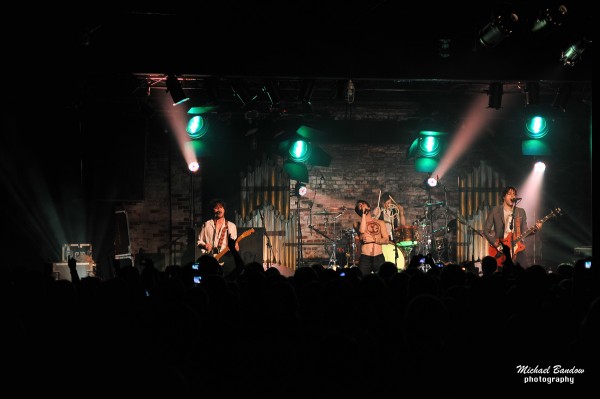 Review – Panic! At The Disco @ People's Court
The audience at People's Court left very satisfied after the Panic! At The Disco show on November 9th. Before Panic! at the Disco took the stage, there were two opening acts: Bright Giant and Patrick Stump. Bright Giant, a local band, was added to the bill at the last minute, and the opportunity persuaded them to release their new album, "Kings and Queens of Air," two days early. Bright Giant surprised the crowd with their talented vocalist and catchy bass lines.
Patrick Stump, formerly of Fall Out Boy, performed next. His "solo" act includes five other members and was much more mainstream than expected. Despite a slightly uncoordinated start, Stump gave it his all and even demonstrated his drumming skills for the audience. He played several songs from his debut album, "Soul Punk," as well as a cover of Phil Collins', "In The Air Tonight."

Video Credit: YouTube User – sullsinger95
Finally, Panic! At The Disco took the stage. They opened with their latest energetic single, "Ready To Go," which definitely got the crowd going. Despite some minor technical difficulties, the show went on. The set list included songs mainly from their first and third albums, as well as covers of Foster The People's "Pumped Up Kicks" and The Darkness' "I Believe in a Thing Called Love," which were enhanced by Brendon Urie's amazing vocals and received a positive reaction from the audience.
Panic! At The Disco's third album, "Vices & Virtues," debuted in March 2011 and is their first new album since the band split in 2009. It has received praise and produced two singles. The band seems to be doing much better since the break up, and the temporary members seem to fit in better than the originals. This was evident at the show on November 9th.
All in all, it was a fantastic performance enjoyed by fans and novices alike.