Review / Photos – Grace Potter and the Nocturnals @ Nightfall on the River – Des Moines, IA 7-26-12
Review/Photos – Grace Potter and the Nocturnals @ Nightfall on the River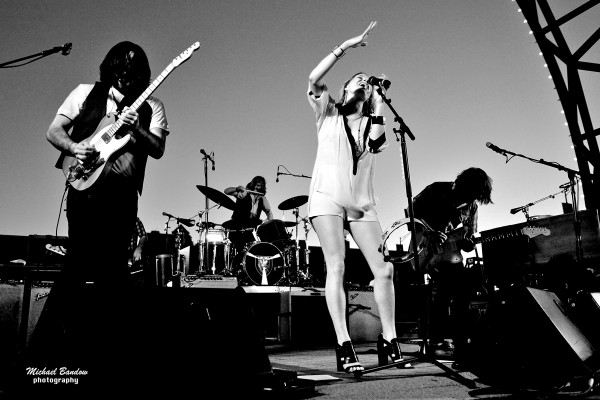 What better way to spend a hot summer night on the banks of the Des Moines River than seeing Grace Potter and the Nocturnals perform. This was the third time that I had the pleasure to see this band. I think you can officially call me a fan! She gets better each time I see her, and she was great the first show I went to.
It was really hot that night, but it didn't stop what looked like a sell-out crowd from coming out. Natalie Prass opened the night with a great set.  She reminds me of Liz Phair, but with a more mellow and dreamy sound. Her music is filled with clever hooks, and her voice blew me away. She has an infectious voice that stays in your head long after the show is over. I'm now kicking myself for not picking up her CD at the merch tent. I'll be searching for one online now. I love seeing an artist like Natalie, who is very early in what I'm sure will be a long and prosperous musical career. She is touring in support of her "Small and Sweet" CD.
Grace Potter is on fire now..finally. When I saw them last summer, I couldn't believe this band was not all over the radio and TV. This band has a ridiculous amount of musical talent, style, and stage presence. I think it's because you can't really pigeonhole her into any musical category. They are kind of Indie, kind of Rock, kind of Pop.
She opened the night with a crowd favorite, "Medicine." They played an awesome set that had the crowd crammed right up to the stage the entire night. The song "Apologies" might be my favorite; it's a really moving song. I saw a lot of youngsters there too.
Grace Potter and the Nocturnals are definitely going places and are here to stay. The night ended with a cover of Heart's "Crazy On You" that brought yet another amazing performance by Grace Potter and the Nocturnals to a close.
They are touring in support of their "The Lion The Beast the Beat" album. Do not miss these guys if they come to a town near you!
Check out photos from this Grace Potter and the Noturnals Concert Below: