Review – Prince @ The Forum – Inglewood, CA – 05/27/11
I am still in awe from last night's Prince concert at The Forum. This was my seventh time seeing Prince during his Welcome To America 21 Night Stand and not once has he let me down. Every set has been different and whether Prince performed in a room with only 100 people in it or a sold-out show at The Forum he has always played to the room.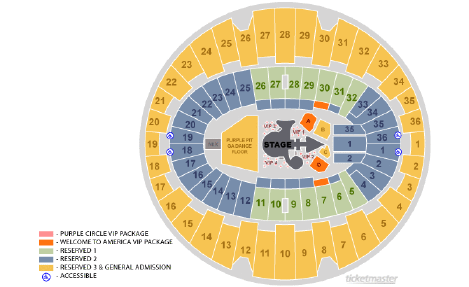 Out of the seven Prince shows I have attended, this was my fourth at the Forum and the first Forum show to sell out. The place was packed and thanks to our good friends at Live Nation we were able to score a Prince Purple Circle VIP table. The table was situated right next to the stage and provided an unbelievable experience. The entire show we were in complete and total shock. I could have only imagined these seats in my wildest dreams. Not only did the seats come with a table for us to lounge at they also included access to the Forum Clubs Pre-show VIP party. I could go on and on about how amazing the Purple Circle VIP package is but will cut myself short so I can talk more about Prince.
Its incredibly difficult for me to pick a highlight from this show but I think I have narrowed it down to my top two moments. The first moment was when I was walking to the bar to get another beer and "Purple Rain" began to play. I stopped dead in my tracks and immediately returned to my seat to join in on a giant sing-along of the Prince classic. Through out the song, purple confetti shot from the stage and covered everyone in the surrounding area. The experience was dream like to say the least.
My second moment was during Prince's on-stage VIP dance party. Prince's back up singers kept telling our entire table to get on stage but security wasn't letting it happen. Regardless, as I stood center-stage, Prince pulled up a 57-year-old woman named Sonja to dance with him. She was getting down and had Prince's blessing to do so. After the show I was walking to the merchandise booth to see what awesome tour merch was still for sale when I heard people start to clap and cheer. My first thought was that Prince or some other celebrity was walking around. I rushed over to check it out and low and behold it was Sonja. People kept stopping to talk with her and take her picture. I got a few moments of her time and have to say, what a sweet woman. I don't think there was a person more deserving in the audience.

Final thoughts: The VIP package is totally worth it if you can get your hands on it, and Prince is almost finished with his Los Angeles residency. Tonight (05/28/11) and tomorrow (05/29/11) could very well be his last shows at the Forum so make sure to BUY TICKETS if you still can.
Big ups to DB on making this happen! 
Set List – Prince @ The Forum 05/27/11
When Doves Cry / Nasty Girl / Sign O' The Times / The Most Beautiful Girl In The World / Alphabet St. / Forever In My Life / Darling Nikki / Hot Thing / I Would Die 4 U (Sampler set)
D.M.S.R.
Pop Life
Musicology (with Prince and the Band and Tighten Up interpolations)
Shhh (with U Will Be With Me lyrics)
Take Me With
Another lover hole yo head (with Rock Lobster coda)
Peach
Cool / Don't Stop 'Til You Get Enough
Let's Work
U Got The Look
Make You Feel My Love (Bob Dylan cover)
Purple Rain
Encore:
A Love Bizarre (with I Know You Got Soul interpolation)
Controversy (with Housequake interpolation)
Encore 2:
Dance (Disco Heat) (Sylvester cover)
Baby I'm A Star
Kiss
Encore 3: