Review – Prince @ The House of Blues – West Hollywood – 5/25/11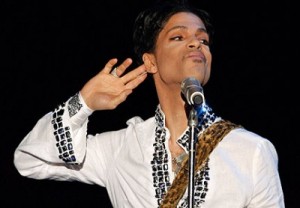 Once upon a time, on the magical night of May 25, 2011, a handsome Prince gathered the people of his kingdom within House of Blues West Hollywood for three different shows in three different rooms. Throughout the land there had been whispers of a "special evening with Prince on Wednesday night" due to a press release put out by Live Nation on Monday, but given that Prince seems to enjoy the element of surprise, he only announced the venue the morning of. Miraculously, with a flick of her magic wand, my fairy god-friend blessed this little Princess-wannabe with access to this enchanted affair!

8 p.m. Prince Plays House of Blues Music Hall
The excitement was palpable as the people waited for the Prince to appear for his 8 p.m. show, priced at $200, which took place in the 1,000-capacity Music Hall. I stood near the bar, watching as the crowd grew, silently humming "Purple Rain" before deciding to move closer. Not long after I inched myself towards center stage, Prince made his debut. He may as well have come gallantly riding out on a white horse. I'm not sure how a man that is barely 5'4" in heels can have such a huge presence but it is fact. Although this is my fifth time seeing Prince this month, when the man picks up a guitar, I can't help but be awestruck. As Lorn likes to say, "The guitar is Prince's bitch." When I wasn't rocking out, I was staring in a state of amazement and speechlessness at the raw talent of this musical genius. My mouth hung open as it had the first time I attempted to pronounce his name as a symbol. He did ten songs this set, two of them being amalgamations of multiple songs, of which highlights included his incredible version of "Everyday People" and his closing song, "Don't Stop 'till You Get Enough." And as the first show of the evening closed, I hadn't yet had enough.
11 p.m. Prince's "Jazz Cafe"
Prince continued his reign at 11 p.m. in the restaurant for his "Jazz Cafe" show, priced at $100 per ticket. With a little more fairy dust and some help from the lords and ladies of Hollywood, I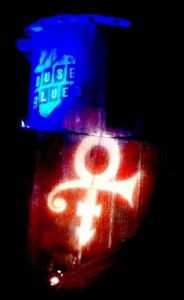 was among the fans devoted to spending my entire night with Prince. Due to the layout of the restaurant, finding a spot where I could actually see Prince proved difficult. I crept through the claustrophobically crowded room, briefly pausing before deciding, "This spot is too far," "This spot is too hot," until finally I settled by the tables, curiously close to No Doubt's bassist Tony Kanal and his delicious burger and fries. "This spot is just right." I relaxed, enjoyed a few cocktails, and stole the leftover soft pretzel off a nearby table before making my way to The Foundation Room for the most intimate of Prince's shows for the night. Highlight of set two: "Little Red Corvette" closed the show.
1 a.m. "Private Charity Event" with Prince in The Foundation Room
The 300-capacity Foundation Room was packed, everyone eagerly awaiting the "Private Charity Event", priced at $500 and scheduled to begin at 1 a.m. As 2 a.m., then 3 a.m. slowly rolled by, I regretfully turned back into a pumpkin and headed for dreamland. Among the stars in attendance were Tom Cruise, Dan Aykroyd, Cornel West, Bono (who Prince apparently called out on stage although Bono passed), David Spade, and Charlie "I'll Never Miss a Party" Sheen. #Winning!
This puts us at 17 of his 21 shows so if you haven't made it to see him I aggressively suggest you do. For me, he currently holds the crown of the best performer ever. During one song performed at The Forum, he actually said, "I wrote this song while looking in the mirror." Well obviously, Prince. You definitely are the fairest one of all.
There are three shows scheduled this weekend at The Forum, which I plan to attend, with especially high hopes for some awesome special guests. This will leave one last show of the 21-night stand before Prince rides into the sunset and we all live happily ever after. So… to be continued…
Setlists for Prince @ House of Blues 5/25/2011
Setlist #1 – Prince in the Music Hall
D.M.S.R.
Pop Life
Musicology
Shhh / U Will Be…With Me
Mountains
Everyday People
I Want To Take You Higher / 777-9311 [instrumental]
Let's Work
U Got The Look
Cool / Don't Stop 'till You Get Enough
Setlist #2 – Prince's "Jazz Cafe"
"Blues Jam"
Endorphinmachine [instrumental]
Villanova Junction
The Question Of U [instrumental] / The One
Dreamer / Welcome 2 America [instrumental]
She's Always In My Hair
Bambi
Colonized Mind
Brown Skin
Little Red Corvette
Setlist #3 – Prince's "Private Charity Event" in The Foundation Room
Footprints
I Wish
Which Way is Up
Get Up, Stand Up
Wait in Vain
What Are We Waiting For?
Play That Funky Music
Outstanding
More Than This
Controversy
It Takes Two
Rude Boy
Stratus
Go see Prince at The Forum!