Review – Puddle of Mudd with Pop Evil and Lansdowne @ People's Court – Des Moines, IA 11-17-11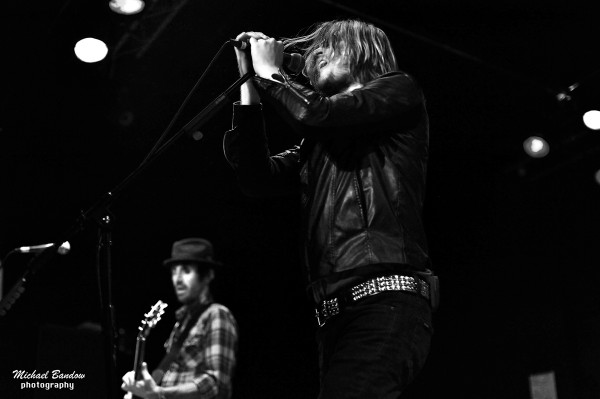 Review – Puddle of Mudd @ People's Court
This was a band I've been wanting to see for years, but I kept missing them every time they came around here. This was another People's Court show. It seems like as the weather cools down, this bar heats up in the winter months. This show had a really good turnout.
I missed local band Mindrite, but got there right before Boston rockers, Lansdowne, took the stage. I really dug these guys – tons of energy and catchy songs. I can see these guys being really big in a few years. The crowd really liked them. The drummer had a really cool skull with flashing eyes on his drum kit, which i thought was a great prop. Their guitar player, Shaun Lichtenstein, tore it up all throughout their set.
Next up was Pop Evil. This was the third time I've seen them – another great hard rock band on the rise. These guys are always rolling through here opening for someone good. Leigh Kakaty is an awesome frontman with his vocal power and stage charisma. Guitar players, Tony Greve and Davey Grahs, complemented each other well. Dylan Allison was a madman on the drums and very entertaining to watch. All in all, a kick-ass Hard Rock band that is always a treat to see.
Last up was headliner, Puddle of Mudd. It was great to finally see these guys. Wesley Scantlin reminds me a little of Kurt Cobain and a little of Robin Zander in his voice and stage presence. Some of the highlights of the show for me was their cover versions of AC/DC's "TNT," Neil Young's "Old Man" and The Rolling Stones' "Gimme Shelter," all of which the crowd loved. They put on a pretty lengthy set that was full of all their hits.
The encore featured "Blurry," being my favorite Puddle of Mudd song, and then ending the night with "She Hates Me." This was a killer show that had no disappointments. Puddle of Mudd has several dates left promoting the new album, "Re:(Disc)Overed," which is a combination of Classic Rock cover songs. I've heard the album and it's quite good. Do yourself a favor and pick it up.