Review – Rockin' the Rapids with Weezer – Cedar Rapids, IA – 6-10-12
Review – Rockin' the Rapids w/ Weezer, Fuel, Tonic, Chevelle, and Filter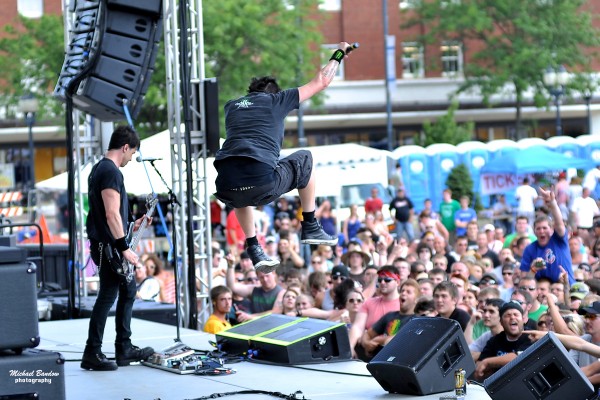 This was such a cool show! Iowa City Rock station, 94.1 KRNA, brought this great line-up to Cedar Rapids, Iowa.  Rockin' the Rapids was a smaller festival nestled on the river bank downtown. It was quite hot, but that didn't stop the Rock-hungry fans from having a killer time. I would guess the crowd was somewhere around 5,000. For 25 bucks you got Tonic, Fuel, Filter, Chevelle and Weezer. Not a bad deal! Any of these bands would make for a great concert by themselves!
I'll have to admit Filter was my main reason for going to this show. I freaking love those guys, but there was a killer line-up here that I wasn't going to miss. I got there in time just before Tonic took the stage. I've always liked this band. The highlight of their set for me was them doing their hit, "If You Could Only See." They did not disappoint.
Next up for Rockin' the Rapids – Fuel. It was my first time seeing them. They completely tore it up! Fuel is one of those bands I see and think – 'how could have not knew about these guys sooner'? They had the crowd totally amped up throughout their set.
Next up, were my boys Filter. They had a minor glitch with their sound at the start, but got it worked out. You could tell a lot of people were there for them. The bands were cool enough to allow me to shoot in front of and on the stage while they ripped through their sets. How cool is that?! They are still touring on their "The Trouble With Angels" album. I'm really eager to see what their next release will bring. I make every effort to see these guys anytime they come close. Great set as always!
Video Credit: YouTube User sidlin03
Chevelle followed, and these guys are on fire right now. The crowd went crazy during their set. It's amazing these guys that are just a 3-piece band and deliver such a huge sound. I'm just now getting into them. They ended their set with my Chevelle favorite, "Face To The Floor." This was my second time seeing them in the past few months – not a band to miss if they are in your area.
The headliner of the Rockin' the Rapids festival was Weezer! This was my first time seeing them – another killer band! I know a few people that are die-hard fans. I knew a few of their hits before seeing them and they played both of those -  "Buddy Holly" and "The Sweater Song."
Rockin' the Rapids was an awesome cozy festival that delivered some butt-kickin' Rock n' Roll! I'll be watching next summer for this festival to roll into Cedar Rapids, Iowa again.