Review – School Night w/ Matisyahu @ Bardot – Hollywood, CA – 7/17/12
Review -  School Night w/ Matisyahu @ Bardot
School Night has become infamous for its cu-ration. From hot up and comers to musical staples the party thrown Monday nights at Bardot is the place to be.  This is one event were it seems impossible to be disappointed.  This weeks addition of School night was no different. Matisyahu, Foxes,Leftover Cuties and The Royal You comprised this weeks line up and it was a humm dinger.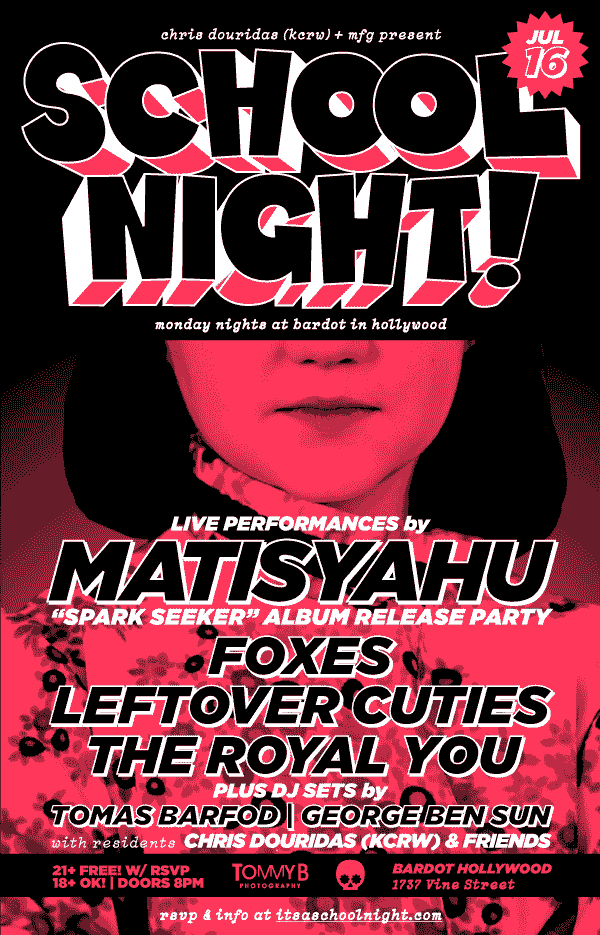 When it was announced that Matisyahu would be playing School Night I knew it was a show I couldn't miss.  I arrived at Bardot early as I knew the event would reach capacity early.  The great thing about arriving early is that I got to catch almost all of the fantastic bands that were on the bill.   I walked in at the very end of The Royal You's set but have to say they had it going on.
The next band to take the stage was Leftover Cuties.  From the top to the bottom of the set I was captivated and found the voice of lead singer Shirli McAllen.  The entire set made me feel as though I was in a 1920s speak easy. Backing Shirli's sweet voice was Austin Nicholsen on Ukulele, Stuart Johnson on Drums, Ryan Feves on the Upright Bass and Mike Bolger playing an aery of instruments including the Piano.  This was my first seeing Leftover Cuties and they left a lasting impression.
Matisyahu was the next artist to take the stage and Bardot was packed to the brim.  This was my third time seeing the reggae mistro in action and from the get go I was in absolutely shock.  Matisyahu was often recognizable by his Hasidic look (Long hair and beard), in celebration of his newest release Spark Seeker he decided to take a walk on the modern side by shaving his beard, shorting his hair and throwing on a denim jacket and bright blue LA hat.  At first glance he was almost unrecognizable but as soon as he took to the mic all doubts of who was in the house were cast aside.
Although Matisyahu and company were only able to play six songs the set was filled with highlights.  At one point early on in the set a girl who must have been Matisyahu's number one fan found her way on the stage and began to dance with him and you could tell she was having the time of her life.  Another aspect of the show that I really enjoyed was that of drummer Joe Tomino who is always hitting the kit hard.  He has a real talent and always catches my attention when I am at a Matisyahu concert.  The topper of the night was when Matisyahu approached the stage manager asking if he could do just one more song, he gave the ok but little did he know that the band was about to jump into a 12 min jam session that would feature Matisyahu crowd surfing around the small venue then taking a plunge off of a railing.  My mind was blown!
Matisyahu crowd surfing at School Night
Unfortunately it was a School Night/ Work night for me and I had to jet after Matisyahu's set was over and missed seeing Foxes.  I did how ever hear that they lived up to the caliber of music one comes to expect from School Night and put on one hell of a show.  If you are looking for a sure fire good time and some amazing tunes this is the event for you.  I make it as often as I can and have yet to be disappointed.
If you were at this show or have ever seen Matisyahu or any other of the bands mentioned, please comment on this post and let us know what you think because this is You Tell Concerts and "When You Tell Concerts It's Cooler!". – Poppinoff