Review – Scorpions with special guest Tesla @ Red Rocks Amphitheatre – Morrison, CO 6-12-12
Review – Scorpions w/ Tesla @ Red Rocks Amphitheatre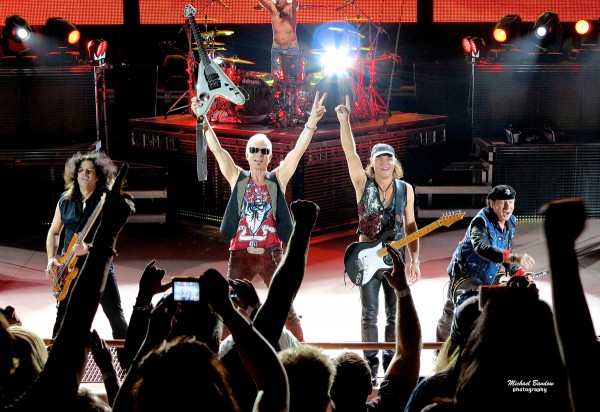 This could be one of  the most fun, memorable, and at the same time, saddest shows ever for me. The Scorpions have been my number one favorite band since 1982, when I was 14 years old. This was more than likely the last time I will ever see them on stage again, as this is supposed to be the band's final tour. I can't believe I won't be able to anticipate a new studio album from them. All good things come to an end, as the saying goes. This band has touched so many people over such incredibly long musical career. Unlike some bands, these guys really had huge fan bases all over the world. I can just hope they have solo careers I can follow.
Tesla opened this amazing show at Red Rocks Amphitheatre. If you've never been there to experience a show, there is truly no other concert venue like it on earth. The setting is nothing short of amazing. I hadn't saw Tesla since the 1988 Iowa Jam. The line up was all the originals, minus Tommy Skeoch,   Dave Rude being in his place. The band was tight and everyone looked and sounded great. The show took me right back to the '80s with all their hits like "Modern Day Cowboy,""Little Suzi," "Signs," and more.
They were recording the show, and a copy of the night's performance was available for purchase. I can't wait to receive mine. I wish more bands would do that; what better souvenir for a fan?!
My favorite moment of the concert…waiting for my favorite band to take the stage. The background music abruptly stopped, and they killed the house lights. A few moments later the Scorpions took the stage with Rudolf Schenker first breaking into "Sting in the Tail." Then, the rest of the guys ran out.
The show was on! It amazes me how much energy these guys still have. I truly believe they sound better now than they ever have,  and I've seen them about 10 times now over three decades. I think their secret is that they have never really ever stopped or took any lengthy break. Any Scorpions fan would love their current setlist. It's hard to please everyone, but they do have a few older songs they are including in the last tour. My favorite song of the night had to be "Is There Anybody There?" It's from the album Lovedrive, which is by far my favorite album by them.
Video from YouTube User: hypnoticturtle
Some of the other special moments were when they performed the extended version of "Holiday" and the mega-hit, "No One Like You." which they don't always include when playing live (which might surprise some). Something about watching Matthias Jabs rip into that solo literally gives me chills.
This was such a special concert for me. I can't thank the band's publicist enough for allowing me to shoot this show, as it's a memory I will have forever -seeing my favorite band at Red Rocks; no better place to see them for the last time.
To The Scorpions, your music has meant so much to me in my life. Enjoy the rest of your farewell tour, and I wish you all the very best in whatever directions your lives take you.
- Mike Bandow, a lifelong fan