Review – Staind with Black Tide, Cavo, and Halestorm @ The Val Air Ballroom – West Des Moines,IA 12-9-11
Review – Staind @ Val Air Ballroom – Des Moines, IA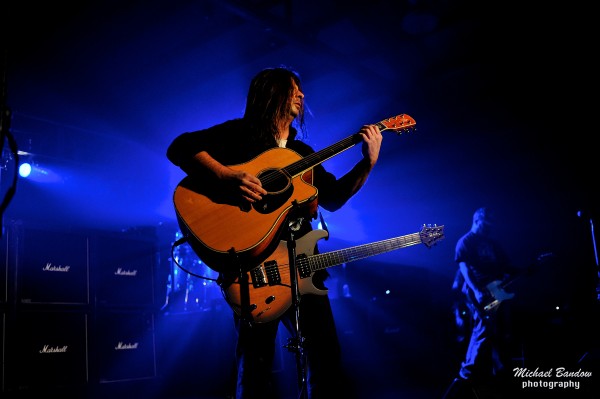 Staind brought their latest tour to the Val Air Ballroom. On the road with them: Black Tide, Cavo, and Halestorm. Miami rockers, Black Tide, were first up. They are touring in support of their latest release, "Post Mortem." They were hard-hitting rockers with a ton of energy.
Drummer, Steven Spence, is a machine and it's something to watch him hammer out those beats. The guitar workby singer/guitarist, Gabriel Garcia, and guitarist, Austin Diaz, reminded me of the hard n' heavy 80's metal I loved so much. Zachary Sandler filled out the bass quite nice. The band was fun and catchy…a nice fit to open this show.
Next up, was Cavo. These guys are starting to gain momentum lately. I knew a handful of people that went to this show to specifically see Cavo tear it up, and they did. The crowd went pretty crazy over the bands' hit, "Champagne." I really dug Cavo from start to finish – very catchy songs. I especially found the Chris Hobbs' guitar playing quite cool. I'm going to have to pick up their CDs, and find out more about them. This is a band that has serious potential for the long haul. Their new album, "Thick as Thieves," is due out soon. Definitely keep your eyes peeled for this.
Third up, was an Iowa favorite, Halestorm! Des Moines truly loves this band. Every time they come through here, they pack the place. I'm sure there was a decent amount of fans that were there just for them. Front woman Lzzy Hale was full of energy as she ran out clearly ready to tear up the stage for their entire set. This band does not let up. They come to kick your ass, and that's exactly what they do. This was my third time seeing them live, and as usual, it was a great show.
I didn't have any of their material on disc, so I figured this would be a good time to get some. Discs were 10 bucks at the merchandise stand; a great show price, but I noticed they signed all the CDs for sale at the show. That's a cool thing for a fan and at a value. I'm always looking for cool souvenirs at shows.
YouTellConcerts.com Interview with Mike Mushok
Last up…Staind! I caught these guys five or six years ago and remembered them being a good live show. I forgot just HOW great this band is live. I also forgot how many hits these guys have. They truly had an amazing sound for this show. Mike Mushok is a shredder, and his wall of Marshall stacks blew the roof off the Val Air. I think he is now my current favorite guitar player.
Aaron Lewis's voice was dead-on – sounding just like the albums. Halfway through their set, the crowd-surfing started. For some reason, the Val Air Ballroom is the only place I see the surfing, even if the bands are more heavy at one of the other venues…weird.
They played quite a while and covered every hit they have and then some. I'm still on a Staind high, and now I must get any live DVD material by them that I can find. My favorite song of the night was "So Far Away;" they really turned it up and the entire crowd was singing along.
The other high point for me was "Mudshovel." Great song! If you loved Staind or have never seen them live, do yourself a favor and see these guys, if you get the chance.