Review – The Band Perry with special guest Easton Corbin @ The Iowa State Fair – Des Moines, IA 8-14-12
Review – The Band Perry @ Iowa State Fair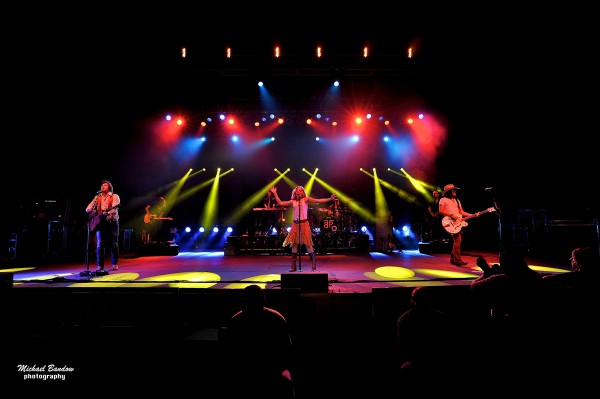 On Tuesday night, audiences crowded into the Grandstand at the Iowa State Fair for the Country line-up of Easton Corbin and The Band Perry.
Corbin was up first. I was unfamiliar with him or his music. When he took the stage, I was surprised to see a young, good looking, clean-cut man – who looked more like a college student than a Country singer. Though he wore the Country Star uniform – plaid snap-up shirt, Wrangler jeans and the hipper roper boots (instead of the old pointy toes), his well-groomed tall, dark and handsome features still said college boy.
I knew my instincts were right, he is in fact a college boy. He holds a BS in Agriculture from the University of Florida.  However, no amount of education is going to take away the twang and y'alls of a good old-fashioned Country singer, which is what Easton Corbin is. His voice is Country. The kind of Country that makes your toes tap and your shoulders bounce. His songs make you want to dance. He performed his debut album hits, "A Little More Country Than That," "Roll with It," and the title track of his September 18th release, "All Over the Road;" all of which were big crowd-pleasers.
His band sounded great, and anyone at the show who didn't know Easton Corbin before, certainly know him now. He is one to watch for on the Country horizon. What a bonus to have such a great name to go with a burgeoning career in Country music. Easton Corbin is going to be a big star.
The headliners of the night are a band who just last year were playing on the free stage at the Iowa State Fair. Their meteoric rise in just one year (and with just one album) to the Grandstand stage and a packed house says a lot about The Band Perry.
The Band Pery are a break-out Country Pop group who have crossed over on the record charts. Their single, "If I Die Young," went to the top of the charts in Pop, Adult Contemporary and Country simultaneously. Four other hit singles off their self-titled album nabbed them platinum certification, music award nominations, and a whole bunch of new fans willing to pay to see the sibling group perform.
The Band Perry consists of the cute, blonde and bubbly guitar playing big sister, Kimberly, laid back hot cowboy bassist, Reid, and Country Punk fun mandolin banjo player, Neil.
The group played all the hits from their album – "Hip to My Heart," "Postcards from Paris," 'You Lie," and "All your Life," as well as some covers songs. They did a nice medley  including "American Pie," "Jack & Diane," "Me and Bobby McGee," and a really fun rendition of Queen's "Fat Bottomed Girls."
The Band Perry are in the process of writing new songs to record this fall and they shared a couple, including one sure to be hit titled, "Sugar, Sugar."
The Band Perry is primarily fronted by Kimberly, who does the majority of the singing while playing guitar, but all three interact onstage and are involved in the show. All are spotlighted, and this band performs as if they are all equals. It's not just the Kimberly show. They each convey a different and distinct personality.
Neil is definitely the fun one to watch. He's quirky, plays funny instruments, and is cute and mischievous. Reid, the cool, low-key bass player is hot, but does he know it? Is he shy? Or just that laid-back? Then, there's Kimberly… the super cute cheerleader who revs up the crowd with her happy-go-lucky personality and bouncy moves.
All together, the Perry siblings put on a super show, and while they do have their Country sound, I see this band continuing to make big waves across formats with their future recordings. I don't think Country music is big enough to contain them. I'm sure Pop and Contemporary music will see a lot more from the talented Band Perry.
-  Shelly Banks