Review – The Offspring @ War Memorial Auditorium – Nashville – 4/28/15

If the internet is correct (and we know it always is), it was February 28th, 1995 at the Memorial Auditorium in Worcester, Massachusetts when I last saw The Offspring. Twenty years and some change later, I'm at the War Memorial Auditorium in Nashville recalling highlights from that show of long ago – specifically my high school friend being brought up on stage to sing with the band and then diving into the crowd per singer Dexter Holland's command. That lucky b*tch.
I took a pre-show lap around the gorgeous venue, – grabbing a drink, picking up the vibes around me…oops, someone dropped a joint. It was definitely an impressive turnout.
My bartender's unintentionally rude comment about the demo being older than he expected surprised me. Honestly, I didn't realize The Offspring has stayed so relevant. There were a ton of young faces in the audience.

JAWWS opened the show and were the perfect choice. They slayed. Short, fast-paced Punk songs about killing boyfriends sung by kids that couldn't be older than 18. Moshing was in effect, and the singer even got out into the pit for the final song.
They were freaking adorable. Yes, I know that's not the brand they're trying to put out there, but it's just the way it is when you're being reviewed by a mom who would be pumped to have her kid up on that stage doing what JAWWS did. Just awesome!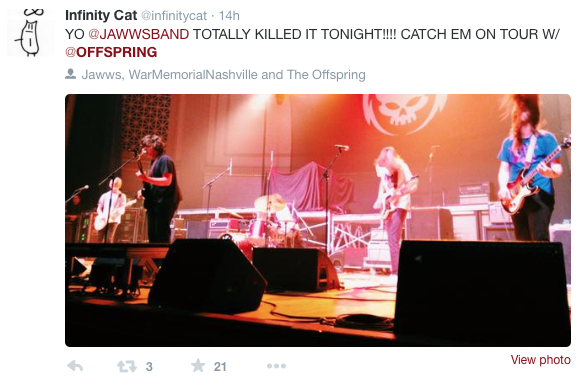 So, here we are listening to a sweet house selection of 90's Alternative preparing for the main attraction. I refused to refresh myself on The Offspring's list o' hits. At these nostalgic shows, I want to be slapped in the face with songs that I totally forgot about.
The Offspring took the stage, and they played the only two songs I could remember right away: "Bad Habit" and "Come Out and Play."
W.T.F.
Now, I guess I'll just creepily smirk at all the kids slam dancing to a series of songs that I imagine are new.


The sound was pretty good. I feel like the War Memorial Auditorium is a tough room for a good mix.  I'm amazed that some of these bands that play real loud with wicked fast drummers don't run off the rails, and Holland has to be taking serious care of his voice to keep up that trademark controlled melodic shout. I'm sure Carrie Underwood (who was absolutely a ticket holder ) was impressed.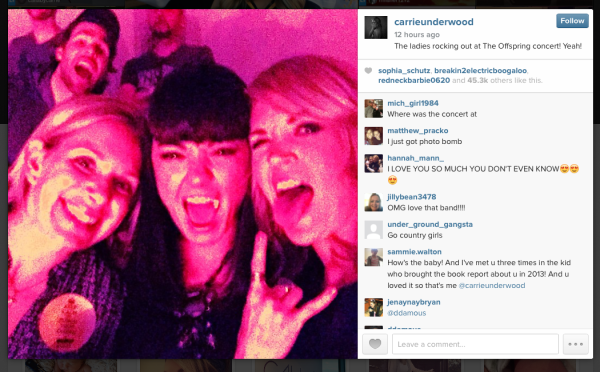 Most importantly, you can tell the band is having fun (especially guitarist, Noodles) and loves their fans. Noodles made a very true statement about how crowds can be snooty in music-focused cities. He was so appreciative of the excitement and participation. I like Noodles.
It was a great group of people at this show, and things got spicier than a bottle of Holland's signature hot sauce when The Offspring went into their old stuff.
Us thirty-somethings finally got off our asses and showed the young'uns how to get down to soft-core Punk.
I got the setlist beat down of a lifetime, how could I forget…"Gotta Get Away, "Why Don't You Get a Job," "Pretty Fly (For a White Guy)," The Kids Aren't Alright," and a close out kick in the keister of "Self-Esteem."
I left the venue complete…well, except for the bottle of Gringo Bandito I was hoping to bring home for yesterday's Cinco de Mayo taco feast.  For realz though, why no hot sauce at the merch table?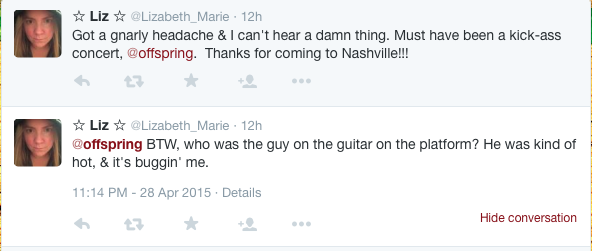 There are still stops on this US tour, so be sure to check out The Offspring if they're coming to a city near you!
If you've seen The Offspring, please comment on this post with your thoughts of their live show.
Because…when YOU TELL CONCERTS, it's cooler! ; )