Review – The Robert Cray Band @ 7 Flags Event Center – Clive, IA – 5-21-11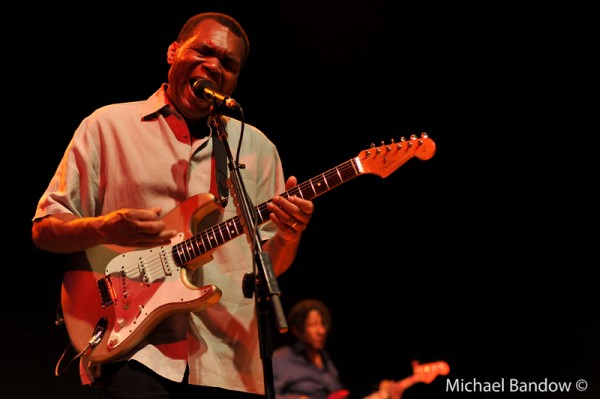 The Robert Cray Band came to 7 Flags. I've heard about how good he is over the years. They played to a pretty good-sized crowd. It was close to selling out, but not quite. The band was really tight and sounded great.
His band consists of Robert Cray on guitar and vocals, Tony Braunagel on drums, Jim Pugh on keyboards, and Richard Cousins on bass guitar. Robert is well-respected in the Blues community. I don't have any of his stuff yet, but plan on picking up a few of his CD's after seeing this performance. Most of the crowd seemed to recognize a lot of his songs, as we have a decent Blues fan base in Des Moines.
Having the opportunity to shoot these shows and see bands that are very new to me is proving to be a very cool thing. I'm starting to really appreciate the Blues. You see a lot of talent in these bands. Robert Cray sings with feeling. You can almost feel what he was thinking when he wrote the song that you're hearing him perform. The band played about a 90-minute set. The keyboardist was amazing. He did a really cool solo that blew the audience away.
It was a relaxed evening with stellar guitar work. The Robert Cray Band is touring in support of the album "Cookin' In Mobile." The song "Chicken In The Kitchen" can be found on the new album and was one of my favorites from the show. He's got plenty of dates left on the 2011 tour. He's defintely worth seeing.
You can get all the tour info at www.robertcray.com
Be sure to see my photo gallery for photos from his show.