Review – TV on the Radio @ The Music Box – Hollywood,CA – 05/11/11
Hooray for fan reviews! This one comes from Dustin who I met at Xavier Rudd a few weeks back.  He was kind enough to catch TV on the Radio at the Music Box last night and send a review our way.  Big ups Dustin! -lorn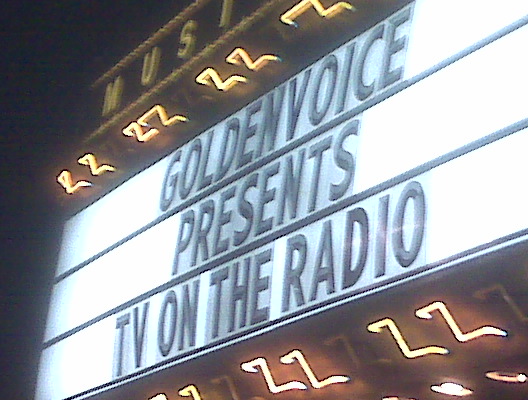 Last night TV on the Radio filled the Music Box with loyal and new fans. From old to young the place was buzzing with anticipation for them to come out. They were scheduled to start their set at 9:15 but knowing how shows go they didn't come on stage till 9:35. It was worth the wait because once they came out the energy filled the music box with complete joy.
The Brooklyn based band just released their newest album "Nine Types of Light" last month and was recorded in Los Angeles. I personally didn't listen to it prior to the show because I wanted to hear their new tracks live first and I am glad because they brought it last night. Every song was surrounded by positive energy that could be felt throughout the crowd.
TV on the Radio had to change and cancel some of their dates on their tour due to the passing of their friend and band mate Gerard Smith who lost his battle with lung cancer. He will truly be missed and contributed a lot to the sound that is TV on the Radio.
TV on the Radio continued on doing what they do best, rock out! Their set lasted a little over an hour and their loyalty to their fans came back out playing three songs on their encore.
If you have not heard of TV on the Radio I highly recommend seeing them live when they come around and buy an album of theirs. I would recommend "Dear Science" or "Nine Types of Light." to see where they are now. You will not be disappointed.
-Dustin Cary