Ep.541 – Rolling Stones @ Echoplex – Los Angeles, CA – 4/27/13 – Ep.540
Rolling Stones @ Echoplex
Video Concert Review
Rolling Stones Live @ Echoplex, Los Angeles
You Got Me Rocking/ Respectable
Rolling Stones @ Echoplex – Written Review
Boy oh boy what a Saturday!  My initial plan for the day involved going to Vegas to see Prince perform two back to back shows at the Joint, but things quickly changed.  Around 9am I saw a buddy post that The Rolling Stones would be playing a secrete show at the Echoplex later that day and that tickets would be going on sale at noon at El Rey.  I wasn't 100% sure if this rumor was true or not but knew that I couldn't chance missing The Stones at Echoplex.  I jumped in my car and raced to El Rey to find that the line only had 130 some odd people in it.  I was over joyed that it looked as though I was far up enough up in line to score tickets to see The Rolling Stones at Echoplex! As the hours went along more and more people flocked to the streets surrounding the venue and the line was upwards of 1000.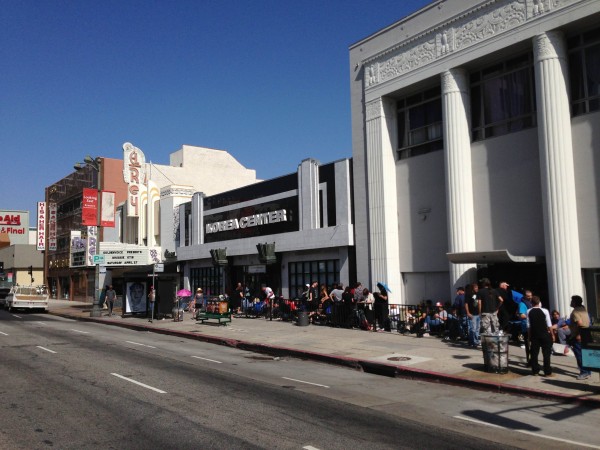 Around noon the first official announcement from The Stones camp was released: Tickets would not be first come first served but actually distributed through a random lottery.


This was a curve ball to say the least. Some of the people in line had been waiting since 6am and now it looked as though they might not even be able to see The Rolling Stones! Tensions were high and everyone was stuck waiting another hour to see what the lottery would consist of. Around 12:45pm the ticketing staff for the show begin passing out blue raffle tickets and stating that once everyone in line received a ticket they would draw a ticket and pick a range of numbers to attend the show.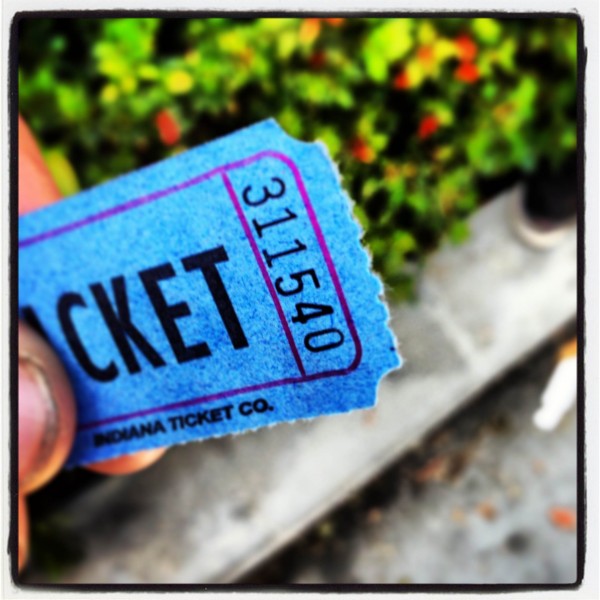 The line stretched around the block! When the magic ticket was finally drawn it seemed as though the first 500 or so people in line were shut out and had lost the lottery. People were devastated! 4+ hours waiting in the blistering sun and nothing to show for it! A few of my friends were actually among the last in line and managed to win tickets. It seemed as though the winning group of numbers was actually towards the very back of the line :/. I am not exactly sure what happened, but fair is fair and if they were meant to go so be it.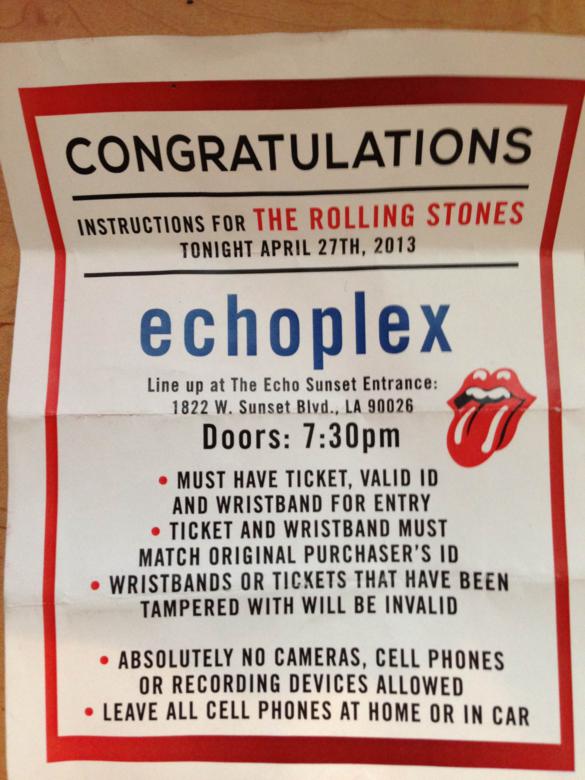 After having lost the lottery, my friend Josh and I decided to stick with our original plan to head to Vegas to see Prince! We jumped in our car and started making tracks. By the time we had reached Eagle Rock on the 134 we received a call from a friend that was still at El Rey telling us that they had begun selling tickets to people that didn't win the raffle. We were in shock and immediately pulled off the freeway and got turned back around towards Los Angeles. It took us about 30 min to make it back to El Rey and we honestly had no clue what was going to happen. All we knew it was a chance we had to take. When we reached the venue there was about 30 people in line to buy tickets. Some had their blue raffle tickets from earlier in the day and others were just now getting there. Thankfully the box office gave those with raffle tickets priority and first dibs on tickets. After an hour and a half of waiting we were finally admitted into El Rey. Once inside we were issued both a ticket ($20) and wristband with our names written directly on them. The Rolling Stones def went the extra mile to make sure that these tickets weren't going to be scalped.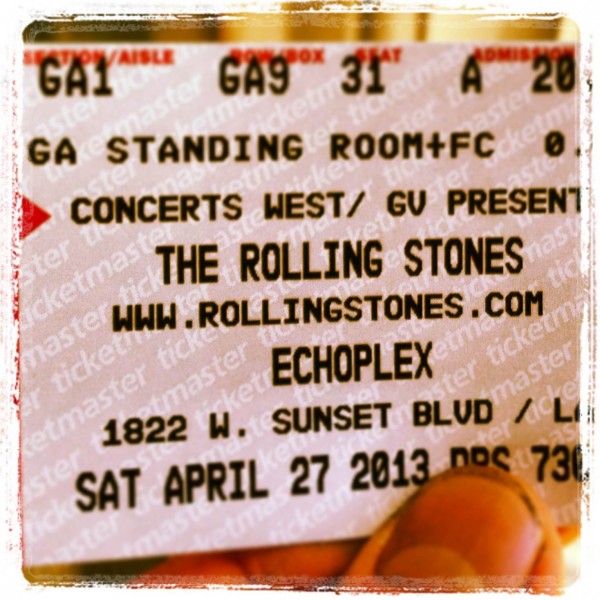 The day had tons of ups and downs and the vast majority of it seemed as though it was a wild goose chase. But all and all it was worth the non stop day of standing / running around, because I was going to see THE ROLLING STONES at Echoplex!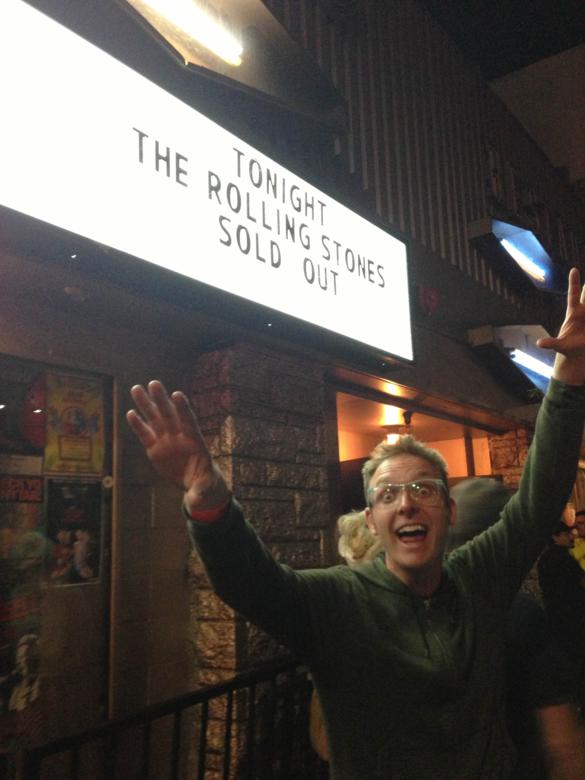 Believe it or not this was actually going to be my first time to see The Rolling Stones live.  I had tried several times in the past to see them but always manged to get shut out for some reason or another. It must have just been fate that I was to see them for the first time at a venue holding some 400 people.  Among the attendees at this historically epic show were Johnny Depp, Bruce Willis, Skrillex, Gwen Stefani and Tony Kanal of No Doubt and the Olsen Twins just to name a few.
Unfortunately cameras and cell phones were not allowed inside the venue so I wasn't able to take any pictures of the show.  On the plus side my view of Mick and the boys wasn't obstructed by a sea of glowing phones. The buzz in the room was off the chart and the entire experience seemed beyond surreal.  Around 9:15-9:30pm The Rolling Stones took the stage at Echoplex and for the next hour and 20 it was on.  From start to finish The Stones meant business.  The set consisted of 14 songs in total including 4 covers "That's How Strong My Love Is" (Otis Redding cover), "Little Queenie" (Chuck Berry cover), "Just My Imagination (Running Away with Me)" (The Temptations cover) and "Love in Vain" (Robert Johnson cover).  The entire setlist was a highlight for me but if I had to pick three songs I had always dreamed of hearing the stones play they would have to be "She's So Cold", "You Got Me Rocking", "Start Me Up", "Brown Sugar" and "Jumping Jack Flash".
Rolling Stones @ Echoplex – "Brown Sugar"
OK I couldn't pick just three the whole thing was just so awesome! Another cool thing about this show was that it was the first of The Rolling Stones North American 50th Anniversary Tour.  To celebrate 50 years of rocking the band called on their 69-74 guitarist Mick Taylor to join them on stage for "Love in Vain" and "Midnight Rambler".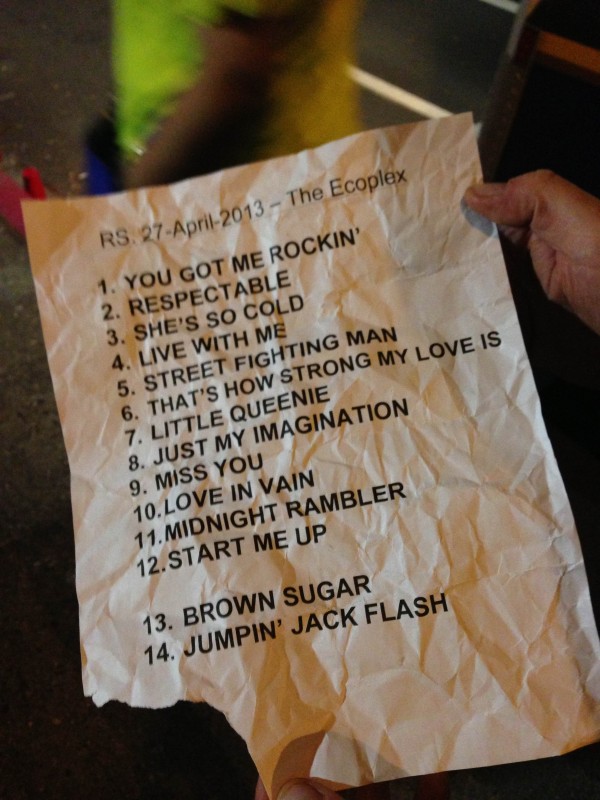 I have to say out of the entire band Mick Jagger impressed me the most.  From the top of the show till the end this guy was on full speed!  It was hard to believe that Jagger is 69 years old as he was a barrel of energy and still sounded like a million bucks.  It was apparent that Mick knew how to work a crowd and  it felt as though he was performing in front of a sold out arena.
One bummer about the show was that there was no official merch recognizing that the band played the Echoplex.  Thankfully there were a few bootleggers at the show and I was able to score this kicking T.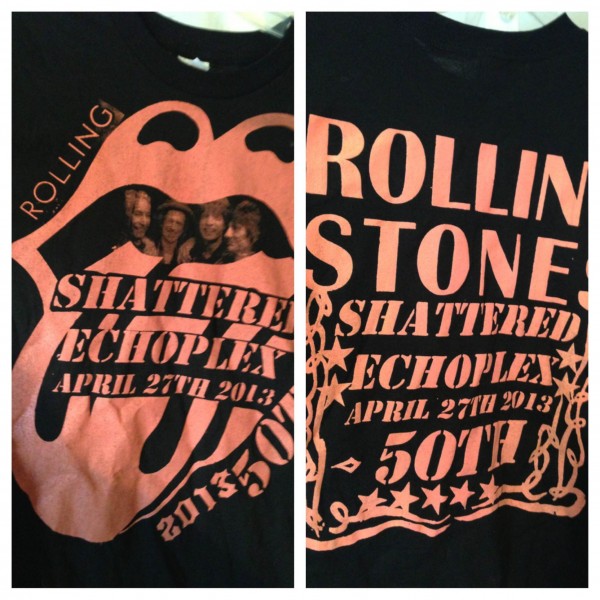 This concert def rates as one of the coolest and greatest I have ever been to.  Even as I am writing this recap I find it hard to believe that it happened. I look forward to catching The Rolling Stones full on arena shows and hope that somewhere down the line I am able to experience a show like this again. But alas I have a feeling this was a once in a lifetime sorta thing.
Rolling Stones @ Echoplex – Setlist
You Got Me Rocking
Respectable
She's So Cold
Live with Me
Street Fighting Man
That's How Strong My Love Is (Otis Redding cover)
Little Queenie (Chuck Berry cover) (first live performance since 19 Sep 1998)
Just My Imagination (Running Away with Me) (The Temptations cover)
Miss You
Love in Vain (Robert Johnson cover) (with Mick Taylor)
Midnight Rambler (with Mick Taylor)
Start Me Up
Encore:
Brown Sugar
Jumpin' Jack Flash
If you were at this show or have ever seen The Rolling Stones make sure to comment on this post because this is You Tell Concerts and "When You Tell Concerts It's Cooler!" – Lorn