Interview w/ Royal Teeth
Interview w/  Royal Teeth (Nora Patterson)
This interview with  Nora Patterson of Royal Teeth was contributed by Mallory Turner of losteyesight.com, with thanks to Anastasia Kisling. If you are a fan of Royal Teeth make sure to comment on this post letting us know what you think of the band and their live show, because this is You Tell Concerts and "When You Tell Concerts It's Cooler!" – Poppinoff
Interview w/  Royal Teeth (Nora Patterson)
This past Thursday I went to the Roxy in Hollywood, CA to check out a great up and coming band Royal Teeth, who are in the midst of recording the official video for their single "Wild" this week.  After the show I got to speak with the female voice of the band, Nora Patterson, who gave me the inside scoop on Royal Teeth.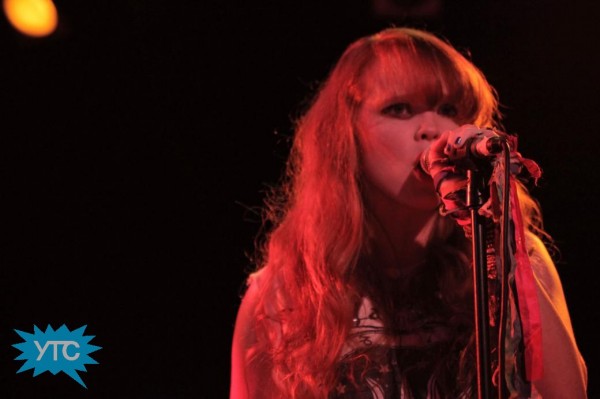 Where did the name "Royal Teeth" come from?
The bass player Josh, and Gary came up with the name – it doesn't really mean anything, it's just a play on words. They had two other names in mind and it was kind of a combination of the two.
How long has Royal Teeth been together?
It's been about two years, since September of 2010. We all had lived in Lafayette at some point, and had mutual friends. I was the last one to join the band; they needed a female singer and had heard around that I could sing and saw youtube videos. They sent me a message over Facebook asking me to join, and I said sure why not. We got signed in May of this past year, and have been touring since then.
How  have things changed since you started touring nationally?
A lot- we've gotten recognition we never had before. We would usually only play in Louisiana, and we all had full time jobs so touring wasn't really an option, but then we were all able to quit and just do this full time. It's definitely a life change – being on the road all the time, but it's pretty awesome because you get to go places you never would have thought you would before, and play venues like the Roxy!
Does Royal Teeth have a full length album in the works?
Yes, we are supposed to start recording for it at the end of this month, and I believe the release date is to be right after SXSW in March.
What is Royal Teeth trying to express with its music?
I think we're just trying to bring the spirit of New Orleans – a fun, high energy, friendly atmosphere. We want people to dance and have a good time, and we want to connect with the crowd, the fans. We want to make sure it's an interactive show so that people remember it and talk about it, and know that the live show is something people have to come see.
We love the drums! They definitely make the band stand out.
Right! You can't really come across that on the CD, you have to come to a show and see and get into it. New Orleans is a very musical town, and it's very percussive, and jazz and blues are very prevalent. I think that's most of what our music gets from New Orleans, is our percussion.
What's it like being the only girl on the road with five guys?
I thought it would be a lot harder, but it hasn't been too hard. We are all best friends, and there's no fights or animosity, we all make each other laugh. They are pretty gross sometimes, and we usually have to all share one hotel room so there is the never having alone time, but I wouldn't go back to my normal job for anything right now.