Ep. 538 – Sound City Players @ The Palladium – Hollywood, CA – 1/31/13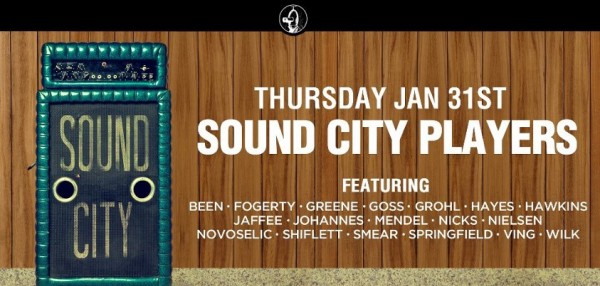 Sound City Players @ The Palladium
Video Concert Review
Sound City Players @ The Palladium Written Concert Review
For those of you that missed the memo the Sound City Players are a supper group formed by Dave Grohl to promote the release of his documentary Sound City. The film directed by Ghrol focuses on the iconic Sound City recording studio, it's one of a kind console and the countless artist that had recorded their, including Fleetwood Mac, Neil Young, Rick Springfield, Tom Petty, Metallica, Rage Against the Machine and Nirvana just to name a few.
The Sound City Players live show lasted a little over three hours and featured mini sets by John Fogerty, Rick Springfield, Black Rebel Motorcycle Club and Stevie Nicks.  Cheap Trick guitarist Rick Nielsen was joined on stage by Slipknots lead singer Corey Taylor,  for a selection of his bands greatest hits. Throughout  members of the Foo Fighters served as the house band and at times all surviving members of Nirvana (Krist Novoselic, Dave Grohl and Pat Smear) could be seen rocking out on stage together.
Corey Taylor, Rick Nielsen and the Sound City Players
"Surrender"
From what I was able to gather after the show Rick Springfield was the house favorite with John Fogerty coming in at a close second.
Rick Springfield and the Sound City Players – "Jessie's Girl"
I was shocked more people didn't mention Stevie Nicks as she always puts on a stellar performance.  The entire show was strong from start to finish and is one I am sure never to forget.
Stevie Nicks and the Sound City Players
"Stop Draggin' My Heart Around"

Make sure to check out Dave Grohl's new film Sound City and If you were at this show or have ever seen the Sound City Players make sure to comment on this post and let us know what you think because this is You Tell Concerts and "When You Tell Concerts It's Cooler". – Lorn