Ep.470 – Soundgarden @ The Forum – Inglewood, CA – 07/22/11

Having grown up in the Seattle metropolitan area, Soundgarden always held a special place in my heart. Unfortunately,  Soundgarden broke up when I was just 13 and not allowed to go to concerts yet. Thus, I never had the chance to see them live.  I had seen Chris Cornell solo several times and was always more than blown away by his performance.  I longed for the day that I would get to see Soundgarden live.
In September 2010 my wish was granted, and I got to see Soundgarden perform on lot at Paramount Studios in Hollywood, CA as part of the Guitar Hero Warrior's of Rock launch party.  Soundgarden only performed 9 songs and the sound was less than satisfactory.  Regardless, I just couldn't miss this show and knew that Soundgarden was going to deliver and ROCK the Forum.
Soundgarden @ The Forum Video Concert Review
Soundgarden @ The Forum Concert Review
I was running late, and managed to get to the Forum (ticketless) right as Soundgarden hit the stage.  There didn't seem to be any tickets around, and I began to get worried that I wasn't going to make it into the show.   Luckily, I ran into the fine folks from KROQ and they were kind enough to help me out with tix.
I rushed into the show and made it just in time to see "Jesus Christ Pose" and the remainder of Soundgarden's set.
I started watching the show from the floor, but found it to be a bit too loud.   I decided to head to the top of the Forum to see if the sound was any better. It was very hard to hear Chris Cornell's vocals on the lower levels of the arena, because the band was so damn loud. From the back of the arena, Chris sounded absolutely fantastic.
I talked with a fair amount of people after the show that didn't like Soundgarden's performance, and I think the sound levels had a lot to do with it.  As I spent the  majority of the show at the way back,  I'd have to say that for those that didn't enjoy the sound – they should have brought some ear plugs with them.  It would have toned down a lot of the distortion that was making it hard to hear Chris Cornell's vocals.  I watched a few YouTube vids that had near perfect sound, so I think it really just depended on where you were.
There is only one word I can think of to describe Soundgarden live, and that is "HEAVY."  From Kim Thayil laying down some crazy guitar playing excellence and Ben Shepherd destroying the bass, to Matt Cameron rocking the drums as only a true rock 'n' roll drummer could rock them and Chris Cornell getting as grunge as you could possible get,  Soundgarden hit it hard and HEAVY from start to finish.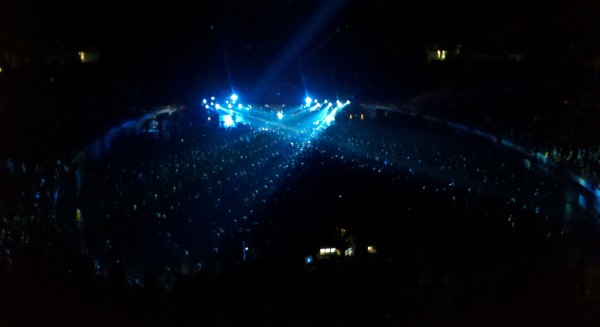 The song selection for Soundgarden's setlist was absolutely perfect in my book. Soundgarden really reached down into the deep tracks and played a great pick of songs that spanned their career.
One of the coolest parts about this show,  was when Chris Cornell explained to the audience that Soundgarden was working on a new album and really wanted to play some of their new songs live. He decided not to because it has been so long since they played, so they chose to jam out as much of the old stuff as they could.
I thought this was great! Although I'd love to hear Soundgarden's new tracks, being able to just rock out to the classics was awesome.
The thing that surprised me the most about Soundgarden, was that I found myself liking the songs that I didn't know a lot more than the ones that I did know.  For instance, I had dreamed the majority of my life to see Soundgarden perform "Black Hole Sun" live.   I expected to be blown away, but for some reason or another something about the song seemed off to me.
I am not exactly sure what was off , but it def wasn't what I had expected. I think the positioning of "Black Hole Sun" in the set was a little odd and had hoped to see this song performed during the encore.
Highlights from Soundgardens set included Mike McCready joining the band on stage to perform "Superunknown," "Fell on Black Days," " Rusty Cage,""The Day I Tried To Live," " My Wave," "Hunted Down," "4th of July," and  " Burden In My Hand." I also really dug Soundgarden's stage set up and light design.  It lived up to the expectations of what a rock 'n' roll arena show should be.
In closing, I hope I didn't come off to critical of this review, because I had a really great time.  I highly recommend seeing them live and especially on this tour, as this could be your only chance to get to catch them rock out some of their deep tracks that will eventually have to take the back seat to some new songs.
Please make sure to comment on this post, and let us know what you thought about Soundgarden, because "this is You Tell Concerts, and when You Tell Concerts… It's cooler!" -lorn
Soundgarden @ The Forum 07/22/11 Setlist
Searching With My Good Eye Closed
Spoonman
Gun
Jesus Christ Pose
Room a Thousand Years Wide
Blow Up the Outside World
Loud Love
Big Dumb Sex
Ugly Truth
Fell on Black Days
Flower
Outshined
Black Rain
Rusty Cage
The Day I Tried to Live
My Wave
Burden in My Hand
Black Hole Sun
Head Down
Superunknown (with Mike McCready)
4th of July
Encore:
Beyond the Wheel
Hunted Down
Mailman
Slaves & Bulldozers