SoundLand Starts Tomorrow – Nashville, TN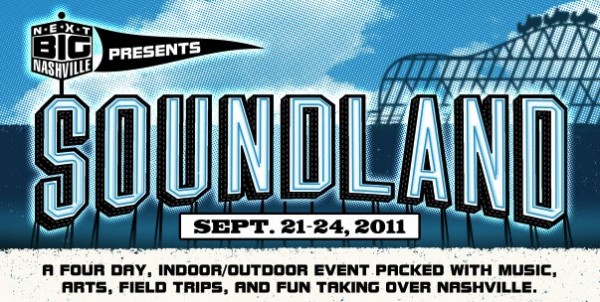 Here we go again! Next Big Nashville is now known as SoundLand, and it's all going down this week: starting tomorrow through the 24th. This year's festival seems to be more streamlined – weeding out what hasn't worked in the past and doing more of what has.
My beloved shuttles will be making an appearance again this year. There are fewer venues involved and those establishments participating in the festival are reasonably close to each other. Hopefully, this set up will be less stressful, and will allow people to see more bands.
Big guns on the SoundLand line-up include: Foster the People, Yelawolf, BIG K.R.I.T, Ghostland Observatory, M Ward, and Justin Townes Earle. There are also some hometown favorites on the roster, who are making serious noise in music-lover publications and online fanzines: Caitlin Rose, Tristen, Wick-It the Instigator, and JEFF the Brotherhood (who was recently featured on SPIN's tribute compliation to Nirvana's 'Nevermind.), to name a few.
The mysterious Third Man Records girl group, The Black Belles, will be playing with JEFF the Brotherhood and Those Darlins (among others) at the Neuhoff Factory Party on Saturday that goes from 2:00pm to 9:30pm. This party description boasts of a strong bill, but also a 30-foot water slide, a huge inflatable dragon, and the best food trucks in Nashville.
The other event that I have my heart set on is Friday's 12th Avenue Block Party stage, which is where BIG K.R.I.T and Yelawolf are going to pop off the weekend. Clearly, I'm pumped about all the SoundLand VIP parties, where all young-bloods gather for free pre-game nourishment and libations. I'm also looking forward to the "field trips," which are a handful of seminars on Thursday and Friday in random locations throughout the city.
I was a big supporter of the conference portion on NBN, but it just wasn't growing legs. I'm glad SoundLand didn't ditch it completely, because there is some helpful information available at these things. For a city full of do-it-yourself artists, these are a no-brainer.
VIP badges get you into all the shows, parties, and field trips over the four days for only $150. In comparison to other conference registrations, this is a steal. It's an investment, people. Convince your company (or your parents) to pay for it!
You can also pick and choose the shows you want to attend for $25 a piece. A wristband that grants you admission to all the shows is only $65. Prices go up tonight.
Buy your tickets, create your schedule, and get some rest. Next week is going to be a rough one, but fun one. Mount up!