Standing Shadows (Dave) // Interview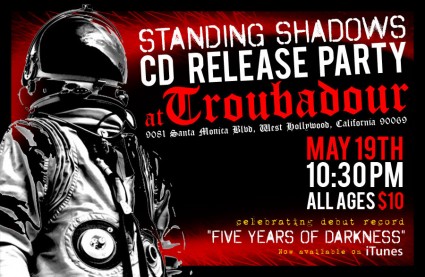 Lorn talks with David Miltenberger of Standing Shadows about their new album 5 Days Of Darkness and their record release show at the Troubadour on 05/19/10.

STANDING SHADOWS is an alternative-indie-electro band residing in Echo Park, CA.
Standing Shadows' debut record "Five Years of Darkness" beautifully meshes 21st century texture with driving guitars, soaring vocals, and female gospel singers.  In support of the release, this foursome has been touring across the southwest United States with performances at Beauty Bar Las Vegas, SXSW Festival in Austin, Viper Room, and many more.  Bloggers from around the world have compared the sound of Standing Shadows to artists like Silversun Pickups, Interpol, and Muse.
On Wed May 19th at the Troubadour, STANDING SHADOWS will be rocking the stage at their OFFICIAL CD RELEASE PARTY for the debut full-length album "Five Years Of Darkness."  Say the secret password "circus freak" at the merch booth and win a free CD or limited edition 7-inch vinyl!  Bring 2 or more friends to the show and also win a free American Apparel T-shirt custom printed by the band!
Standing Shadows LIVE @ TROUBADOUR (CD Release Party)
Wednesday, May 19, 2010
10:30pm – 11:30pm
If you haven't listened to Standing Shadows before make sure to check out their debut music video "Get Together"