Review – Sugarland @ Iowa State Fair – Des Moines, IA


Sugarland Iowa State Fair 8/21/10
Review & Photos contributed by Mike Bandow
Sugarland @ Iowa State Fair review
Sugarland brought "The Incredible Machine Tour" to the Iowa State Fair with opening act Little Big Town. Sugarland's new album is due out on Oct. 19th.
This was my first full-blown Country show, and I absolutely loved it! Both bands performed to over 11,000 fans.  This show was sold-out for weeks and they added standing room only tickets right before the show and sold those out too! Little Big Town singers Karen Fairchld and Kimberly Schlapman traded off belting out hits like Bring It On Home,  Boondocks,  and their newer hit Little White Church. Guitarists Jimi Westbrook and Phillip Sweet switched off on vocals too for a lot of the songs. They sounded excellent, and put on a set lastly approximately 45 minutes.
Sugarland @ Iowa State Fair photos


Sugarland took the stage about 9:15 and the whole place was on their feet most of the night. Jennifer Nettles has some serious pipes. She didn't run out of
steam the entire night. She knows how to work the stage.  Jennifer and singer / guitarist Kristian Bush are a perfect match and feed off each other. For a band thats only been around since 2003, it was surprising how tight they were.  At one point Kristian announced ' who needs a guitar ? '
Jennifer and Kristian both signed it right on stage and Kristian ventured off into the audience to find that special lucky fan. He went clear up into the top of the grandstand holding it up high and after a few minutes of searching, set his sights on a young girl. That was the coolest thing ever! They gave her a police escort out of there at the show's ending.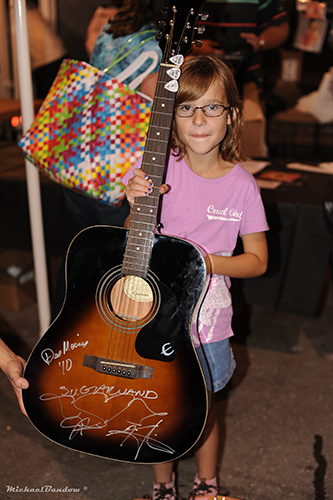 I didn't have any luck with grabbing a Sugarland setlist, but I can remember the following songs were done, The Incredible Machine, All I Want To Do, Stay, Already Gone, Baby Girl, Who Says You Can't Go Home, the new hit Stuck Like Glue -  which I really liked. The brought Little Big Town out for group performance of Marc Cohn's Walking In Memphis which was very cool! They ended the show with their rendition of the Bee Gees' Staying Alive with Jennifer sporting a blonde, 70′s afro wig. This show was amazing!
Mike Bandow
Des Moines Iowa