Ep.456 – System Of A Down @ The Forum – Inglewood,CA – 05/24/11
I had seen System Of A Down two times prior to this show and had really enjoyed my self. System Of A Down had just spent the last five years on hiatus, and I have to admit I forgot how good they were.
From the moment we walked into the venue until the end of the show there wasn't a single moment where the crowd was standing still. The band's energy and control over the crowd was impeccable. I just couldn't believe how nuts the crowd was going. At points during System of a Down's set, there were upwards of seven to nine mosh pits going on at the exact same time.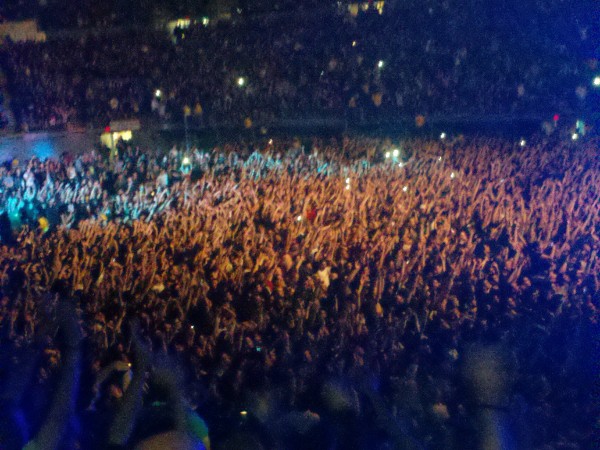 The sound for this show was top notch and the band was on point. SOAD played with a ferociousness and a lot of heart. In addition to the band totally killing it, the vocal styling of Serj Tankian come of perfectly live and he sings with such purpose and passion you can not help but be inspired.
The song selection for this show was also stellar. SOAD played 30 songs and although they didn't do an encore they played everything I wanted to hear and reminded me of how many System Of A Down songs I knew and loved. It's difficult to pick my favorite songs from this show but if I have to narrow it down I would say my favorites of the night  included "Toxicity", "Prison Song", "Needles", "Lonely Day", "Lost In Hollywood", "Chop Suey and Sugar".
Final thoughts on System Of A Down are as follows:  I think System of a Down should never go on hiatus again because when it comes down to it, they are exactly what rock and roll needs. Definitely one of the best LIVE rock and roll bands around. I  cant wait to see these guys again!  If I was able to pick one artist to see perform with System Of A Down, it would be none other than Rage Against The Machine because that would be absolutely crazy.
Set List – System Of A Down @ The Forum 05/24/11
Prison Song
B.Y.O.B.
Know
Needles
Deer Dance
Attack
Radio/Video
Hypnotize
Question!
Suggestions
Psycho
Chop Suey!
Lonely Day
Soldier Side Intro
Soldier Side
Bounce (first time played live in 5 years)
Kill Rock 'n Roll
Lost in Hollywood
Forest
Science
Holy Mountains
Aerials
Tentative
Cigaro Play
Suite-Pee
War?
Toxicity
P.L.U.C.K.
Sartarabad
Sugar
System of a Down Tour Dates
[bandsintown_events artist="System of a Down" display_limit="10"]