Ted Nugent @ 7 Flags Event Center – Clive, IA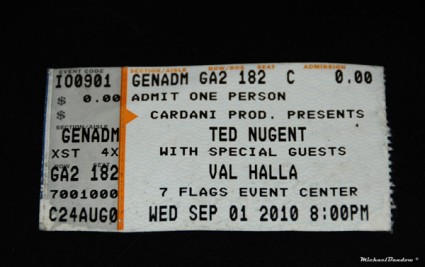 What other band will you see where the stage is embellished with animal pelts, machine guns, bow and arrows, and the stage lined from one end to the other with guitar amps? Only a Ted Nugent show! He is still as good as he was 20 some years ago when I first saw him live…and this guy is 62 years old folks! He had Mick Brown, formerly of Dokken, on drums, and Greg Smith on bass, who has played with everyone from Alice Cooper to Wendy O'Williams. This tour is titled Trample the Weak, Hurdle the Dead.
He opened his set with his ear-bleeding version of the Star-Spangled Banner, then on with Stormtroopin' and ripped through one classic after another including Free For All,Wang Dang Sweet Poontang, Need You Bad, Just What the Doctor Ordered, Love Grenade, Fred Bear, Hey Baby, Cat Scratch Fever, Stranglehold, and a very cool Wango Dango/You Really Got Me Kinks cover. His set ended with him sporting a very colorful Indian headdress and rocking through Great White Buffalo.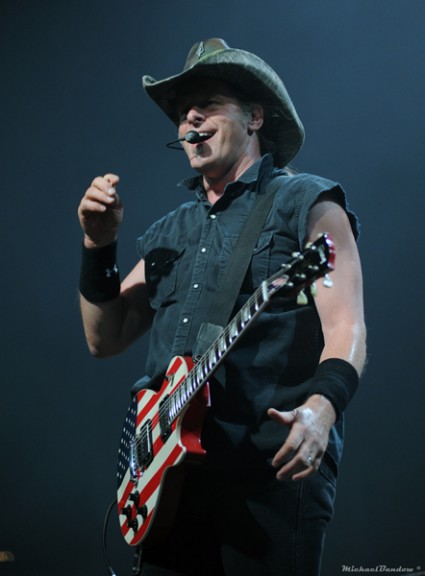 This was easily one of the loudest shows I have ever been to. It sounded good, but really, really loud! My ears rang for two days! His band was a really good fit for him. All three guys played with a lot of enthusiasm all night.
This guy really hates President Obama! He went into a rant on how we need a victory strategy and not an exit strategy in Iraq. He basically slammed Obama using every profanity known to man for a good five minutes and then went into a song he dedicated to the President. I swear he said it was called, Who Wants to Fuck Me. I've never been a fan on rockers mixing politics with music, but I did find it entertaining.
He stated how he rocks all summer and kills the rest of the year. This man has his views and isn't a bit shy to tell you all about them! Hunting is very big here in Iowa, and he stated "I don't need a fucking deer tag, I just need a vehicle and I'll run them over! " I was enjoying the two cops' facial expressions that were standing a few feet from me as he went into his pro-guns speech. They had a look on their faces as if a riot may be moments away.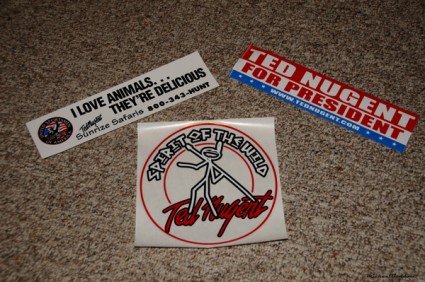 I tried like hell to get backstage and chat with Ted but to no avail. My friends and I decided to camp out by his bus after the show and wait and see. Mick Brown and Greg Smith came out and both were more than happy to sign anything you had and take photos. Ted's manager came out and gave us some cool Nugent bumper stickers. After waiting nearly an hour, The Nuge appeared and signed one lucky guys item, and was then quickly whisked away in a waiting van.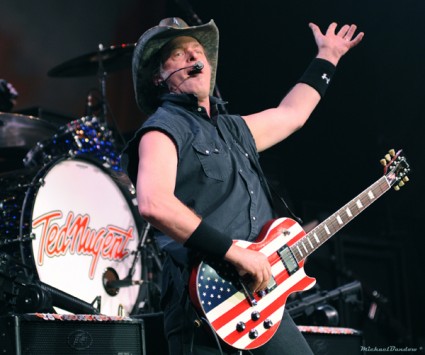 The opening band was Val Halla. I had never heard of her before, so no setlist to share on them. They sounded pretty good and were entertaining. This was an ass-kicking show that took me back to the 80′s. I'm really going to miss these bands when they start falling off the radar.
Mike Bandow – www.mikebandow.com
Click Here For More Photos from the Show
Ted Nugent – Great White Buffalo (Live)