Review – The Glitch Mob w/ RJD2 and Photek @ Club Nokia – Los Angeles, CA – 08/19/11
The Glitch Mob w/ RJD2 and Photek @ Club Nokia
concert review
In all honesty, I have heard nothing but praise from friends who have had the honor to see the artists Glitch Mob and Rjd2 perform. A couple of friends who attended this years' 2011 Electric Daisy Carnival told me that The Glitch Mob brought the house down and were one of the most memorable acts of that weekend.
Another one of my good buddies stated that Rjd2 is his hero and claims that Rjd2's performance is legendary. I would be an idiot to ignore these comments, but in the end talk is just talk. In order to believe the stories about these two electrifying musicians, I had to witness them in action, and what better place to do so than in my hometown – Los Angeles, baby!
As I made my way down the busy streets of LA,  I was super stoked to finally go inside Club Nokia and see what The Glitch Mob and RJD2 had to offer. The doors opened at 7:00pm, about two hours before the first act was scheduled to go on. I arrived shortly after that time to enjoy a drink at the theater's exquisite colorful lounge.
I admired the way Club Nokia was built. Club Nokia has 3 floors; dance-floor, bar/cafe area, and the upper level theater seating.
At 9:30pm, Photek hit the stage to a decently packed pit crowd. Prior to attending this show,  I didn't know who Photek was or how his music sounded. To my surprise, Photek got me waving my hands in the air to songs I personally knew and liked,  such as Chase & Status's "Eastern Jam"  and La Roux's "Going in for the Kill"  remix.
Photek's set was Dubstep-based and kept dropping consistent bass lines from start to finish.The sound in Club Nokia was crisp clear and very loud… just the way I like it. Photek built up his set to finish strong with Greta Svabo Bech's soothing voice in Deadmau5's – "Raise Your Weapon."
Up next was Rjd2, I was anxious to finally see why my buddy considered his performance "legendary." Being a beat junkie myself, I'm a big fan of Rjd2's large body of Hip Hop beats. As I waited, the crowd in the pit grew larger and the venue was beginning to fill up. At 10: 45pm, the curtain fell, a red light beamed on the stage, and out of nowhere a robot, with an MPC clipped onto its belt, took the stage.
The robot started jamming out, hitting his MPC pads uncontrollably creating insane drum beats. Rjd2 engaging the crowd by yelling out in a robotic voice, " When do you ever see a robot making a beat on his crotch!? What sup, LA?!!! I go by the name of… RJD2!"
The crowd and myself shouted and applauded to give him the welcoming he deserved. I was already beginning to see what my friend was talking about.
Rjd2 came out like a rockstar, and definitely rocked Club Nokia. After Rjd2 had the crowd ragging in full force, he pulled off his mask and hops behind his turntables. Rjd2 mixed from left to right and back the other way , switched his vinyls in between jams, and made his set authentic, giving it that pure Hip Hop feel.
Rjd2 brought joy to my ears and rhythm to my soul. Rjd2 dropped several of his killers tracks such as "1976,"" Ghostwriter," "Let There Be Horns," and personally my favorite, "Exotic Talk." Rjd2 ended his set with a beat mash up of the old-school Donkey Kong/Super Mario games, which (no doubt) blew the crowd way.
The Glitch Mob was up next and I asked myself, " How the hell can someone top Rjd2?!? He was simply amazing!" The lights went out. The curtain fell, and out came The Glitch Mob. Boreta, Edit, and Ooah each on their very own "Tron-esque" lit up pedestals yelled out, " It feels good to be home!"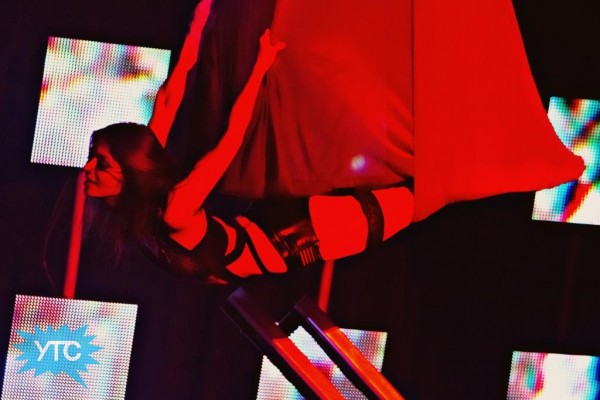 To start their set, The Glitch Mob unleashed their remix of Daft Punk's "Derrezed" and continued to drop tracks from their new album, "We Can Make The World Stop." With my camera in hand, I was jumping, stomping, neck-breaking, and totally feeling the crowd and the vibes around me.
The Glitch Mob's stage set up was incredible! I felt like I was in the movie TRON! There were so many electrifying lights and continuous surprises that The Glitch Mob prepared for their fans.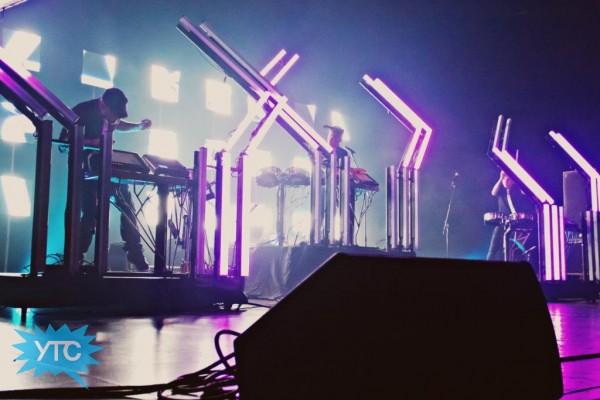 First, The Glitch Mob performed a brief drum solo from each member utilizing their Jazz-mutant Leemurs. Then several dancers took the stage while a rope was lowered onto stage and a Cirque Du Soleil-style acrobatics were performed. If that wasn't enough to entertain and amaze the audience, The Glitch Mob highlighted the night with a surprise guest.
The Glitch Mob invited the singer Swan onto the stage to perform their collaboration track "Between Two Joints,"  Shortly after, an encore broke out and the crowd went bananas to "Drive It Like You Stole It," "We Can Make The World Stop," and the remix of The White Stripes' "Seven Nations Army."
After attending this show, I now believe that The Glitch Mob and Rjd2 are exactly what my friends made them out to be. What an incredible show, amazing venue, and a night filled with excitement. – Jorge Meza