Event – The Ross Sea Party w/ The Dead Ships, MidCities, Opus Orange @ Central SAPC – Santa Monica, CA – 8/28/12
You Tell Concerts presents:
The Ross Sea Party w/
The Dead Ships, MidCities, Opus Orange
@ Central SAPC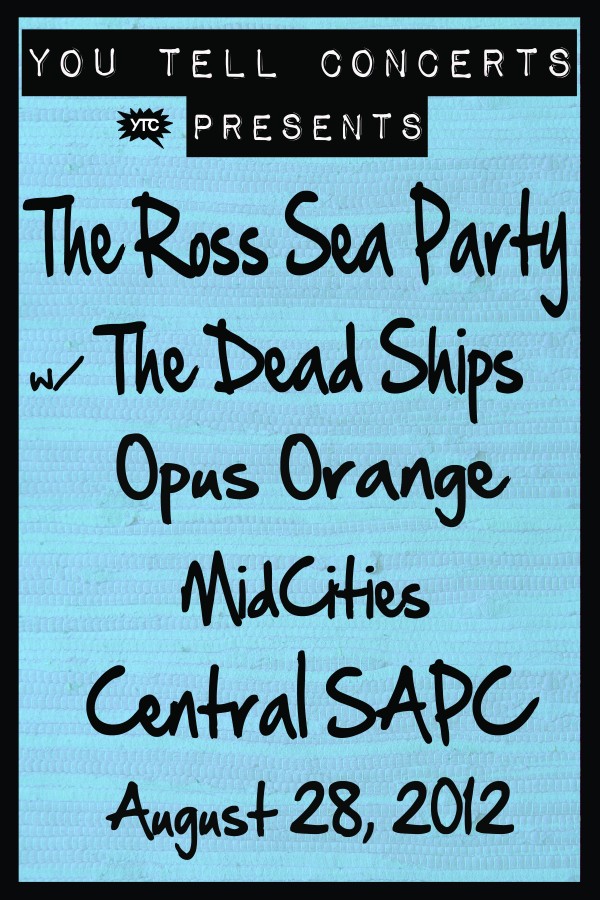 The Ross Sea Party w/ The Dead Ships, MidCities, Opus Orange – 8pm
Central SAPC
1348 14th St, Santa Monica, CA
Tickets: Free
21+
You Tell Concerts is proud to present a night of amazing music that is absolutely free!
Set Times:
09:00 PM – Opus Orange
10:00 PM – The Ross Sea Party
11:00 PM – The Dead Ships
The Ross Sea Party: A typically unusual Los Angeles family. Five friends who wanted to transcend the disconnected and nonsensical nature of life in the city and create something consequential, the band built a home with hollow-body guitars, well-tuned drums, and a glockenspiel. Like its namesake, a little known yet heroic wing of Ernest Shackleton's famed 1914 Trans-Antarctic Expedition, the band can be characterized by their easy navigation across an ever-changing atmosphere. Raised on everything from the idiosyncratic guitar work of Neil Young and the irreverent pop of The Talking Heads to contemporaries Delta Spirit, Arcade Fire and The Dodos, the Ross Sea Party is constantly inspired. While paying homage to their influences, the band has simultaneously managed to create an unmistakable and unique sound. Characterized by spacious instrumentation and singer Brady Erickson's unique voice atop energetic and pervasive rhythms, the songs remain simple, catchy and melodic at their core. Erickson began The RSP in 2009 with fellow LA scene veterans Michael Baumer on drums and multi-instrumentalist Will VanderWyden, adding Atlanta transplant Mark Tillman on guitar and LA native Jacquelyn Thropay on keyboards and glockenspiel the following year.
The Ross Sea Party – "Thunder"

Opus Orange: The project of multi-instrumentalist and songwriter Paul Bessenbacher, known to most as PB. In late 2009, PB connected with Lauren Hillman (Kotomi), a fellow composer and vocalist. Together they dreamt up the track "Almost There." By 2010, PB had composed a handful of tracks that would soon accompany "Almost There" in making up Opus Orange's first self-titled EP. In addition to working with Lauren, he also wrangled in multi-instrumentalist Jo Pusateri to add percussion and texture to his album. With its infectious hooks, vocal harmonies, and toy pianos, the EP's release was well-received by many indie blogs, like Indie Rock Cafe. Besides indie blogs, the EP also attracted the likes of numerous music supervisors; the album's first track "Nothing But Time" landed placements in an Apple iPhone commercial and an episode of Grey's Anatomy, and "Almost There" was licensed for Disney's feature-length film Prom. Opus Orange has continued to grow over the last couple of years, releasing two more EPs, "Almost There" and "Reinventions". "Almost There" included a new song "That Is To Say" that became Opus Orange's second Grey's Anatomy placement. "Reinventions," a free download for fans, took the first EP's catchy tunes and reinvented them with casio beats and synths. With a growing collection of songs under their belt and a soundtrack for an upcoming feature-length documentary "Mile…Mile & a Half", Opus Orange is now a full five-piece band. Opus Orange has been performing locally in Southern California and plans to continue touring for the rest of 2012. PB Guitar, Ukele, Vocals Lauren Hillman Synths, Vocals Jo Pusateri Synths Bernie Chadwick Drums Carlen Walth Bass
Opus Orange – "Almost There"
The Dead Ships: Electric Ahab is the first full-length record by Los Angeles garage rock band The Dead Ships — the duo the LA Times calls "a bluesy wrecking ball." In this album the two men's powerful, stripped down chords and catchy, pop-inflected hooks feel like a more mature iteration of what has drawn the ears of critics across the country: the melodic reconnection of garage rock with its soulful R&B roots. And true to the garage rock ethos, the band used vintage analog gear to record the tracks over one weekend, in two takes to 2"-tape. Electric Ahab is available now on Bandcamp.com and iTunes. It was during graveyard shift smoke breaks at a t.v. post-production house in LA where guitarist/vocalist Devlin McCluskey and drummer Christopher Spindelilus discovered their shared musical interests and decided to play together. They transformed Devlin's singer/songwriter style into a sound uniquely their own—developing the crisp, pop and blues inflected garage rock songs found on their eponymous demo EP (2011.) The blitz of packed shows and media attention following their demo EP release came swiftly: the duo went on to play sold-out events at legendary LA venues The Echo, The Troubadour and The Echoplex with King Khan, Anthony Greene, Kevin Devine, Girl in a Coma — all while garnering blown-away reviews from the LA Times, Buzzbands.LA and OC Weekly, with the latter calling their live shows "visceral and primal". The Dead Ships ended their first year with a month's residency at Central in Santa Monica, CA followed by their first US Tour in support of their 7" vinyl release, where they were officially selected for 2011's CMJ Music Marathon. In addition to having released their new record, 2012 found the duo nominated as "Best New Emerging Artist, LA" by Deli Magazine and heading to Austin, TX for their first SXSW.
The Dead Ships – "Amaze"