Tom Petty And The Heartbreakers 2010 Tour
For those of you that missed the memo, Tom Petty and the Heartbreakers rescheduled the first 10 dates of their 2010 tour due to a delay in the arrival of their new album Mojo. This was announced back in April, but was not nearly publicized enough (in my personal opinion).
The rescheduling of these shows are def a bummer.  Now, I have to wait all the way until October to see Petty!
The tour was originally set to start on May 6th, 2010 at the Time Warner Cable Music Pavilion in Raleigh, North Carolina, and wrap up August 27th, 2010 in Saratoga Springs,  New York.  Joe Cocker was scheduled to open on all dates, but at this point in time it is unknown if he will be able to perform the new dates.
The tour will kick off at the Red Rocks Amphitheater in Boulder, Colorado on June 1st, and wrap up October 2nd 2010 at the Verizon Wireless Amphitheater in Irvine, California.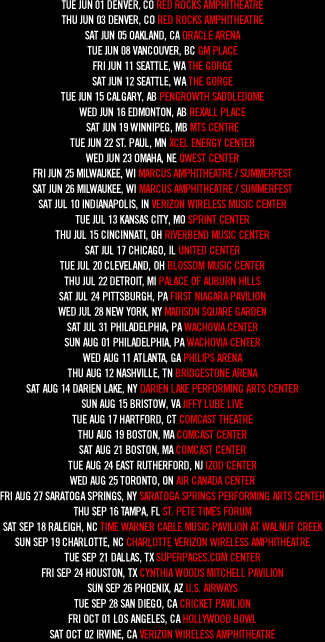 The shows that have been rescheduled are listed below:
Sep 16 Tampa St. Pete Times Forum (w/TBD)
Sep 18 Raleigh Time Warner Cable Pavilion at Walnut Creek (w/TBD)
Sep 19 Charlotte Verizon Wireless Amphitheatre (w/TBD)
Sep 21 Dallas Superpages.com Center (w/TBD)
Sep 24 Houston Cynthia Woods Mitchell Pavilion (w/TBD)
Sep 26 Phoenix US Airways Arena (w/TBD)
Sep 28 San Diego Cricket Wireless Pavilion (w/TBD)
Oct 01 Los Angeles Hollywood Bowl (w/TBD)
Oct 02 Irvine Verizon Wireless Amphitheatre (w/TBD)
If you are thinking about waiting until the day of the show to pick up your tickets, you might want to think again.  All tickets sold online will include a mp3 version of the band's new album MOJO, plus 8 live tracks that will be recorded on the tour.
Regardless of the reschedule, this tour is by far one of the most anticipated tours of the year.
Tom Petty and the Heartbreakers – Refugee
If you are skeptical about  Tom Petty and the Heartbreakers' live performance, check out this vid we made back in 2008