Tommy Emmanuel @ Hoyt Sherman Auditorium – Des Moines, Iowa 9-26-10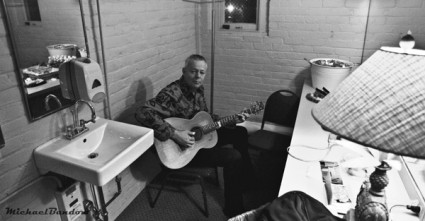 I had never heard of Tommy when I was asked to shoot this show, but knowing my promoter friend, George's taste, I knew it would be cool. He hails from Australia but now resides here in America. In the May 2008 and 2010 issue of Guitar Player magazine, Tommy Emmanuel was named as "Best Acoustic Guitarist in the World" in their reader's poll. That says a lot!
I met him and his small crew before the show and was told I could take photos where ever I wanted – a rare thing. They all were the nicest people. Frank Vinola and Vinny Raniolo were the perfect opener for Tommy and ended Tommy's set with a trio jam and not to mention they have a mean pose, check out the photo post of the show to see what I'm talking about.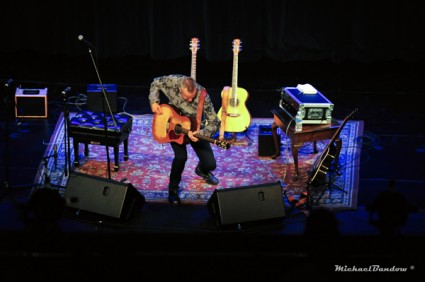 The show was at the Hoyt Sherman Auditorium. It's a really cool, very old, cathedral-like place here in Des Moines, Iowa. The acoustics in the place are amazing. They don't get many bands in there, but when they do…it's treasures like Tommy.
He is an instrumentalist. There was almost no vocals at all within his set. He doesn't use a setlist. He just comes out and does his thing. You basically go to his show, sit, and watch a true guitar player genius do his thing. His style is all his own. At times he's classical, and at times he's rocking out.
At some points in the show, you'd swear there are three other guitar players playing up there with him. The sounds he can make his acoustic do are, well you gotta just get one of his CD's or see this guy live.
Eric Clapton and Joe Satriani have both been quoted as saying he is the best they have ever heard. I'll agree with that! Great show!