Where are the videos? feat. Ghostland Observatory @ USC Derby Days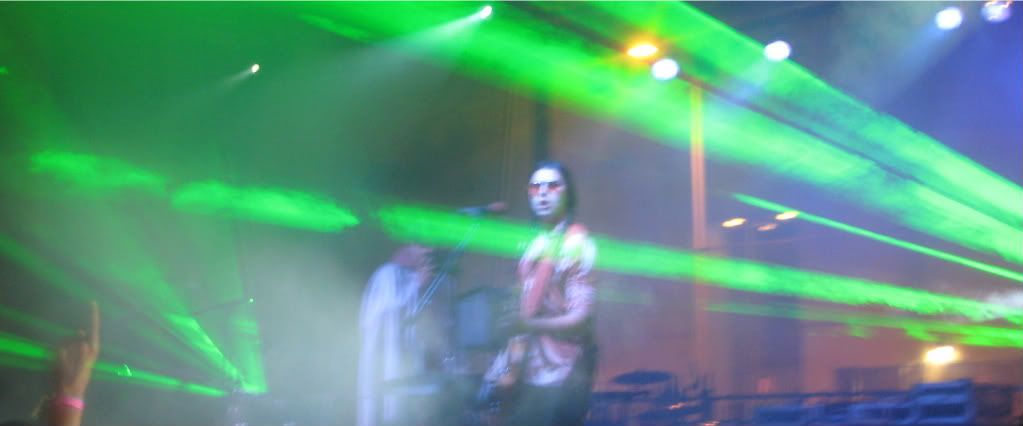 On Thursday afternoon I was alerted to the fact that the following day Ghostland Observatory would be headlining the annual USC Derby Days event which is held at the Sigma Chi Fraternity House. If you know me at all, you know that I 100% was going to have to go to this show. Ghostland Observatory + Frat Party = ????
When we first arrived, we were trying to meet up with our contact who was an organizer for the event, but we got there a little late and the gate was becoming a complete clusterfuck.  There were lots of college kids ready to dance and who were clearly already partying. (with no intention of stopping)
One security guard in particular attempted to assist us, but failed miserably by refusing to listen to anything we were actually saying.  For some reason he felt it necessary to call in back up.  Soon we were greeted by these nice officers.
Bryan and Lorn are hassled by THE MAN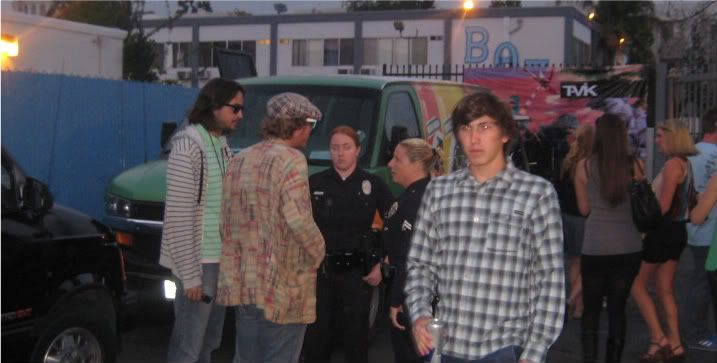 Finally, after explaining to the officers what we were there to do, they were very helpful and soon we were in the show.  LMFAO was starting just as we got into the parking lot/concert venue.  There was a gated beer garden with a long line for I.D. Checks.  WE LOVE FREE KEG BEER @ YTC (no line to get beer, just to get ID check)
LMFAO was pretty crazy and they certainly got the girls excited and ready to party.  I just question how long they can continue to be a viable musical act.  I'm not an expert on these things, but I'm going to say 3 years tops.
In between LMFAO and Ghostland Observatory's set, I had the chance to talk to Sameer from The Jakes, the opening act for the show.  He told me they'd be playing The Roxy on May 15th, so I think I'll check that out.
http://www.myspace.com/thejakes
As the crowd grew restless from the anticipation from earlier laser infused experiences or rumors of them, Ghostland Observatory took the stage.  The crowd was definitely feeling it from the first robotic beat.  I'm not going to lie, I was freaking incredibly excited.  I've seen Ghostland at least 8 times in the last year or so and they always bring it on full force.
After the show we were lucky enough to get a chance to talk with Aaron and Thomas about the USC Derby Days show, their recent performance at Coachella, and their upcoming tour schedule.
Now I know what you are thinking…
WHERE IS THE VIDEO???
Well, that's what we'd like to know.  After the Ghostland Observatory show we went to Avalon for Control Friday's with The Glass playing live and FEADZ from Ed Banger spinning electro.  After that show we looked at the camera and several of the videos were missing. 
They had simply vanished.
Nothing like that has ever happened to us in the 15 months of YouTellConcerts history, and I guess it's true that something like this was bound to happen, but FUCK! could it have been at any worse of a moment?!?!
R.I.P. lost Ghostland Observtory YTC interview
Thanks guys for talking with us.  We'll see you again soon and have to do it again.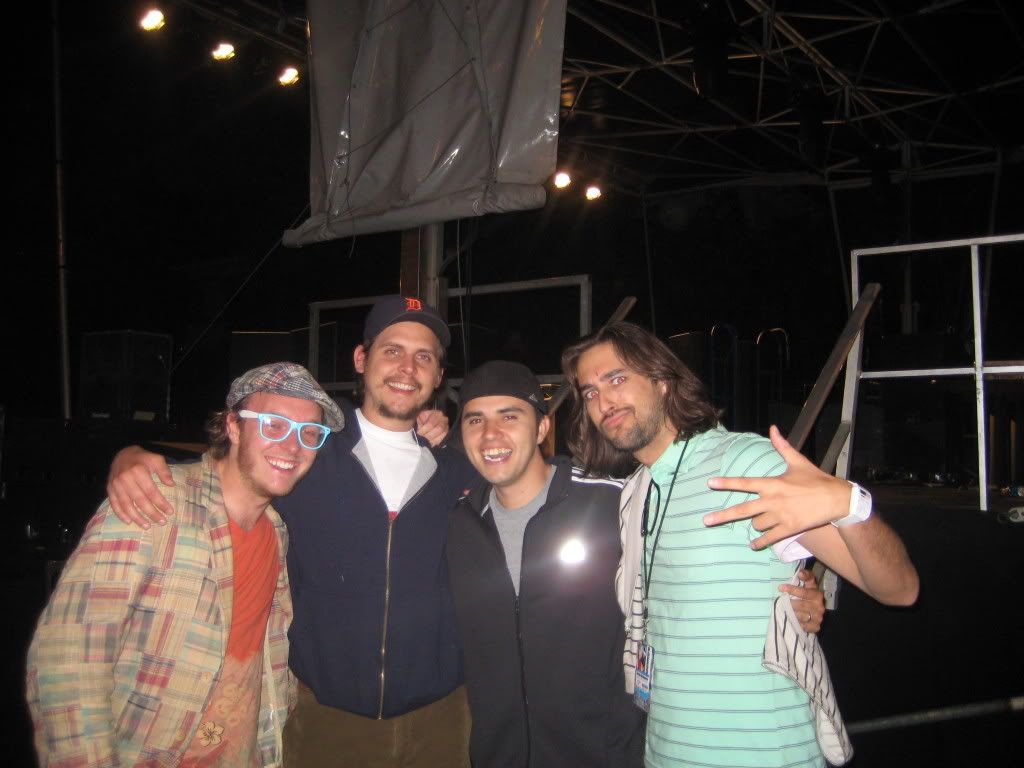 Highlights included:
- Always great live extended version of Midnight Voyage
- FREE KEG BEER (BUD LIGHT EVEN)
- Aaron's track suit
If you aren't familiar with Ghostland Observatory, wisen up.
http://www.myspace.com/ghostlandobservatory
We apologize to all the people we interviewed who gave their review of this show and weren't featured on our site because of the lost videos.  Look for us at future shows, because we'd love to hear from you again.
Thanks to John for helping us out with covering this event.  You looked super busy, so we appreicate you doing what you could to accomodate us.
This show benefited the CHILDREN'S MIRACLE NETWORK
http://www.childrensmiraclenetwork.org/