Win Tickets: Beats Antique @ Club Nokia – Los Angeles, CA – 9/7/12
Goldenvoice and The Do Lab are teaming up again to bring you what is sure to be an amazing night of music and art. The last time Beats Antique played Club Nokia was a spectacle to say the least. The show not only featured a fantastic performance from Beats Antique but also a slew of artist creating masterpieces on stage and around the venue. If you have yet to experience Beats Antique or have been a long time fan this is no doubt a show you don't want to miss.
Win Tickets: Beats Antique @ Club Nokia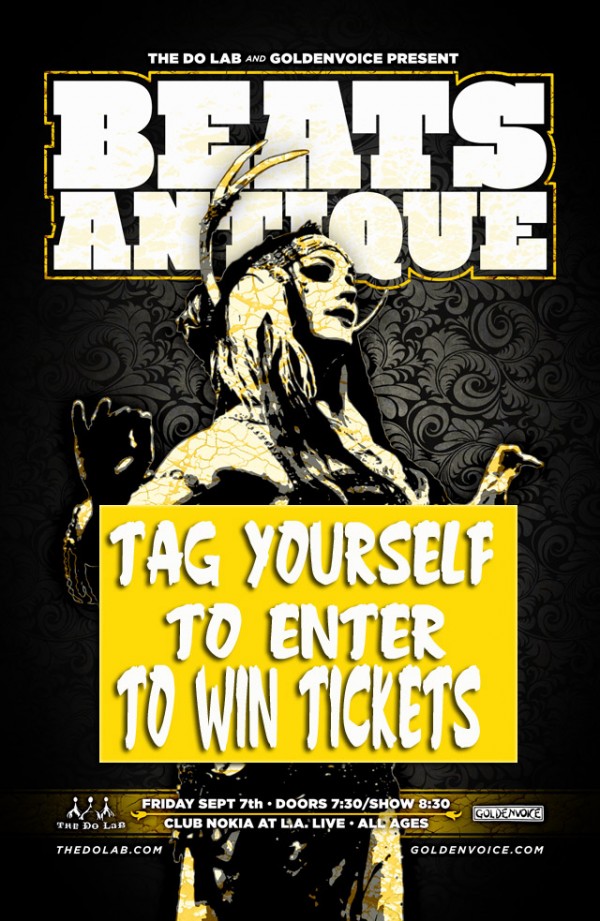 Tickets for this show start at $21.50 and are still available online
For those of you willing to try your luck and not buy tickets in advance, YouTellConcerts and Goldenvoice are giving you a chance to win tickets to Beats Antique at Club Nokia on September 7 , 2012 .
Entering this contest is easy but you need to be on Facebook to enter! Simply like YouTellConcerts on Facebook, then tag yourself in this picture. Although its is not required to win sharing and commenting def gets you bonus points.  The more we see your name the better!
Win Tickets: Beats Antique @ Club Nokia
The contest will be open until 2:00pm on Thursday September 6, and the person with the best answer will win.
Beats Antique -7:30pm
Club Nokia
800 West Olympic Blvd, Suite A335, Los Angeles, CA 90015
Tickets: $21.50 – $36.50
All ages
Beats Antique – (LIVE)