Win Tickets: Tomorrow's World, Housse De Racket @ El Rey Theatre – Los Angeles, CA – 10/11/12
Win Tickets: Tomorrow's World, Housse De Racket
@ El Rey Theatre
The French are once again invading LA for the fourth annual Ooh LA LA Festival.  The festivities will take place at various venues between October 10 -13.  The first of four shows will take place at El Rey Theatre and will feature one of the first US performance by Tomorrow's World  a duo comprised of  Jean-Benoit Dunckel (Air) and Lou Hayter (New Young Pony Club).  The groups first album isn't due out until 2013 but this show promises to be one for the books.  In addition they are being supported by Housse De Racket a duo that recently played the Coachella Valley Music and Arts Festival.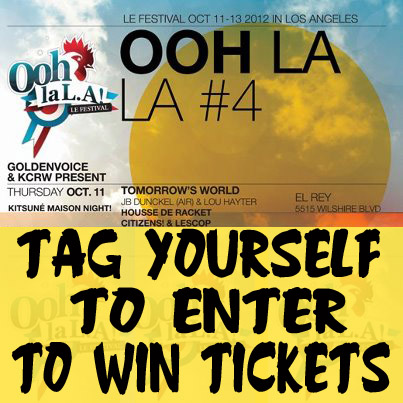 Tickets for this show start at $22.50 and are still available online
For those of you willing to try your luck and not buy tickets in advance, YouTellConcerts and Goldenvoice are giving you a chance to win tickets to Tomorrow's World with House De Racket at El Rey Theatre on October 10 , 2012 .
Win Tickets: Tomorrow's World, Housse De Racket @ El Rey Theatre
Entering this contest is easy but you need to be on Facebook to enter! Simply like YouTellConcerts on Facebook, then tag yourself in this picture.  Although its is not required to win sharing and commenting def gets you bonus points.  The more we see your name the better!
Win Tickets: Tomorrow's World, Housse De Racket @ El Rey Theatre
The contest will be open until 2:00pm on Wednesday October 10, and the winner will be selected at random.
Tomorrow's World w/ Housse de Racket – 7pm
El Rey Theatre
5515 Wilshire Blvd, Los Angeles, CA 90036
Tickets: $22.50
All ages
Tomorrow's World – So Long My Love (Official Audio)