WMC09 – Day 1 – Wed 3/25/09
Wow. The first day in Miami was an excellent warm up for what is sure to be a nonstop party from here on out. I lucked out flying standby on the way here and got upgraded to first class. Only way to fly! Check out the video below for some quick updates on my first day at the Winter Music Conference.
The first thing I did when I got to Miami was get my badge and press credentials, meet up with Molly, and head over to the EatSkeet.com: A Party Worth Blogging About. Apparently it was supposed to be co-presented by HipsterRunOff.com, but it wasn't listed that way in "The List" and the infamous Carles wasn't to be seen. However, the site was listed on the door to the Gansevoort Hotel. So, the jury is still out on what HipsterRunOff.com has to do with this party, if anything.
http://www.EatSkeet.com
http://www.HipsterRunOff.com
Ironically this "Party Worth Blogging About" didn't really live up to the namesake, yet because this is where I spent my afternoon on Wednesday, here I am doing just that… blogging about it. LMFAO's douchiest entourage ever crashed the party with whistle's in tow, along with a bunch of other colorful neon swag. While the LMFAO banner promoting their record release party that night was dragged by a prop plane across the sky, they were promptly removed from the Gansevoort Rooftop. I was certainly laughing my fucking ass off.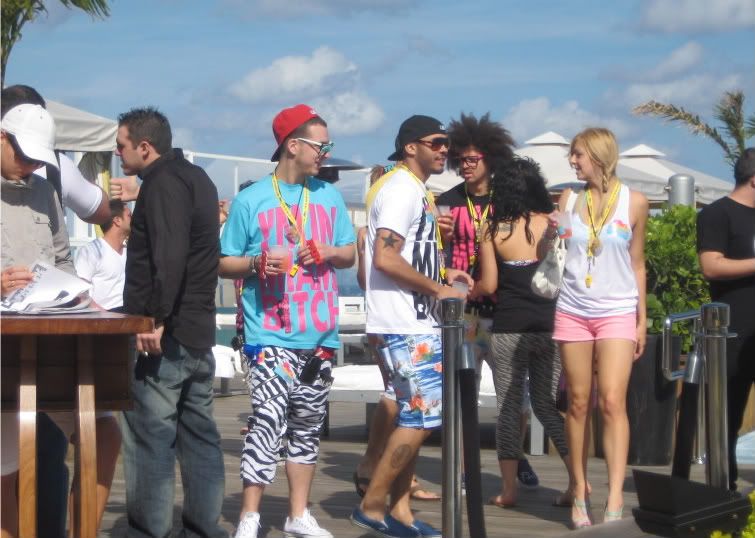 As the sun was setting we found out about an exclusive DeadMau5 set at the same location as the EatSkeet.com party. It was cool to see DeadMau5, but for whatever reason the sound system was totally weak.
"I feel violated" – deadmau5
Wednesday night was primed to be a great start to the weekend and it didn't let us down. I was happy things weren't as crazy as the could have been, because I know the next few days will be. We hit up the Les Six Years du Institubes Party @ the Louis Lounge in the Gansevoort Hotel. (Apparently that was the place to be yesterday… I mean, I wound up at this hotel 3 times.)
http://www.myspace.com/institubes
Wee Man of Jackass fame

An awesome little dude dressed as Napoleon was in the house and I scored a picture with him in between his sessions of spraying some form of compressed gas around the club and literally blowin' the whistle.
Today is just one crazy party after another, and I'm already running late, so I need to hop in the shower and get my ass down to South Beach. The B-Live Bacardi Party starts in an hour and a half and it just doesn't stop from there.
I really hope Lorn's meets up with me tomorrow. AHhhhhhhhhhhhhhhh!! -bryan