You Tell SXSW 2011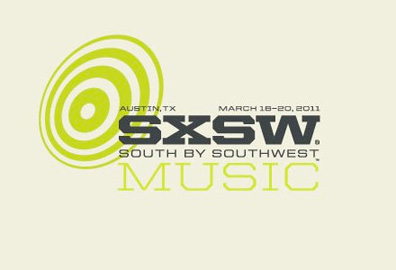 After work tomorrow, I will embark on a musical adventure. I'm boarding a 20-hour bus ride to my first SXSW festival. However, I hear the new Greyhounds are pimped out with charging stations, WiFi, and copious leg room, so if I'm lucky and score one of those rides, I'll be glam-cruising my way to Austin as you suckers pull all-nighters while slugging down 5-hour Energy drinks. Oh, and if you or your company had the hundreds of dollars to shell out for those fancy airplane thingies – screw you. I mean that in the most flattering way possible. My total – $170 roundtrip baby! We'll see how quickly my tune changes on my luxury senior citizen charter.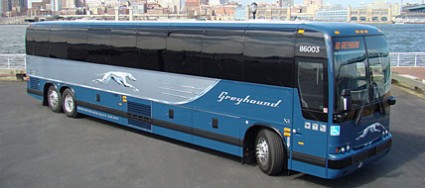 I couldn't get a decent price on hotel close to all the action, so I'm staying a hotel that this R&R shuttle stops at; $50 for a week pass. This could be the best $50 I ever spent or a complete waste of money. I'm willing to take the gamble.
I've been planning this trip for months; still, I feel so unprepared. I've basically RSVP'ed for everything and anything that I saw. I set up real-time Google alerts for any tweets or blog mentions of "sxsw + secret," because if I end up in bed while everyone is at some killer secret show, I'll be heart-broken. I'm so nervous, but insanely excited.
I have to give a huge salute to my friend and SX veteran, Emily, for her help in sending party links, getting me on lists, and putting together a killer Excel layout of what which day has to offer. She's a superstar!
So, below is my SXSW wishlist. Who knows what I'll actually get to see, but at least I have some idea of destinations. I'm sure some secret party will throw a curve ball at all my planning, but let it be.
For those of you that are late to the party like me, The Austin360 SXSW Side Party database , www.do512.com and the official SXSW online schedule were true blessings in my research.
Wednesday, March 16th:
Rap Rocks @ The Speakeasy – 1PM
This is the first showcase that stood out for me, and the first I'll be going to. Das Racist is going to be all over the festival the year, but this event is where I plan to catch their set. The bill is solid and packed with variety. The White House Band helped put together the lineup and will be playing a set at the show as well. After listening to their new EP, The Stimulus Package, and talking with frontman, David E. Beats, I'm thrilled that this will be the event to jumpstart my week.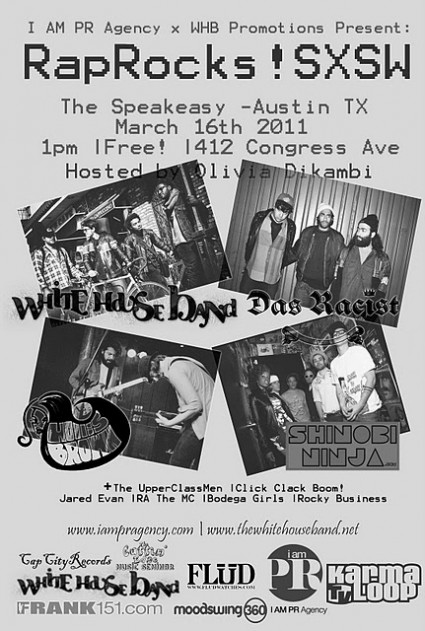 Check out my interview with David E. Beats below, and listen to the EP at http://thewhitehouseband.bandcamp.com/ .
Bridge Club Music Party Jam @ Liberty is looking pretty hot with Pujol and The Hood Internet. Starts @ 11:30 AM – Free Beer!
Fader Fort by FIAT (1101 E. 5th St.) should be one of my stops before the ultimate heavy hitters Wednesday evening. Raphael Saadiq @ 6PM and Yelawolf pops that trunk muzik @ 7:30PM.
Emo's – I will be in line nice and early for this one – BAD BRAINS @ 10:00 PM !!!
Stubb's – Duran Duran @ 12:30 AM !!!
Thursday, March 17th:
It's St. Patrick's Day and things are going to get froggy. I think I'm going to roam around most of the morning/early afternoon and see what calls me.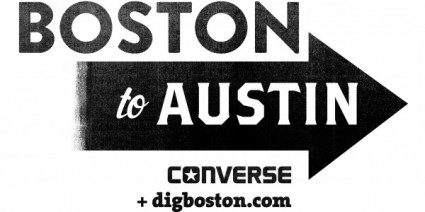 The 512, 208 E. 6th St -Boston to Austin looks promising, as I know how Beantown loves to get their St. Patty's on and I could use a good dose of Masshole. It's been a long time. That's happening from 12PM – 5:30PM
Red Gorilla Music Fest @ Thirsty Nickel – I'll probably check out my friend's in Justin Kalk Orchestra at this showcase, and I believe Ryan Michaels Band is playing this show as well.  I caught them at a show at The Rutledge a few weeks ago, and it was a good time.
Love Joy's – sponsored by Flying Dog Beer and IGIF will most likely have some free brews floating about. Grouplove and Idiot Glee are playing among others.
Auditorium Shores Stage (at Lady Bird Lake) – The Strokes – 7PM !!!
Village Voice Party @ Austin Music Hall - 3PM – Fishbone, Yelawolf, Wu Tang Clan, DJ Set by Erkah Badu, plus a special guest and more!!!
Next Big Nashville @ Maggie Mae's – 7:30PM – Because I live in Nashville and can see these awesome bands on the reg, I won't be at the Next Big Nashville showcase, but you should go if you want a taste of what Music City is really about. On the bill: Tristen, Kyle Andrews, The Honeymoon Thrillers, Sleeper Agent, Natalie Prass, and Kopecky Family Band.
Friday, March 18th:
BMI Acoustic Brunch @ Four Seasons Hotel @ 10:30AM w/ Kina Grannis and The Civil Wars among others.
Spin Party @ Stubb's 12:30PM – 6PM highlights TV on the Radio and The Kills, plus DJ sets by Skrillex and Wolfgang Gartner.
Green Label Sound @ La Zona Rosa – 8PM – Chromeo, The Cool Kids, MNDR, Mac Miller and Classixx!!
Saturday, March 19th: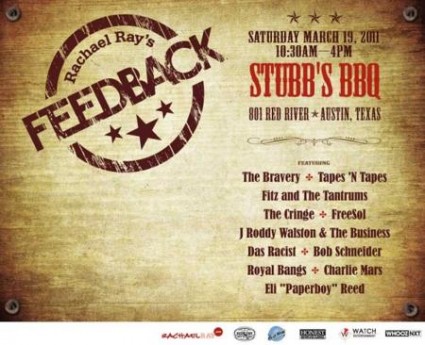 Rachael Ray's Feedback @ Stubb's – I need to get into this showcase! I'll be there in line super early – showcase starts at 10:30AM. I'll stay for the whole thing. I love Rachael and the lineup includes Tapes 'n Tapes, The Cringe, Royal Bangs, FreeSol, and Wanda Jackson. Rumor is Jack White will show to play on Wanda's set, and I wouldn't doubt that.
As for the rest of the day, I'm not sure what I'm going to do. The Central Presbyterian Church would be a peaceful place to wind down with Jukebox the Ghost and Great Lake Swimmers.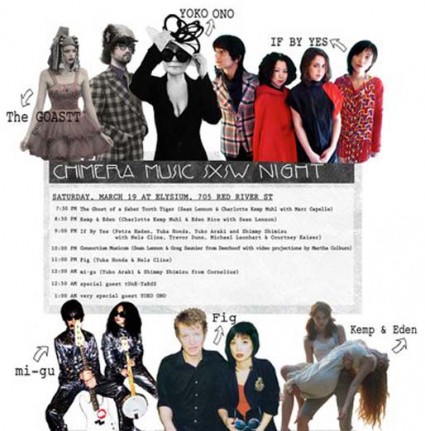 I'd like to end up at Elysium for Sean Lennon's bands if I can get in, but even if I do, I don't think I'll make it until 1:00AM for Yoko Ono's appearance.
There's always the comedy option at Ester's! Decisions, Decisions.
I won't be getting back on my bus until Sunday afternoon, so I plan on sleeping in and hanging around the hotel until they kick me out. I'm already exhausted from writing this.
So help me out. If you see me around, give me an interview. Tell me where to go. Be a peach, will ya?
Follow my SXSW Twitter list, and hit me up at @chrystalrocks letting me know who to add/follow and what's happening.
Have fun , be safe, Bon Voyage and Godspeed!