YTC Event Calendar – Nashville – Week Ending 1/16/11
Monday: We had a Snow Day, bitches!
Tuesday, January 11, 2011: SORRY FOR THE LATE NOTICE!!!
Liquor Store, Natural Child, Cy Barkley, and Ben Steine's Money @ Glenn Danzig's House (513 Southgate Ave.) – 8 PM – $5
If I was 75% cooler than I currently am, I would be at this show tonight. Truth is – I don't want to cramp anyone's style. I know nothing of this venue, but I picture it as being super underground and the closest thing to a 70's Punk atmosphere that you'll get in Nashville. I could be totally wrong, but I'm way too intimidated to see if I'm right. If you have the balls, go to this – ya, dum-dum!
Wednesday, January 12, 2011: Check out the Elvis exhibit at the Country Music Hall of Fame celebrating his 75th birth year! The exhibit closes at the end of the month.
Thursday, January 13, 2011: For the glory of love! Like a knight in shining armor from a long time ago, Peter Cetera is going to grace Schermerhorn Symphony stage! I don't know about you, but I'm intrigued.
Also, the beautiful and newly engaged, LeAnn Rimes, is playing the Ryman.
Friday, January 14, 2011: Guided by Voices is playing a reunion show at the Cannery Ballroom. If you're not going to that show, you'll want to check out the belated Bowie Birthday 8 off 8th at Mercy Lounge. They rescheduled it to Friday since it was snowed out on Monday.
If you're in more of a dancing mood, one my favorite DJs, Jane Dupree, is on the roster for Friday night. House music all night at Mai.
Openhouse Friday Night Sessions V.5 w/ DJ Stacy Kidd (House4Life, Defected)
Local Support::
Geoff Piller
Sammie Diaz
Brandon Wahl
DJ Woody
Brian Comer
JANE DUPREE
Grey People
//////////////////
Club Mai Nashville
Doors Open @ 10pm
18+ / 21+ to drink
$10 @ Door / $20 VIP @ Door
Saturday, January 15, 2011: You have a few options, and if you're feeling froggy… you can do all three!
A unique Opry at the Ryman experience featuring the "Queen of Rockabilly," Wanda Jackson, alongside rock innovator, Jack White!
Bill Cosby at Tennessee's Performing Arts Center – Jackson Hall: 4:00 and 8:00 sets  Don't forget your "Picture Pages."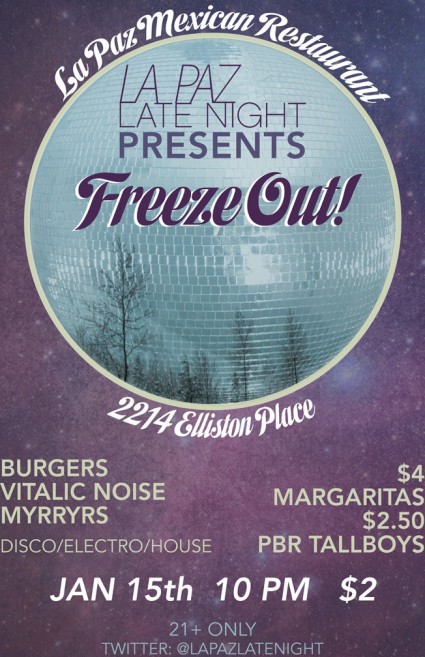 Most importantly, you'll want to attend La Paz Late Night's Freeze Out (2214 Elliston Place) – 10pm – $2
DJ lineup: Burgers, Vitalic Noise, and MYRRYRS (formally Justin Kase)
Drink Specials: $4 Margaritas, $2.50 PBR Tallboys
Check out Burgers' Winter Mixx to get you excited for the big party!
BURGERS Winter 2011 Mixxxx by IamBurgers
Sunday, January 16, 2011: Several weeks ago, HARLOTT, went head to head with Forgotten Fable in a Clarksville Battle of the Bands. Now the two bands are making rock, not war, and playing a bill together. How sweet!
But seriously, you'll get a range of the genre with this lineup.
From HARLOTT's Bio: "Bringing back Rock & Roll!" Stated sincerely and simply, that's all it's about for the Nashville-based four-piece steamroller, Harlott. Drawing from a diverse set of influences in the Hard Rock, Metal, and Punk worlds, Harlott has solidified their sound into a singular, in your face, closed-fist assault. Harlott is Hard Rock for the workingman, the everyman, and quite often, the barman.
From Forgotten Fable's Bio – From hard rock to groove metal, all the songs have a unique and undeniable sound – a movement –a movement that the band knows exactly how to pen with great infectious hooks and choruses. FF breaks the mold and creates a new sound that cries out loudly from the heart of America. In music city, they are ranked #1 in their genre, but as young as they are, Forgotten Fable has already climbed as high as #10 on Global Metal Charts as featured on ReverbNation.com
I'll be there. Come hang out! No excuses. I know most of you have Monday off.
Exit/In – $5 – 9pm
Next week, preview – because I can't seem to post on time, here's my Monday, the 17th pick: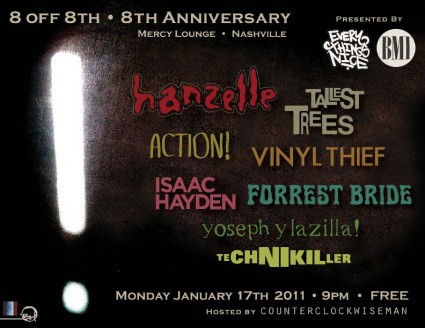 8 Off 8th • 8th Anniversary • hosted by COUNTERCLOCKWISEMAN
Monday, January 17, 2011 • 9pm • 21+ • FREE
Mercy Lounge • Nashville
Featuring:
**** Hanzelle :: http://hanzelle.com
**** Tallest Trees :: http://www.humantrees.com
**** Action! :: http://www.actionsongs.bandcamp.com
**** Vinyl Thief :: http://vinylthief.bandcamp.com
**** Isaac Hayden :: http://www.isaachayden.com
**** Forrest Bride :: http://forestbride.bandcamp.com
**** Yoseph y la Zilla! :: http://joekennerly.bandcamp.com
**** Technikiller :: http://www.myspace.com/technikiller