YTC – Nashville – Concert List – Week Ending 1/30/11
Not a ton of life-changing shows going on this week, but here's what grabbed me:
The Bluebird Café seems to be the place to be this month. The city's most successful songwriters have been donating their time and talents to help out Alive Hospice.
Bluebird is famous for being a starting place for many writers and artists (including Garth Brooks and Taylor Swift). Their songwriter and open mic nights are a great way for Nashville newcomers to get their feet wet and meet other musicians. These nights are also frequently attended by industry veterans who may be trying out new tunes or just wanting to play. You never know when you're going to see a star, the next big star, or be the first to hear an upcoming #1.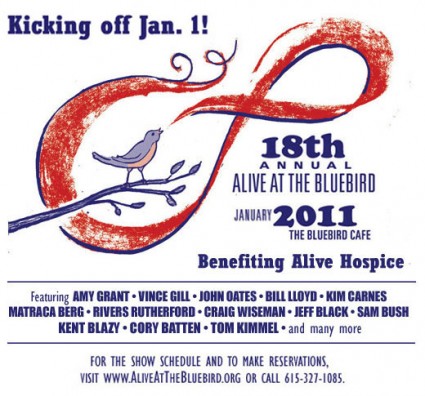 For those that think it's out of their scene, I beg you to give it a shot. If you stop by this month you'll truly "get" the whole Music City thing. I never took the songwriter into consideration before moving here. Now I take the time to look at writer credits, and value the face behind the song. These shows are a little steeper than usual, but remember, your money is going to a great cause.
Wednesday, January 26th:
John Oates (yes, from Hall & Oates), Jeff Black, and Sam Bush @ Bluebird Café – $20, 9PM
Thursday, January 27th:
Evan P. Donohue, Bows & Arrows, Reid Magette, and Salamanders @ The End – $5, 8PM :
I've heard a ton about Evan P. Donohue and Bows & Arrows. If funds allow, I will certainly be at this show to see what all the fuss is about.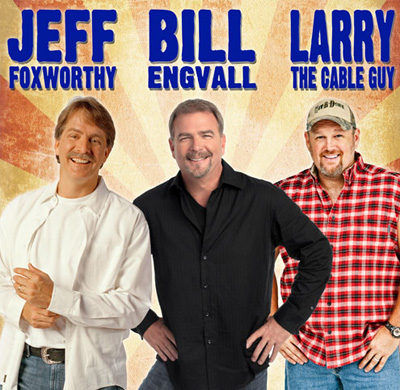 Friday, January 28th:
Jeff Foxworthy, Bill Engvall, & Larry the Cable Guy @ Bridgestone Arena – 8PM:
Are you kidding? Friday night, top-of-the-line redneck comics at an arena, and Downtown Nashville? As Steven Tyler would say, "Well, hellfire, save matches, f*ck a duck and see what hatches." It's going to be wilder than a Monster Truck show.
Malcolm Holcombe @ Douglas Corner Café – 9PM:
I met an artist name Little Johnny Kantreed at a Megan McCormick show on Sunday, and he suggested that I go to see Malcolm on Friday. Before parting ways, Johnny gave me his album, (not Holcombe's – his own album). Guy and I love it, and have been playing it on repeat since. If Johnny gives Holcombe the thumbs up, than he must be good.
This quote is found on Holcombe's site:
"Not quite country, somewhere beyond folk, Holcombe's music is a kind of blues in motion, mapping backwoods corners of the heart." ~David Fricke- Rolling Stone Magazine
After reading his bio, it seems that Holcombe has quite a life story to tell and I look forward to hearing it through song. He also has had a past with the venue he'll be playing at. He used to be a dishwasher there! Kind of a cool little fun fact.
Saturday, January 29th:
Alive Hospice Songwriter Showcase @ Bluebird Café – $15, 9:30PM
Victoria Shaw (The River – Garth Brooks, The Way You Love Me – Faith Hill)
Gary Burr (Nobody Wants to be Lonely – Christina Aguilera and Ricky Martin)
Jim Photoglo (Fishin' in the Dark – Nitty Gritty Dirt Band)
Rivers Rutherford (Aint Nothin' 'Bout You – Brook & Dunn)
Two Fresh @ Mercy Lounge – $10 presale ($15 at door), 9PM:
This was the first group I saw when I moved to Nashville, and our whole group was wowed. I was going through an Electro stint in Los Angeles, and wasn't expecting Nashville to have anything like what I was used to. Between DJ Fan Fiction "spinning" between sets and Two Fresh (from Asheville, NC) taking the stage with their Hip-Hop tendencies and a live drummer, I was quickly set straight. Nashville knows what's up.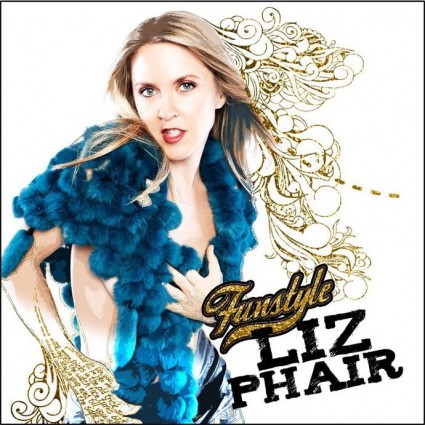 Sunday, January 30th:
Liz Phair @ Mercy Lounge – $18 (adv), $22 (door), 9PM
Where else would you be? Liz Phair is a goddess! Hit me up after the show for fan reviews.
Am I missing anything? Comment and let us know what's on your agenda. Have fun, kids, and remember to hydrate. (what?)
Nitty Gritty Dirt Band – Fishin' in the Dark